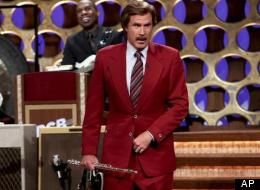 Ron Burgundy has done battle with a number of things in his day: bears, newscasters with nunchucks, and "a glass case of emotion" that wouldn't let him go.
Could the fictional character's next fight be for child custody?
It just may be. "Anchorman" director and co-writer Adam McKay spoke with radio station AM760 Monday and revealed some promising details about what's in store for Will Ferrell's San Diego newsman in the upcoming sequel to the 2004 comedy.
"I don't want to give away too much, but I'll just give a couple pieces of ideas that we've kicked around. Keep in mind we're still writing the story, but I'll say one phrase for you: custody battle. I'll give you that," the director teased. "I'll give you one other one: bowling for dollars."
So does this mean that Ron has begot a mini Burgundy with lady love Veronica Corningstone since we last saw him? Will the one-time rivals for the anchor seat duke it out again, this time over child custody? We'll have to wait and see.
In the meantime, click through the slideshow below to see six other films that put child custody fights front and center.
In this quintessential child custody film, Dustin Hoffman plays Ted Kramer, a divorcé forced to give up his workaholic ways when wife Joanna, played by Meryl Streep, leaves their son in his care. When Joanna returns to take the boy back, Ted fights her in court to keep custody of the child.

In this '80s dramedy, young Drew Barrymore plays a girl who seeks to emancipate herself from her bickering, recently divorced parents (Shelley Duvall and Ryan O'Neal) and move in with their former housekeeper.

"Evelyn" stars Pierce Brosnan as Desmond Doyle, an out-of-work father who fights to reunite with his children after they're put into orphanages by the Irish courts. The film is loosely based on the real-life Desmond Doyle's child custody battle in the 1950s.

In "Not Without My Daughter," U.S.-born Betty (Sally Fields) wants to leave Iran with her young daughter, but her violent husband, Moody, refuses to let them go. When Betty finds out that, under Iranian law, Moody would be granted sole custody of the girl if they were to divorce, she flees the country with her daughter in tow. The film was deemed controversial by many critics for its stereotypical portrayal of Muslims.

When his wife is granted primary custody of the children, unemployed actor Daniel Hillard (Robin Williams) dons a dress and a fat suit, pretending to be a female housekeeper so he can continue to spend time with his family.

In this 2011 drama, Sean Penn plays Sam, a developmentally disabled man who approaches a high-profiled lawyer (Michelle Pfeiffer) to help him fight for custody of his seven-year-old daughter (Dakota Fanning) after he's deemed unfit to care for her.