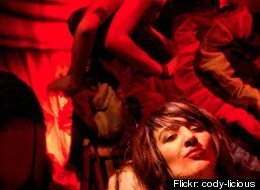 San Francisco has a way of spicing things up. And now, SF is giving wine country a swift slap in the ass with Femina Potens's A Taste of Rope: an erotic wine tasting for dominants and submissives.
This Saturday, Femina Potens -- an LGBTQ art gallery and performance space –- invites adventurous participants to taste California Zinfandels (dominants from a wine glass, submissives from a dog bowl, naturally), as well as "some of the finest rope from around the world." Dress is fetish, formal, lingerie or nudity, and merciful dominants can request a pillow or a chair for their humble submissives. (Otherwise, submissives are on the floor.)
In the words of SFist's Brock Keeling, "Do you like tasting some of California's best wines while getting tied up and slapped across the face? Of course you do."
Femina Potens is famous for its eyebrow-raising programs (Intersections of Erotic Performances Art and Pornography, Erotic Bike Film Festival) as well as its progressive conversations about gender and sexuality (Female Trouble, Conversations on Consent in Sex Work). So a friendly wine tasting with a heavy pour of sexy subculture in an LGBTQ positive environment? We're in.
Craving a little less wine and a little more fetish? Check out the slideshow below for a few of the best fetish parties in town: (CAUTION: Slideshow contains graphic, NSFW content.)
A "safe space for people of all persuasions to explore their sexuality without fear of judgment," Kinky Salon is a glamorous once-a-month sex-positive party. Costumes and creativity are required.

The Mission's newest live sex performance, Cum and Glitter is part strip tease part sex show and plenty of theatrics.

Kink.com, the world's largest producer of fetish pornography and a leader in the sex-positive movement, is headquartered right here in San Francisco at the Armory. Twice a month, the company opens its shoots to a live audience.

One of San Francisco's most famous events, Folsom Street Fair draws thousands each year to experience fetish, get some sunshine and raise significant funds for the SF AIDS Foundation.

Bondage A Go Go is the San Franciscans intro to fetish. A weekly bondage disco, Bondage A Go Go has been running since 1993, making it the city's longest-running weekly dance party. Guests dress up, grab a drink and hit the dance floor, but adhere to a strict no-sex, no-nudity policy.

Organized by the same nonprofit famous for the Folsom Street Fair, Up Your Alley is a more intimate and exploratory event without the gawking crowds.