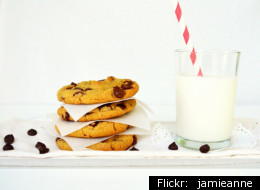 Voting has been closed for the chocolate chip recipe contest and we have found our three finalists: Jodi Sokup's Chocolate Noir Au Sel De Mer Et Beurre Noisette, Lori Gordon's Ultimate Chocolate Chip Cookies, and Sean Lackey's Whiskey Chocolate Chip Cookies. Congratulations! We will be baking off those recipes today and announcing the winner of the Kitchen Daily Chocolate Chip Cookie Recipe Showdown Friday morning, April 13th. We would like to thank everyone for participating -- we were inspired by all the recipes we read.
We've moved on to round two of the Kitchen Daily Chocolate Chip Cookie Recipe Showdown, which means we're one step closer to finding the best, the most ultimate chocolate chip cookie. But a winner still has to be named, and we need your help to do it -- your vote will make all the difference..
We've ended our search with 13 original and exciting recipes. We were surprised -- and very pleased -- to find that they each offered something truly unique. Some relied on the creaminess of instant vanilla pudding to set their cookies apart, others on flan. We got recipe submissions that added a ton of fruit -- bananas, apple sauce, pomegranate and cranberries. And some got boozy on us with a shot of whiskey in the batter.
We can't wait to see which you feel are the top three -- the next step is for you to vote. Click through the slideshow below and vote for each recipe using the star rating (five stars being the best). Once the top three have been determined, the editors of Kitchen Daily will personally make the recipes and conduct a taste test to arrive at the winner of the BEST chocolate chip cookie. The winner will be named and awarded with All-Clad Stainless Steel 3-Piece Mixing Bowl Set. Voting will close at five o'clock on Wednesday, April 10th -- so don't delay, vote today!
Click through the slideshow and place your vote!
Your Best Chocolate Chip Cookies
I dialed up the brown sugar and added ground pecans for a richer, earthier, more caramelized chocolate chip cookie. Chocolate Chip Cookie With Pecans Ingredients: 3 cups all-purpose flour 3/4 teaspoon baking soda 1 teaspoon salt 1/2 pound unsalted butter (two sticks), room temperature 1 1/4 cup brown sugar, packed 1/2 cup white sugar 1/2 cup toasted and finely-crushed pecans 2 large eggs (not extra-large), room temperature 1 teaspoon vanilla 1 cup chocolate chips or chopped chocolate Directions: Preheat oven to 350 degrees. Mix dry ingredients and set aside. In another bowl, cream butter with two sugars. Toast pecans and then grind in food processor. Add to creamed butter and sugar, along with eggs and vanilla and mix by hand just until combined. Then add dry ingredients and stir together by hand until just combined (be careful not to over-mix). Fold in chocolate chips. For a chewy cookie, bake for 10 minutes or until tops are crisp golden brown but cookies are not quite set. For a crisper cookie, bake for 12 minutes.

Mine are the very best because of their sweet and salty-ness and the nutty-ness of the brown butter. And because everyone says so. ;} Dark Chocolate Chip Cookies with Sea Salt and Brown Butter Ingredients: 14 tbs unsalted butter, sliced ½ cup white sugar ¾ cup brown sugar 2 tbs vanilla 1 tbs Sea Salt 1 egg 1 ¾ cups flour 1 tsp baking soda 1 cup chocolate chip 1 oven, pre heated to 350. Directions: Stir together sugars, eggs, vanilla and salt. Brown the butter. Put 10 tablespoons of sliced butter into a hot skillet. As the butter starts to melt, it will foam up. Watch closely as the foaming starts to subside. You are looking for a caramel color and a nutty aroma. If the butter starts to burn, toss it out and start over. Add the browned butter into a bowl with the remaining 4 tablespoons of butter and stir. Add the brown butter to the ingredients in Step 1 and whisk for 2-3 minutes. Whisk in flour and baking soda. Then fold in the chocolate chips. Scoop out 2 tbs dollops of dough onto a greased cookie sheet for 10 minutes. Remove from oven and place on a cooling rack. TIPS Use a coarse salt. I like an Alaea Hawaiian Sea Salt. Play with salt levels, these cookies are meant to be sweet and salty so add more if you need to. I also like to use Ghirardelli Bittersweet baking chips, 60 percent cacao.

These cookies are the best because they combine my favorite cookies and chocolates... oatmeal and three types of chocolate! Triple Chocolate Chip Cookies Ingredients: 1 cup butter (room temperature) 1 cup sugar 1 cup brown sugar 2 eggs 1 tsp vanilla 2 cups AP flour 2 cups oatmeal, blended to a fine powder ½ tsp salt 1 tsp baking powder 1 tsp baking soda 1 cup semi-sweet chocolate chips 1 cup white chocolate chips 1 cup dark chocolate chips 1 cup chopped nuts (optional) Ingredients Preheat oven to 350°. Put the oatmeal in a blender or food processor to grind into a flour-like consistency. Cream the butter, sugar, eggs and vanilla. Mix together flour, oatmeal, salt, baking powder and soda. Add flour to wet mixture and stir to form dough. Add chocolate and nuts if desired. Roll into 1" balls and place 2 inches apart on an ungreased cookie sheet. Bake at 350° for 10 minutes for soft cookies. Allow to cool. *Note: This dough freezes very well. Roll out all the dough into balls and freeze. Once frozen, put them all in a Ziploc bag until you need to bake them. Bake frozen dough for 13 minutes at 350°.

Whiskey Chocolate Chip Cookie Ingredients: 2 sticks butter 2 cups brown sugar 1 cup white sugar 1/2 tsp salt 1 tbs vanilla 1 tbs whisky 1 1/2 tsp baking powder 3 eggs 1 12 oz bag mini chocolate chips 4 cups flower Directions: Cream butter with brown sugar and white sugar. When creamed add salt, vanilla, whisky, baking powder. Blend throughly. Add eggs and blend throughly. Add mini chocolate chips. Blend than add flower. Bake at 350 for 18 min.

I've been making chocolate chip cookies for a really long time. I'm known for my chocolate chip cookies. Every few years I tweak the recipe and get comments that "these are the best ever." I recently made some new changes and these really are the best ever. The recipe doesn't look revolutionary; they're not complicated to make and there's no bacon or pepper or any other unusual ingredient to make the description stand out. But, they're slightly crisp on the outside, soft on the inside, have really good quality chocolate, and taste fantastic!! Lori's Ultimate Chocolate Chip Cookies Ingredients: 2 cups firmly packed light brown sugar 1 cup unsalted butter (softened at room temperature) 1 tablespoon vanilla 2 large eggs 2 1/2 cups flour (unsifted) 1 teaspoon salt 1 teaspoon baking powder 4 cups chopped walnuts (optional) 3 cups good quality semisweet or other dark chocolate bars (chopped into chunks) Directions: Beat sugar, butter and vanilla in a large bowl until light and fluffy. (You can use an electric mixer but you don't need to.) Beat in eggs until well blended. Add flour, salt and baking powder. Beat just until mixed. Stir in walnuts and chocolate chunks. Wrap the dough in plastic wrap and refrigerate at least 24 hours. This enhances the flavor significantly. (You can also freeze the dough for up to a couple of weeks, either in a large ball or after scooping out the individual cookies. That way you can bake them later or bake up a few at a time if you choose.) Preheat oven to 375 degrees. Drop cookie dough by 1/3 to 1/2 cup balls (a cookie scoop or ice cream scoop works well) onto parchment-lined baking sheets, leaving plenty of space in between. If you like larger, flatter cookies, you can use the back of a fork (or the bottom of a glass) to flatten each cookie slightly. Bake until golden brown (about 15 minutes). (Remember, the cookies will continue to cook a bit even after you take them out of the oven.) Cool on the baking sheet 2 minutes and then transfer to a wire rack. (I transfer the sheet of parchment paper with the cookies on it to the rack -- it keeps the cookies in perfect shape and avoids having to wash the wire rack!) Cool completely. (If you want to add an extra flourish and some additional chocolate, you can dip half of each cookie into melted chocolate and let dry on waxed paper.)

My cookies are special because of the combination of flavors of the chips and the pomegranates. They are also a bit more healthier than a regular chocolate chip cookie. They disappear rather quickly! Chocolate Chip With Dried Pomegranates Makes about 3 dozen cookies Ingredients: 1 1/4 cup white flour 1 cup whole wheat pastry flour 1 tsp baking soda 1 tsp salt 2 sticks unsalted butter, softened 1/2 cup organic sugar 1/2 cup brown sugar 1 tsp vanilla 1/2 cup egg beaters or 2 eggs 12 oz bag chocolate chunks 3/4 cup dried pomegranates Directions: Preheat oven to 375 degrees. Place flours, baking soda and salt in a bowl. In your mixing bowl, beat butter, sugars and vanilla for three minutes until fluffy. Add eggs and beat for one minutes. Gradually beat in flour mixture. Stir in chunks and pomegranates. Place some parchment paper on your cookie sheet. Use a 2" cookie scoop or a spoon to drop the dough onto the cookie sheet 2" apart. Bake approximately for 11 minutes or until golden brown. Let stand for one minute before moving to a plate to cool completely.

Why lazy? Because when you don't have a cookie sheet, a baking pan does the trick! Salty-Sweet Lazy Lady Chocolate Chunk Cookies Ingredients: 1 cup salted butter 1 cup dark brown sugar 1 cup granulated sugar 2 eggs 1 teaspoon vanilla 1 teaspoon baking soda 1 teaspoon baking powder 1 teaspoon salt 2 cups flour 1 cup dark chocolate pieces (I like a broken up 70 percent Scharffenberger bar) Directions: Preheat oven to 350. Cream together the butter and both sugars. Add eggs and vanilla. Beat until light and fluffy. In another bowl, add together baking soda, powder, salt and flour and mix. Gradually add flour mixture into butter mixture. Mix until combined. Add broken chocolate bar and fold together. Butter and lightly flour two 8x8 or 9x9 pan -- or go traditional and dollop it onto a cookie sheet. Bake at 350 degrees for 10-12 minutes. Cool slightly, cut into bars and enjoy!

These rich, chewy, moist chocolate chip cookies use alternatives to butter and eggs, but you would never be able to tell they're vegan. The best part about vegan baking? You can eat all the raw cookie dough you want! Vegan Chocolate Chip Cookies Makes 4 dozen Ingredients: 1 cup of vegetable shortening 3/4 cup of organic white sugar 3/4 cup of organic brown sugar 1 tsp vanilla extract 1/2 cup applesauce 2 1/4 cups of unbleached flour 1 tsp salt 1 tsp baking soda 3 oz vegan chocolate bar/chips Directions: Preheat oven to 375 degrees. Cream the shortening and the sugars with an electric mixer. Add vanilla, followed by the applesauce. With a wooden spoon, mix in the flour, salt and baking soda. Add the chocolate. Drop tablespoon sized balls of dough on a greased cookie sheet and bake for 10 minutes.

Here is my 92 year old mother's cookie recipe. She makes them twice a week, and we give them to everyone. Her special ingredient is the vanilla instant pudding, less sugar and lots of chocolate chips. Jennie's Chocolate Chip Cookies Ingredients: 1 cup Blue Bonnet margarine 2 eggs 1/4 cup sugar 3/4 cup brown sugar 1 teaspoon vanilla 1 box vanilla instant pudding 3 cups all-purpose flour 1 cup semi-sweet chocolate chips 1 cup ground walnuts 1 teaspoon baking soda Directions: Preheat oven to 350 degrees. Mix and cream the Blue Bonnet margarine, eggs, sugars, vanilla and vanilla instant pudding in a large mixing bowl and set aside. Mix the flour, chocolate chips, walnuts and baking soda in a medium bowl and then thoroughly mix into the creamed mixture. Shape dough into balls the size of walnuts and put them on an un-greased cookie sheet. Flatten the dough balls with the palm of your hand to make a round cookie. Bake for 9-12 minutes or until light brown. Cool slightly before removing from the baking sheet. Enjoy!

I think that what makes these cookies special is the idea of starting with a cinnamon cookie base, and working around to the chocolate chips. It completely changes the texture of the cookie, and has a mildly pleasant kick that I think adds a special "something," making these cookies great! Note: As I was often too busy baking to take a picture, the pictures in the attachment are of the same cookies, but in double chocolate. Just add 1/2 cup of dutch cocoa in between the spices and the chips to get this yummy chocolate-chocolate-chip variety. :D Cinnamon Chocolate Chip Cookies Ingredients: 1 cup butter, melted 1 1/2 cups white sugar 1 egg 1 1/2 tablespoons molasses 2 1/4 cups flour 1 1/8 teaspoons baking soda 1 tablespoon (or so) ground cinnamon 1 teaspoon vanilla a dash of pumpkin spice a dash of nutmeg 1/2 to 3/4 bag of generic (I used America's Choice) semi-sweet chocolate chips Directions: Preheat oven to 350 degrees Fahrenheit. Mix butter and sugar (preferably by whisk, though spoon will do). Add egg and molasses, stir thoroughly. Add flour, baking soda, cinnamon, vanilla, pumpkin spice, nutmeg and chocolate chips, mixing well (You may want to use a stand or hand mixer if you have one). Drop onto non-greased cookie pan (each cookie should be a little smaller than a golf ball). Bake for 10-12 minutes.

What makes my cookies so special is that I add the Flan mix and caramel sauce to the cookies and I rotate the trays while in the oven. I move the top rack to the bottom and vice versa and also turn the trays. Flan Chocolate Chip Cookies Ingredients: 1 1/4 cups granulated sugar 1 1/4 cups packed brown sugar 1 1/2 cups butter or margarine, softened 2 teaspoons vanilla 3 eggs 2 boxes of Goya Flan with caramel sauce 4 1/4 cups all-purpose flour 2 teaspoons baking soda 1/2 teaspoon salt 1 to 2 bags (12 oz each) semisweet chocolate chips (2 to 4 cups) Directions: Heat oven to 375°F. In large bowl with electric mixer, beat granulated sugar, brown sugar and butter until light and fluffy. Beat in vanilla and eggs until well blended. Beat in flour, flan powder along with the packets of caramel, baking soda and salt. Stir in chocolate chips.On ungreased cookie sheets, drop dough by rounded tablespoonfuls 2 inches apart. Bake 8 to 10 minutes or until light golden brown. Cool for e few minutes then remove from cookie sheets to cooling racks.

My cookies are special because I used them to land a husband! My husband and I worked together. When I found out he was single and he liked cookies , I baked him a batch. The rest is history. Five kids later... we call them the "husband getters" Husband Getter Chocolate Chip Cookies Ingredients: 2 1/4 cup flour 1 tsp baking soda 1 tsp salt 2 sticks salted butter -- room temp. (real butter... not spread/ margerine or anything in a tub!) 3/4 cup sugar 3/4 cup light brown sugar 2 eggs 1 tbs spoon vanilla 1 bag of milk chocolate chips (I recommend using a Kitchen Aid mixer with a dough hook. I have burnt out several cheaper mixers trying to handle this cookie dough :) ) Directions: Preheat oven to 325. In large bowl mix flour, baking soda and salt. In separate bowl cream butter, then add sugars, then eggs one at a time, then vanilla. Slowly mix in dry ingredients. Mix in chocolate chips. Spoon heaping teaspoon amount onto un-greased cookie sheet. Bake for 9-12 minutes. Remove from oven and place on cooling rack.

What makes my recipe stand out is that it is based on my Grandma's recipe, but made much healthier. You get the nostalgia of remembering eating warm cookies with milk at Grandma's house, with the lack of guilt on your waistline. They are so good in fact, that I've actually stopped buying my favorite store bought cookies and keep a batch of batter in my freezer and make a half dozen at a time. I find that the cookies actually taste better with frozen batter instead of fresh, not that they are not great freshly made too. Trail Mix Chocolate Chip Cookies Ingredients: 1 stick of light butter 1/2 cup of light brown sugar, organic 1/2 cup of cane sugar, organic 1/4 cup of raw honey, organic and local 1 cage free egg 1 tablespoon of flax meal mixed with 3 tablespoons of water, mixed and let to stand for 15 minutes until gelled to substitute for 1 egg (I like King Aurthur from Vermont.) 1 1/2 cup of white whole wheat flour (Again, I like King Aurthur.) 1 tsp pure vanilla, organic 1 tsp of baking soda 1/2 tsp of fine sea salt 1 tbs of cinnamon 1 cup of semi-sweet chocolate chips or dark chocolate chips 3 cups of old fashioned oatmeal, organic OR 5-grain cereal, organic 1 medium sized banana, organic (well-ripe) 1/2 cup of dried cranberries 1/4 cup of sliced almonds Directions: Oven at 350 degrees. Beat together butter, sugars, honey until creamy. Add flax mixture, egg, banana and vanilla. Beat well. Add dry ingredients of flour, baking soda, salt, cinnamon and mix well. Stir in oats. Fold in chocolate chips, almonds and cranberries. (I use a Kitchen Aid mixer to make all my baked goods. I recommend a medium speed for mixing, and a low speed to fold). Drop rounded tablespoons onto a greased baking stone (I find a baking stone is better alternative than a cookie sheet. I usually use spray olive oil to grease my baking stone, spray for 1.5 seconds to give a quick coat). Bake 10-12 minutes. Remove from oven and let stand for 2 minutes before you transfer cookies to a cooling rack or waxed paper. Yields about 3-4 dozen cookies, depending on how large you make them. Note -- the mix tends to be a little runny, but it yields a moist cookie inside and crispy on the outside -- how I like them. If you want a slightly firmer cookie, grind 1/4 cup of oatmeal or 5-grain cereal in a coffee grinder to make oat flour and add to the mix.