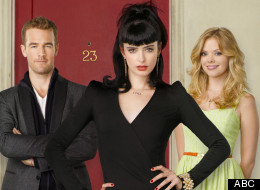 We love a good comedic celebrity cameo. From Oprah Winfrey on "30 Rock" to Carl Weathers on "Arrested Development" and pretty much everyone on "Curb Your Enthusiasm," there's just something amazing about actors who have enough self-awareness to spoof themselves.
"Don't Trust the B---- in Apartment 23" (premieres Wed., Apr. 11, 9:30 p.m. on ABC) has really embraced the "actors playing themselves" thing, tapping star James Van Der Beek to do just that, mocking his "Dawson's Creek" roots and his particularly bizarre place in the world of fame. But Dawson The Beek James isn't alone in the self-mockery; "Superman" star Dean Cain, "Hercules" himself Kevin Sorbo and "Mad Men's" Sally Draper, a.k.a. Kiernan Shipka, are all popping by "Apartment 23" to play "themselves."
To honor their obvious love of lampooning, we've compiled a list of our own favorite self-parodying celebs on TV and feel free to share yours in the comments.
Stars Who've Played Themselves on TV
This pro football player-turned-"Rocky" actor honed his comedy chops in Adam Sandler movies (his one-handed golf pro Chubbs was a "Happy Gilmore" highlight), but it's his self-mockery on "Arrested Development" that truly stands out. Hired by Tobias Funke (David Cross) as an acting coach, Carl Weathers had some unconventional teaching techniques and a strange love of stew.

The "Friends" have all had hit-or-miss luck on TV since their mega-hit -- they're just so associated with the characters that made them famous. But since Matt LeBlanc already tried to continue the Joey Tribbiani story with the failed "Joey" spinoff, he went an even smarter way: Playing "himself" as the self-absorbed, mildly talented star of "Episodes." Hey, if you want Matt LeBlanc, you get Matt LeBlanc!

No actor has had more fun with his public persona than Wheaton, who, in his youth, donned dorky-looking space uniforms during his stint as Wesley Crusher on "Star Trek: The Next Generation." Wesley was a nice guy (too nice, some "Trek" fans thought), but the eeevil version of Wheaton on "Big Bang" is anything but sweet. He's turned into one of the show's most reliably entertaining recurring characters: Evil Wil Wheaton will stop at nothing to get under the skin of his arch-nemesis, Sheldon Cooper. Their ongoing battle for nerd dominance is a thing of beauty.

Oprah isn't known for her ability to remain silent, but her increasingly weirded-out reactions were the best part of the talk show queen's amusing appearance on this NBC comedy. In the presence of her idol, a druggy Liz Lemon couldn't stop oversharing, (and in one of her rambling speeches, the "TGS" producer uttered one of the show's most unforgettable lines, "I'm snitting next to Borpo!"). Oprah tried to set Liz straight, but a whacked-out Liz Lemon was not exactly a good listener.

Former "Batman" Adam West revels in his role as Quahog's mayor on "Family Guy." Whether he's launching cats on a catapult, eating taffy lustily or succumbing to totally unfounded paranoia, West is a laugh-riot. The best part? He obviously doesn't care that he comes off as an unhinged nut, and piles on the ridiculousness.

Christopher and Little Carmine go on the hunt to cast Ben Kingsley in their horror movie, "Cleaver," and when they meet up with the Oscar-winning actor, he's walking through a swag room getting primo merchandise for free. It's an enlightening, tongue-in-cheek cameo and Christopher is shocked at the amount of stuff an already-rich actor gets. Needless to say, Kingsley rejects the role, but not after leading Christopher to believe he's interested. This episode also features perhaps the best swear-word delivery by a knighted actor on TV.

Larry David plays a rather comical version of himself on "Curb Your Enthusiasm," so why should the guest stars be any different? From Lucy Lawless to Ted Danson, David brings in his star pals to play along.

Jennifer Grey and her new nose starred in this short-lived ABC sitcom as an actress named Jennifer Grey who got a new nose. That new nose was a running gag on the show, since it rendered the actress almost unrecognizable from her "Dirty Dancing" days in real life and on the show, but Hollywood didn't see past the plastic surgery until she reminded us she still had moves during her stint on "Dancing With the Stars."

A former member of The Grass Roots, Creed Bratton is now known for playing "himself" on NBC's "The Office." While the Creed of Dunder Mifflin is creepy and strange, "Office" writer and actor B.J. Novak has assured fans that while the non-fiction version of Creed is very similar to his character in a lot of ways, he's much more normal and likable. And probably doesn't dye his hair with toner.

Originally titled "J.O.N.A.S.," Kevin, Joe and Nick appeared on the Disney Channel original series from 2009-10 as exactly what they were: A hot group of young brothers -- who also happened to be band members -- working hard to make it in the big city.

Taking a page from Jerry Seinfeld, Louis C.K. plays a slightly fictionalized version of himself on his critically-acclaimed FX comedy "Louie." On the show, Louie spells his name with an 'e' and hasn't yet hit the big-time, but like the real C.K., his character's a divorced stand-up comedian who performs in New York comedy clubs, struggles hilariously with women and is friends with Chris Rock.

Celebrity cameos and real Hollywood stars playing themselves over extended arcs were a vital part of what made the Hollywood portrayed in "Entourage" feel so real. It was easy to suspend your disbelief and imagine Vinny Chase as an up-and-coming actor when he and his crew were attending bizarre Gary Busey beach parties, Vince was pining after Mandy Moore and Turtle was dating Jamie-Lynn Sigler.

Inspired by the success of the Beatles' film "A Hard Day's Night," two Hollywood producers set out to create a TV series about a fictional rock 'n' roll quartet. They cast Micky Dolenz, Davy Jones, Michael Nesmith and Peter Tork as the bandmates who were each given a different personality trait to focus on, based on their real personalities: Dolenz, the funny one; Nesmith, the smart one; Jones, the cute one; and Tork, the naive one ... who was actually quite the intellectual. Though the show was canceled in 1968, the band continued to record music beyond the screen as The Monkees.

Though most would assume Josh Groban's personality would match his sweet, sensitive vocals, the version of himself he played on Season 1 of "Glee" was quite the opposite. On the hit Fox dramedy, former glee club teacher Sandy Ryerson stalked Groban, who portrayed himself as a self-important, rude, judgmental jerk, via Myspace. Groban showed up at an Acafellas performance to serve Sandy with a restraining order and wound up hitting on Mrs. Schuester, because he likes "blousy alcoholics" like her versus "throngs of screaming teenagers." The singer returned for the season finale as one of the celebrity judges for Regionals who initially supports New Directions.