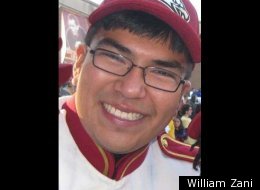 Authorities in Boston have recovered the body of missing Boston College student Franco Garcia from the Chestnut Hill Reservoir, a family friend told The Huffington Post.
Police divers pulled the body from the reservoir this morning, after a man walking his dog reported seeing something suspicious floating in the water.
The Suffolk County District Attorney's Office said personal effects found on the body indicate it is Garcia, but cautioned an autopsy would be needed to make a positive identification.
According to Garcia family friend William Zani, the family has confirmed the remains are Garcia's.
"They have made a positive identification," Zani told The Huffington Post.
Garcia, 21, was last seen on Feb. 22 at approximately 12:15 a.m., inside Mary Ann's bar on Beacon Street in Brighton, Mass. Garcia was supposed to leave the bar with his friends but apparently left without them.
A native of the West Newton area, Garcia had graduated with honors from Newton North High School and was a senior studying chemistry at Boston College Night School. Garcia performed in the marching band and symphonic band.
Garcia's friends had been using a Facebook group to spread the word about his disappearance. As of Wednesday, more than 3,000 people had joined. Celebrity rocker Bruce Springsteen had also helped raise awareness about Garcia by posting a message about his disappearance to his Facebook and Twitter accounts.
Zani said that, while Garcia's family is experiencing terrible grief over the discovery of his body, they are thankful to know what happened to him.
"This is the outcome none of us really wanted to think about, but the unknown was really the worst part," he said.
FRANCO GARCIA PHOTOS:
Police in Boston have found the remains of Franco Garcia, a 21-year-old college student who disappeared on Feb. 22.

Jose Garcia (right) speaks on his cell phone as he and supporters hand out flyers with his son's photo.

Franco Garcia was last seen alive at the Mary Ann's bar in the 1900 block of Beacon Street in Brighton.

Sneakers belonging to Franco Garcia sit on a floor mat outside his bedroom in his Newton Mass., home.

An undated photo of Franco Garcia that was released by police.

Celebrity rocker Bruce Springsteen helped raise awareness about Franco Garcia on Facebook and Twitter.

A missing person flyer with Franco Garcia's vital information.
Also on HuffPost: