HuffPost Playlist: What Our Entertainment Editors Are Listening To (AUDIO)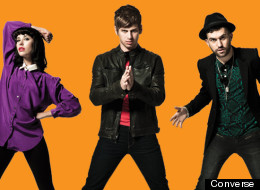 It's Hump Day, so we've collected 30 songs we've been listening to for your perusal. Compiled by HuffPost Entertainment's editors, the list features everyone from Kelly Clarkson to N.O.R.E. We tried to make a list that was uncomplicated and honest, resisting the "editor" urge to present a bunch of obscure throwbacks and little-known "up and comers." Take a listen in the Spotify playlist below and see our song-by-song explanations (and, in some cases, excuses) for the 30 songs we're feeling at the moment.
Editor Key: KM is Kia Makarechi, CB is Crystal Bell and CR is Christopher Rosen. Now listen and judge away.
1. College - A Real Hero (feat. Electric Youth)
From last August, when I first saw "Drive," until five minutes ago, this song has played on a loop on my Spotify playlist. - CR
2. Tanlines - All of Me
The song of the summer! Never mind that it's April. - CR
3. Kelly Clarkson - Stronger
If you listen to "Stronger" without affecting some sort of shoulder shimmy, you're probably dead. - CR
4. Katy Perry - Last Friday Night
Karaoke go-to No. 1. - CR
5. The Hold Steady - Your Little Hoodrat Friend
America's favorite bar band have perfected these kind of bombastic arena rock anthems. "Your Little Hoodrat Friend" is one of their best. - CR
6. Robyn - Call Your Girlfriend
This is the greatest song ever. - CR
7. Florence + The Machine - Shake It Out
Listening to "Shake It Out" will make you wish you were on an episode of "Gossip Girl." - CR
8. Mates of State - Now
Indie pop perfection. - CR
9. M83 - Midnight City
Saxophone solo! - CR
10. Pearl Jam - State of Love and Trust
As one of the world's biggest Pearl Jam fans (unconfirmed), any music playlist I compile needs a Pearl Jam song. This week, my favorite is State of Love and Trust, off the "Singles" soundtrack. That movie is 20 years old this year, FYI. (You're old.) - CR
11. Martin Solveig - The Night Out (Madeon Remix)
Madeon is 17 years old, and he understands simply, goofy fun electro better than anyone currently making music. This remix is simply infectious. - KM
12. Calvin Harris - I'm Not Alone (Deadmau5 Remix)
Though Calvin's "Feel So Close" got way more pickup, I think "I'm Not Alone" is one of the best tracks Harris has ever made. Deadmau5's remix is so well paced that it's hard to keep this off your "Most Played" playlist. - KM
13. Don McLean - American Pie
"February made me shiver, with every paper I delivered
Bad news on the doorstep, I couldn't take, one more step." - KM
14. Kanye West - Roses
I'm of the belief that this is one of the best songs of Kanye's career. Anyone who thinks Mr. West is only about fur coats and Kim Kardashian references needs to dip a bit into the archives (or at least to go back and listen to "New Day"). - KM
15. LCD Soundsystem - Someone Great
James Murphy's genius was to tell angsty stories in a decidedly adult way ("I miss the way we used to argue" ... "You're smaller than my wife imagined / Surprised you were human.") I saw LCD open for Arcade Fire at the Hollywood Bowl a few years ago, and by the time Win Butler and his ten or so bandmates took the stage, they had a lot of living up to do. - KM
16. La Bouche - Nice n Slow
It's a shame they don't make music like La Bouche did anymore. - KM
17. A-Trak, Mark Foster & Kimbra - Warrior
I was skeptical because the song was commissioned by Converse and put together when all three artists were on separate tours, but the blend of A-Trak's disco house and Foster and Kimbra's sweet yet brooding vocals resulted in a coherent, if somewhat uncomplicated track. - KM
18. Brondinski - Let the Beat Control Your Body (feat. Louisahhh!)
Louis Brodinski is one of those producers as comfortable with and knowledgeable about Southern hip hop as French electro house. This song is one of the few song with lyrics that are instructions that I don't dislike. - KM
19. Surkin - Lose Yourself
"Lose Yourself" sounds like streetlights reflected on slick city streets. - KM
20. N.O.R.E. - Lehhgooo (feat. Busta Rhymes, Wacka Flocka & The Game)
When a song is inspired by a one word Chris Brown sample, it's probably not going to be a work of art. "Lehhgooo" is certainly not a great song, but the beat is so juicy that I can't help but listen to it on repeat every once in awhile. - KM
21. Carly Rae Jepsen - Call Me Maybe
Just try to get this catchy tune out of your head. I dare you. What is it with the Canadians and their catchy pop songs?! - CB
22. Gotye - Somebody That I Used To Know
Talk about a bitter breakup! I don't even think that Morrissey himself could make a better breakup song. Plus, it helps that Australian singer Gotye looks like a young Sting. God, I really am turning into my mother. - CB
23. Florence + The Machine - Seven Devils
What was that, Florence Welch? Oh, you wrote this song for "Game of Thrones?" Yeah, I thought so. Thank the Seven for you, Florence. - CB
24. Fun. - Some Nights
I'll admit it: I had no idea who Fun. even was before their song "We Are Young" debuted on "Glee." But, damn, "Some Nights" just makes me want to join a gospel choir and sing-a-long. - CB
25. Mumford & Sons - After The Storm
If it's good enough to be one of Adele's favorite songs, then it's good enough for me. Also, Ben Lovett, please marry me. - CB
26. One Direction - One Thing
What better than one British boy with his guitar? Five British boys with their suspenders and bow-ties! Before, you judge me, just listen to their album Up All Night. It really is a great pop record. - CB
27. Jay-Z - 99 Problems
I can rap the entire track -- just try me. Not to mention that it plays at least 10 times a day at my gym. - CB
28. The Smiths - There Is A Light That Never Goes Out
Favorite song. Hands down. And yes, I was listening to this song before it became synonymous with "quirky" girl Zooey Deschanel and "500 Days of Summer." - CB
29. Arctic Monkeys - Mardy Bum
What's better than five British boys in their suspenders and bow-ties? Alex Turner. He's been my computer background for 7 years. I would give you photographic evidence if I could. And if you don't know what mardy bum means, Google it. - CB
30. Ed Sheeran - Fall
I'm a sucker for British boys and their guitars, especially when they're singing about falling in love. Did I mention that he's a ginger? And that Ron Weasley himself starred in his music video for "Lego House?" It's only a matter if time before Ed Sheeran makes it big in the States, and "Fall" will have American girls everywhere swooning. - CB