Investigators discovered Benny Scott's body on March 27 behind his Lake Alfred home. He buried about two feet underground with his hands and legs tied up with rope. HIs wife Barbara Scott, 64, allegedly had planted herbs on top of him.
Scott's daughter called police after getting conflicting stories from her mother about where he was.
According to the sheriff's office statement announcing that Barbara Scott had been charged with first-degree murder.
Through their investigation, detectives learned Barbara Scott told her daughter and her son-in-law that Benny had gone to Oklahoma to visit a sick friend. Also, when friends and family in Oklahoma called asking to speak to Benny, Barbara would tell them Benny was ill with a throat ailment and unable to speak on the phone... When she confronted her mother, Barbara told her daughter that sometime in January 2012, Benny had fallen while in the shower, hit his head and died. Barbara told her daughter she buried Benny in the back yard in the garden.
When police first approached Scott about the incident she "seemed calm, almost relieved that it was coming to a close," Polk County Sheriff's Captain Jim Elensky previously told Bay News 9.
A witness told detectives that prior to her husband's death, Scott "expressed disdain about always having to care for her husband," the police statement said.
The Medical Examiner's Office ruled the death a homicide, police said.
PHOTO: Benny Scott, provided by the Polk County Sheriff.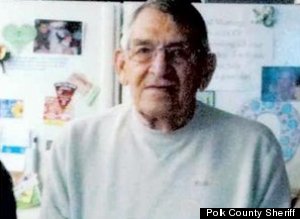 SUBSCRIBE TO & FOLLOW BREAKING ALERTS
Never miss a thing. Sign up for up-to-the-minute breaking news alerts delivered straight to your inbox. Learn more