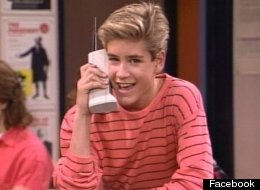 J-14, Teen Beat, Tiger Beat, BOP. If you were a pre-teen girl in the '90s, you probably recognize the names of these teeny bopper magazines. You also may have plastered your walls with their glossy pullouts, printed with uber-cheesy photos of teen idols (don't miss TresSugar's extensive collection).
James Van Der Beek (a.k.a. Dawson Leery) has recently re-entered the world of television -- and the cultural zeitgeist -- on "Don't Trust the B-- In Apt. 23." And the best part is, he's playing himself! During the first episode he brings a girl back to his apartment, only to have her start playing "I Don't Want to Wait." It was hard to watch without getting a serious pang of '90s nostalgia: Beanie Babies! Lisa Frank! The Macarena! It was also hard to watch without thinking about those other teen boys that captured the hearts (or at least infatuated) of young women everywhere during that decade. So here's to you, JTT, BSB and everyone who wasn't lucky enough to have an acronym. We wish you'd join Dawson and come back into the spotlight. (Important note: Justin Timberlake and Will Smith have only been left off of this list because they're still superstars.)
Did we miss any of your pre-teen crushes? Let us know in the comments!
LOOK: 14 '90s Crushes We Wish Would Make A Comeback
'90s Teen Crushes We Wish Would Make A Comeback
Oh Nick Carter. You stole young girls' hearts across the nation with your baby face and bright blonde hair. You were also super hot on that enhanced single of "Backstreet's Back." Unfortunately for now 33-year-old Nick, his solo career didn't go so well. His second solo album reached #8 in Japan and in 2010 he was in a direct-to-video movie called "Kill Speed" with fellow '90s idol Andrew Keegan. However, it's a far cry from his glory days.

Luke Perry was the ultimate "bad boy" in Beverly Hills, 90210, having on-and-off relationships with both Brenda and Kelly -- what a heartbreaker! Now Perry is 45 and has been relegated to the role of "crime show guest star." We say he can be our guest star any day of the week.

Since JT is way too famous right now to ask him to come back, we settled for NSYNC's second best -- JC Chasez. JC was always second fiddle to JT, but we still loved him. (Just look at that bone structure!) Now he's a judge on "America's Best Dance Crew." C'mon, JC -- you can do better than that.

Also known as Eddie Winslow on the sitcom "Family Matters," Darius McCrary was ying to Urkel's yang. And we loved him for it. He had a two-year stint on "The Young and the Restless" from 2009-11 but hasn't done a whole lot since. We're also not sure how we feel about his facial hair.

"Casper"! "Now and Then"! You couldn't help but swoon (and get insanely jealous) when he kissed Christina Ricci ... in both films. He's now 33, but to us, he'll always be 17.

JTT was unmatched in the mid-'90s. He was the centerfold of every issue of J-14. He didn't even need a full name! Now that he's 30, he's not quite the golden child he once was. But as one of our editors pointed out, "He was the perfect teen idol."

Anyone who watched "Boy Meets World" loved and appreciated Corey Matthews but had a giant crush on the admittedly air-headed Shawn Hunter. He's made some indie films and been on "Veronica Mars," but we'll always remember him as Corey's BFF.

Even though Joey has stayed (somewhat) in the spotlight over the last few years, there's a certain charm lost without Joey, Matt and Andy all together. If you're feeling especially nostalgic, you may want to check out the Disney Channel original movie "Jumping Ship" featuring all three.

A little old to be a "teen idol," Muldoon fits the bill because of his year-long stint on "Saved by the Bell." He's still on "Days of our Lives," but our DVRs are too full to accomodate daytime soaps.

Tahj is a classic child star. He was the Olson twins' friend on "Full House," got to play his real-life sisters' cousin on "Sister Sister" and then starred in "Smart Guy" -- all between '91 and '99. One of the younger of this bunch, Tahj is turning 26 next month.

Zack Morris, Zack Morris, Zack Morris. Even though Mark has gone back to his naturally brown hair and appeared on a number of somewhat successful TV shows -- including a starring role in "Franklin and Bash" -- he'll never be able to live down his love affair with Kelly Kapowski or his antics at Bayside High. Correction: A previous version of this slide stated that Gosselaar had started dying his hair brown. It is naturally that color.

We feel that John Stamos should go back to basics ... Uncle Jesse basics. His stints on "Entourage" and "Glee" have been underwhelming, and we can't even talk about his Greek yogurt commercials. John, go back to singing "Forever."

Best known for "Camp Nowhere" and "General Hospital," Jonathan Jackson was one of those heartthrobs that you recognized from magazines even if you hadn't seen him on-screen. Those eyes... He managed to remain relevant until the early 2000s by starring opposite Alexis Bledel in "Tuck Everlasting." (Great book.)

Oh Jared. You've really gone downhill since your Jordan Catalano days. You and Angela Chase were totally meant to be.