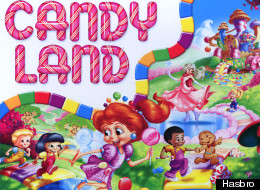 "Battleship," Peter Berg's sci-fi naval war adventure, is loosely based on the beloved Hasbro game of the same name. Well, actually, the film has very little to do with its namesake, but to Hasbro, that's beside the point.
If "Battleship" succeeds in its mission, then a whole new fleet of board game inspired movies will follow. Despite having its budget slashed, Michael Bay's "Oujia" is being developed by Universal for a 2013 release. Meanwhile, Ridley Scott has had "Monopoly" in the works since 2008, and "Candy Land" -- described as "The Lord of the Rings" set in a world of candy -- is in pre-production at Sony Corp.
Click through the gallery below to see the entire fleet of board game movies in the works.
Board Games Turned Into Movies
Monopoly has been the best-selling board game in the world since 1935, so it's really no surprise that someone would want to make it into a movie. So who's the lucky director looking to invest in such a hot piece of property? Ridley Scott has been attached to the project since 2008. While we have no idea how Scott plans to bring the game to life, Hasbro CEO Brian Goldner told MTV News in 2011, "It's a very human and personal story. It's not really 'Wall Street,' not at all."

The Ouija board has been giving us nightmares since 1966, and like most memorable childhood franchises, it's getting the Michael Bay treatment. Bay has been attached to the "Ouija" project since 2008, and he has insisted that it will be nothing like "Jumanji." However, with a new budget of only $5 million (yikes!), it looks like Bay will have to keep the explosions to a minimum.

Imagine "The Lord of the Rings" -- but set in a world of candy. Yep. That's pretty much what the "Candy Land" writers have in mind. In case you forgot, Candy Land requires no reading and minimal counting skills, making it suitable for young children. That doesn't really scream Mordor to us. Here's what writer Jonathan Aibel told EW in 2011: "We don't see it as a movie based on a board game, although it has characters from that world and takes the idea of people finding themselves in a world that happens to be made entirely of candy where there are huge battles going on." We don't think Gandalf is too happy about this.

Launched in 1949, Clue -- or Cluedo, as it's known overseas -- is perhaps the most famous murder/mystery board game ever, and it made for one hilarious 1985 film, starring Tim Curry, Eileen Brennan, Lesley Ann Warren, Christopher Lloyd and Michael McKean. But one unsuccessful adaptation just wasn't enough. Universal Studios recently announced that a remake is in the works with a release date set for 2013, so kick back and have a drink -- but watch out for Professor Plum. He looks a little suspicious.

Global domination aside, Sony Pictures recently hired "Underworld 4's" John Hlavin to write the Risk script for Will Smith's Overbrook Entertainment. The big picture treatment seems fitting for Risk, as the board game was invented in the 1950s by French moviemaker Albert Lamorisse.
"Battleship" opens in the U.S. on May 18. The movie stars Liam Neeson, Taylor Kitsch, Alexander Skarsgard and Rihanna.