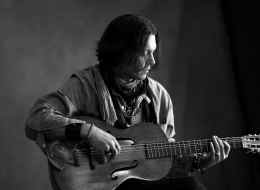 Paul McCartney is fast approaching the ripe age of 70, but the former Beatle and British knight is showing no signs of slowing down. Late Friday night in Los Angeles, McCartney premiered the video for "My Valentine," featuring some unknown extras by the name of Johnny Depp and Natalie Portman.
HuffPost Entertainment is exclusively premiering the video online -- you can see it at the top of this post.
McCartney is no stranger to videos and films. He has an astounding 391 soundtrack (a handful for every year since 1962) credits to his name, an untold number of music videos and five previous directing credits (who knew!).
According to a press release, it was McCartney's daughter, the fashion designer Stella, who inspired the visuals for "My Valentine." There are three videos for the song, which is off of McCartney's latest album, Kisses on the Bottom.
Kisses on the Bottom features the elder statesman of rock and roll looking back on the standards that inspired him. The album is his fifteenth studio record and features two original compositions, "My Valentine" and "Only Our Hearts."
"My Valentine" was widely touted as the better of the original tracks, so its no wonder McCartney chose to bring it to life.
Three videos accompany the song -- one featuring Portman, one with Depp and the full video with both. A teaser for the Depp video was released earlier Friday and features the actor (and occasional Marilyn Manson bandmate) signing lyrics to the song.
"Someday soon, sun was gonna shine," Depp signs. "She was right, this love of mine, my valentine."
McCartney called in some heavy talent to assist in the production of the videos. Oscar-winning cinematographer Wally Pfister ("Dark Knight," "Inception") committed the visuals to 35 mm film. Susanne Preissler produced the short and Paul Martinez edited.
It's refreshing to see McCartney continue to mature artistically at the age of 69, especially as some of pop's icons seem to have a hard time creating music that's suited to their place in the music community.
"We thought thirty was like really old," McCartney said while doing press for the album. "Now I think it's amazingly young. There was a guy at John's art college who was 24 and we felt very sorry for him, he looked like a real old guy, he had a five -o-clock shadow, he looked really pathetic to us because we were like, 16 ... I'm really just some kid from Liverpool still."
Here's to you, kid.
More From Paul McCartney's Kisses on the Bottom:
Paul McCartney - Kisses On the Bottom 14 - Only Our Hearts

Live from Capitol Studios 9 February, 2012. Kisses On The Bottom is available now store.paulmccartney.com Mastered For iTunes: www.itunes.com

Sir Paul McCartney gives us an inside peak into the writing and title of his new song "My Valentine" and his new album "Kisses On The Bottom" at iHeartRadio

Paul McCartney's new album 'Kisses On The Bottom' is set to be released on 6th/7th February. Pre-Order: store.paulmccartney.com Mastered For iTunes: www.itunes.com

My Valentine video, press conference in London highlight, Good Evening Europe highlights with Monkees song, Klaus, Astrid and Ringo backstage and more!

Kisses On The Bottom is released today... Out Now: store.paulmccartney.com Mastered For iTunes: www.itunes.com

Custom Made Music video in HD with original sound track on the album that is third in the Album charts of this week of release. Enjoy

This is an interview given the day after Paul rec'd his star on thye Hollywood Walk of Fame and then off the MusiCares Person of the Year event and then the Grammy Awards! What ab busy guy! There is so much more - but this is a sample - enjoy - see My One and Only Love for "In Performance" footage from the internet telecast! Kisses On The Bottom Macca's latest release BUY IT NOW!

Paul met Jamie Cullum for a very special, in-depth interview about his brand new album Kisses On The Bottom, a collection of standards that Paul grew up listening to as a child that went on to inspire him as a songwriter and his love of jazz. This exclusive interview is to be aired on Jamie's weekly jazz show on Tuesday, 7th February 2012 at 7pm. Pre-Order: www.itunes.com store.paulmccartney.com

Check out the new JBL commercial featuring the 14-time GRAMMY winner, and 2012 MusicCares recipient, Paul McCartney. A life-long user of JBL equipment in the studio, on tour and at home, McCartney's appearance as a JBL "Hear the truth" artist is a testament to the enduring impact the brand has had on musicians and music fans since the dawn of the rock era. The video features his new single, "My Valentine," from the album "Kisses on the Bottom," which was released on February 7, 2012.