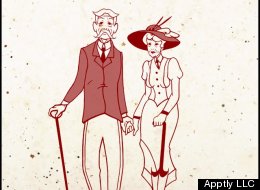 Have you ever wanted to know what you might look like in 50 years? What about what you'd look like after eating 50,000 hotdog-filled pizza crusts and never exercising? Or if all of your hair fell out overnight and you were left with a tragic, Larry-David-esque halo of hair?
Well, you're in luck, weirdo, because there is now a trio of iPhone apps that simulate, with frightening realism, the sad, fat, bald old man or woman that we are all destined to become.
The apps are called Fatify, Oldify and Baldify, and each one shows you a computerized simulation of what you'll look like when you are fat, old, and bald, respectively; it does this by manipulating a photo that you feed into the app. You just point your iPhone's front-facing camera at your young, skinny, majestically-haired self, take a picture (or upload an old one), and the app does the rest.
The apps can either be used individually or in conjunction with one another. That means you can see what you'll look like when you're fat and old, or bald and fat, or old and bald, or fat, bald, and old. Or you can just get a glimpse into what you'd look like as an old person, or a fat person, or a bald person. It's the perfect way to confront your own mortality during the springtime of your life!
Each app comes with its own in-app upgrade, too: So on Oldify, you can see what you'll look when you're old, and for 99 cents, you can buy a tool that shows you what you'll look like when you're really old; Fatify's upgrade shows you what you'd look like when you're really fat; Baldify's adds in a combover feature.
Oldify and Fatify are free for a limited time, while Baldify will set you back $0.99. Below, we have a guided tour of the apps, how you use them, and what they do to your face. WARNING: Things are about to get old, fat, and bald up in here...
First step: Open up the app (we're using Oldify) and either take a photo or upload an existing photo. Any photo will do. Here's mine. Now let's get Old.

Make sure your eyes are level and that you are NOT smiling. The app specifically warns you not to smile. This is a natural caveat, for, as we all know, old people are never happy. (Kidding! It's harder to render the graphics if you're smiling).

Place the markers over your eyeballs and mouth so the app knows where it can and cannot manipulate the image.

Also, steel yourself for a chilling reminder of your inevitable death.

Here's me, old. Now, I look aged here -- stately, even -- but hopefully I'll live longer than this and get even older. For a $0.99 in-app upgrade, I can see what I'll look like at an even more advanced age. Let's do that, shall we?

Yeah, there we go. A single press of the button and you look even older. Oh, is that not enough? Well, there's a button on the menu that lets you see what you'd look like if you were old and also bald. Let's try that...

Yeah, I look pretty old and bald. Also, did I mention that Oldify, Baldify and Fatify don't just create still images? These are just screenshots; in the app itself, when you're peering into your future visage, your facial features -- your bald, fat, and old facial features -- are also moving. Check out the video on the next page for a taste.

Perhaps the most unsettling part of these apps? You're moving the entire time. For thirty seconds to a minute, all you do is blink and move your head around, and your future self stares out at you blankly. Occasionally you cough and burp. You can also touch the screen and your pathetic little avatar will look wherever you touch. It's a disturbing, disturbing function. But there's more.

Okay, let's start over and make ourselves fat. I'm eating an ice creamed sandwich topped with honey and fluffer-nutter as I write, but to speed up the process, I'm going to use Fatify. Here's my photo.

Here I am fat. See, wasn't that speedy?

Here I am fat and bald. Even speedier! And I appear to have sunburned my scalp. I was afraid of that.

Ladies and gentlemen, this is my future. This is what I will look like in, oh, six months. Get ready, ladies!

Here's Huffington Post Business Editor Maxwell Strachan. Look how youthful and fresh he is!

Not anymore. Take that, Strachan!