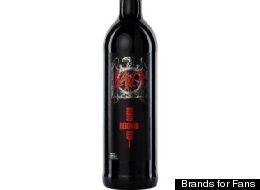 There must be demand for death metal-branded wine, because Slayer is releasing its first wine, called Reign In Blood [Red], named after the band's 1986 album.
The Cabernet Sauvignon is only available in Sweden for now and retails for a whopping $105.
Here's how the wine is described, according to the importer's website:
The wine, a Cabernet Sauvignon from California, is as uncomprimising [sic] and tough as the band. After a couple of Seasons in the Abyss, the wine has an undisputed attitude and a soft nose of dark berry fruits with oak and spicy nuances. Good mouth feel with hints of fresh fruit and juicy, smooth tannins. Well structured and rounded with subtle notes of oak, showing true Divine Intervention. Best company for the wine comes as no surprise, enjoy it while headbanging, riffing or with food, friends and great music. Reign in Wine!
Slayer might not be the first band to get into the wine game (see our slideshow below), but we can't think of too many other wines to serve while headbanging. Thank goodness that niche is now filled.
[Via Foodiggity]
Apologies for getting the song stuck in your head again. This summer, Train released Drops of Jupiter wine, a 2009 Petite Syrah. The jammy wine was oh-so-slighty more complex that many of the others we sampled. Ray offered that this one was at least a "two-note wine." It's a cheerful, happy wine. In other words, if you had to put a pop song into a wine, this would be it. Coincidence? We think not.

Earlier this year, Food Networked partnered with Wente Vineyards to release Entwine. The wines, which all retail for $12.99, were all perfectly drinkable, but often one-note and without much depth. They are beginner wines, or wines for when you don't want to think too much about what you're drinking. Although the only compliment Ray had for the 2009 Cabernet Sauvignon was that it was "not flawed," the other varietals improved from there. The 2009 Merlot was a "happy-go-lucky, fruity wine" with very low astringency. In the same vein, the 2010 Pinot Grigio was also sweet and fruit-forward. The Chardonnay, however, was the belle of the ball. We tasted four Chardonnays and this one (2010) was deemed the unanimous winner...of a pretty weak pool.

For those of you rusty on your Dave Matthews Band knowledge, the 1998 album "Before These Crowded Streets" included the song, "The Dreaming Tree." Made in partnership with winemaker Steve Reeder and Constellations Wines, Dreaming Tree Wines (all $15.00) are available as a 2009 Cabernet Sauvignon, 2010 Chardonnay, and red wine blend titled "Crush." Overall, the Dave Matthews wines were some of our favorites of the whole crop. Crush (2009) was a bit on the sweet side, but the Chardonnay was decent and the Cabernet Sauvignon was downright good. It had some nice layers to it and several of us said we would purchase it for our own collection.

Banana Republic has teamed up with Clos du Bois to release two limited-edition holiday wines, available for purchase starting November 1. Although we can appreciate the lovely silhouette sketches on the label, these wines prove that Banana should stick to what it knows best: clothes. The 2010 Chardonnay ($16.99) was fairly typical of other California Chardonnays -- very oaky with a bit of a banana aroma. It could have been worse, but it could have been way, way better. The 2008 Cabernet Sauvignon ($18.99) could maybe work with a big steak. When there are notes of wet leaves, there's just not so much salvaging one can do.

Disney sells its brand new Sogno d'Italia wine, made by Placido in Tuscany, exclusively in Disney Parks for $6 per glass or $16.95 by the bottle. On the 2010 Chianti, "You wouldn't be unhappy if you weren't paying attention," Ray observed. The 2010 Pinot Grigio was similarly "pleasantly nondescript," and was in fact the best of the three Pinot Grigios we sampled.

"That's actually pretty good rum...It is kind of disconcerting that it's good." said Ray. Enough said.