Botox Is Ten Years Old This Month (VIDEO)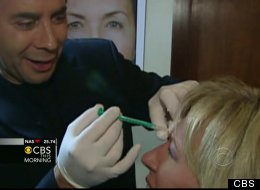 Ten years ago this month, the FDA first approved the use of Botox injections to lessen the appearance of frown lines. In the short span of a decade it has grown into a multi-billion dollar industry and the most common cosmetic procedure in the world.
Indeed, as Charlie Rose remarks in this CBS This Morning video, it has become "part of the culture": it is credited with reinventing old age (and the advent of "the new new face"), threatening our health, and even hindering our capacity to feel and express emotion. In honor of this 10th anniversary, CBS This Morning reflects on Botox, and the gossip and controversy it never fails to provoke.