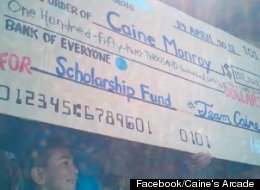 LA's darling, Caine Monroy, who created Caine's Arcade in East Los Angeles, is not just a local hero -- he's an international inspiration. In addition to the 4.5 million views of the video about his arcade, the 9-year-old's worldwide fans are making their presence felt in dollars.
At a block party Saturday (video above), Monroy was presented with a $152,262 check to use towards his college eduation, LAist reports. The massive cherry on top? The Goldhirsh Foundation will match every dollar up to $250,000 donated to Caine's scholarship fund. The money from Goldhirsch will go towards the new Caine's Arcade Foundation, which will help other creative kids reach their dreams.
Since Saturday, the amount that Caine has raised has jumped to $166,350 -- a figure way above the original goal of $25,000.
How did this little boy achieve such great success? Forbes put together a thoughtful list of three economic lessons we can all learn from this heartwarming entrepreneur, the first of which is, "No man is an island." Forbes explains, "Caine's first customer was Nirvan Mullock, a Los Angeles based indie-filmmaker. When we hear talk of pulling one's self up by the bootstraps, it's important to remember that one pair of boots is rarely enough for success."
Mullock's interest in Caine's arcade led to this documentary, which then caught fire on Reddit and other internet sites.
As Caine's Arcade on Facebook put it, "Way to go internets." We say, 'Way to go, Caine!'
Check out photos of Caine's Arcade and the day a flash mob of fans greeted him there:
Caine's Arcade: 9-Year-Old Boy's Cardboard Arcade Gets Flashmobbed And Documentary(CLONED)
9-year-old Caine built a working arcade out of cardboard in his dad's used auto parts store. Open on Weekends Only. -- at Smart Parts Aftermarket.

A surprise flashmob waiting for Caine to return from Shakey's Pizza while chanting "We Came to Play!" - After months of work and being open, Caine had only sold one "Fun Pass" to his arcade up to this day.

When Caine saw all these people waiting outside his arcade, at first he thought it was for a parade. Then when he saw the signs for Caine's Arcade and realized they were all there for him, he thought he was dreaming!

Volunteer staff help Caine manage the arcade and dispense tickets and prizes.
WATCH Nirvan Mullock's documentary, the film that started it all
:
Caine's Arcade from Nirvan Mullick on Vimeo.