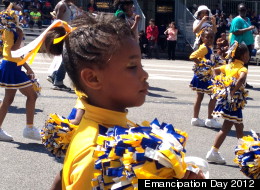 WASHINGTON -- As temperatures went into the mid 80s on Monday, many District of Columbia residents gathered to celebrate the 150th anniversary of Abraham Lincoln signing legislation that freed slaves living in the nation's capital -- nearly nine months before the Emancipation Proclamation went into effect.
While the D.C. government and public schools were officially closed, many headed downtown to watch Monday's Emancipation Day parade, which started at 11 a.m. at 3rd Street NW and Pennsylvania Avenue and ended at Freedom Plaza in front of the John A. Wilson Building.
Mayor Vincent Gray also celebrated, while noting the D.C.'s continued struggle for statehood during an Emancipation Day prayer breakfast at the Willard Intercontinental Hotel, the site where Julia Ward Howe famously penned the "Battle Hymn of the Republic."
The roads along the parade route were reopened after 3 p.m. to normal traffic. But tonight, a fireworks display will close 12th Street NW between E Street and Constitution Avenue from 8:30 p.m. to 9:30 p.m.

Here are some scenes from today's parade.

2012 DC Emancipation Parade
From left to right, Distinction re-enactors Pat Tyson, Christine Bennet and Joyce Bailey turned out for Monday's parade.

Temperatures were in the mid 80s on Monday as spectators gathered in the heat to watch the annual procession.

Young cheerleaders from M.C. Terrell-McGogney Elementary School represent their schools decked out in bright colors and brighter eyeshadow.

Dancers and presenters from the Dunbar High School Marching Band paraded along Pennsylvania Avenue NW.

In the shadow of the Old Post Office Pavilion, Hardy Middle School students display school pride on Pennsylvania Avenue NW.

Young flag-twirlers from JC Nalle Elementary School participated in Monday's parade.

Members of the McKinley Technology High School Marching Band parade along Pennsylvania Avenue NW.

A dancer from Anacostia High School tosses a friendly look to the crowd during the parade.

Members of D.C. Firefighters Association's Local 36 represent area firefighters on top of an engine truck.

Parading is hungry work! After the display, people went to the street festival for some eats.