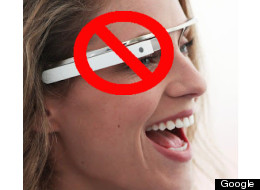 Since Google released a video unveiling its plans for augmented reality specs, called "Project Glass," many parody videos have popped up on YouTube making fun of everything from the device's not-so-smart future users to its potential pitfalls.
That's not to say that Google's high-tech spectacles might not be useful in the future. Just think of wearing a device -- right over your regular glasses, if you need to -- that could easily help you navigate both the real world and the virtual world simultaneously. The possibilities for such a product are endless, but, as evidenced by these parodies, its development still has a long way to go.
Flip through the slideshow below to check out some of the funniest "Project Glass" spoofs, and let us know: Which one do you like best? Would you buy a pair of Google's awesome specs, even after watching these videos? Share your thoughts in the comments!
9 Best Google Glass Parodies
It didn't take very long for Tom Scott to upload this hilarious spoof of Google's "Project Glass" video -- he literally posted his video on the same day Google posted theirs. In a short 20 seconds, he shows all that could go wrong with a futuristic tech device like this one.

What if Google's glasses ran Windows? It's likely the problems (and pop-ups) would be endless, as shown in this parody by Vlakkeland.

Binx Films goes gamer on Google's "Project Glass" video, showing how the device would work in the middle of a Call of Duty-like mission.

The wearer of Google's glasses in this Grad Life production definitely makes the video hilarious with how he puts them to use.

With this video, Happy Toaster shows how not-so-great Google's high-tech glasses might be, especially playing up how it may point out the way-too-obvious and even accidentally cause a death.

LessFilms' funny video points out yet another pitfall (or perhaps plus?) of having Google glasses: You can find out if your loved one is cheating whether you like it or not.

Jonathan McIntosh tells it to the world straight with his Google glass spoof. In the same way that Google pages are riddled with ads, he suggests that Google's glasses might be filled with ads, too -- but they'll be a lot more distracting.

Unfortunately, Studio Hoofnail's short parody of Google's video ends quite tragically -- but not before poking fun at its potential shortcomings.

Even Jimmy Kimmel had his fun with Google's "Project Glass" video. The clip he shows may look like the original, but keep on watching to discover the funny bit he added on.

Google unveils a preview of its futuristic Web-based digital glasses that puts the company's Web services, literally, in your face.