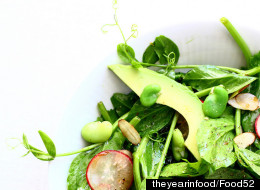 Forget the flowering trees and chirping of birds, the true indication that we're in the full swing of spring is the arrival of the fava bean on the produce scene. These beans -- also known as broad beans, field beans and sometimes pigeon beans -- are the crowning glory of spring veggies. They're green and tender, sweet and meaty, and once you've tasted a properly cooked fava bean, you just won't be able to get enough.
Fava beans pop up in the spring time, along with asparagus and English peas, and are one of the major reasons that we're so in love with this season. So take advantage of this spring bean, and start cooking with them. If you're feeling a little intimidated about peeling them, take a quick look at our tutorial.
Want to read more from HuffPost Taste? Follow us on Twitter, Facebook, Pinterest and Tumblr.
Get the Fava Bean and Fresh Corn Succotash with Coriander Crusted Sea Bass recipe by Feasting At Home

Get the Fava Bean, Herb, and Avocado Salad on Bruschetta recipe

Get the Linguine with Asparagus, Morels and Fava Beans recipe by TasteFood via Food52

Get the Omega-3 Omelet with Spring Greens and Beans recipe

Get the Spring Fava Bean Fennel Salad recipe by Simply Recipes

Get the Broad bean and Fennel Soup recipe

Get the Smashed Peas and Fava Beans with Fresh Mozzarella recipe by TheCilantropist via Food52

Get the Crispy Salmon Filet with Fava Bean Mash recipe by The Jewels Of New York

Get the Fava Bean Dip with Goat Cheese and Garlic recipe by Simply Recipes

Get the Spring Succotash recipe by Simply Recipes

Get the Raw Fava Bean Crostini recipe by Emiko via Food52

Get the Pea Shoot Salad with Fava Beans recipe by theyearinfood via Food52

Get the Fava Bean Fritters recipe by Manger

Get the Warm Fava Shallot Barley Salad recipe by Eats Well With Others

Get the Fava Bean and Pecorino Salad recipe by Alexandra Eats

Get the Fava Bean Salad with Radishes and Pecorino recipe

Get the Fava Bean Salad with Mint, Mustard Greens & Parmesan recipe by Nicole Franzen via Food52

Get the Fresh Ricotta with Olive Oil, Fava Beans, and Herbs recipe

Get the Penne alla Primavera recipe

Get the Quinoa Paella with Spring Vegetables recipe