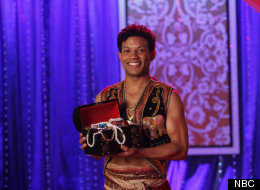 Next week, "Smash" is going Bollywood. In "Publicity" (Mon., April 23 at 10 p.m. ET on NBC), the whole cast gets involved in a dream sequence that develops from the strained relationship between Karen (Katharine McPhee) and Dev (Raza Jaffrey). It all starts at an Indian restaurant, according to EW.
In the episode, cast members perform an original song, "A Thousand and One Nights," written by Marc Shaiman and Scott Wittman. From the looks of the photos, it has everything: dancing, singing, beefy men, scantily clad women, etc. Everybody gets in on the fun, including Linda, who you may know as "That's lunch" or "Take five."
Will the song and performance make sense within the context of the show? Tune in to find out, but it is "Smash" we're talking about.
Check out the photos below and for more info read NBC's official episode description.
Karen (Katharine McPhee) finds herself seduced by the glamorous life of new BFF Rebecca Duvall (special guest star Uma Thurman) -- but can Rebecca be trusted? What will Karen's ascent mean to her relationship with Dev (Raza Jaffrey)? And will Rebecca drive Derek (Jack Davenport) insane? Eileen (Anjelica Huston) introduces new beau Nick (guest star Thorsten Kaye) to ex-husband Jerry (guest star Michael Cristofer), while Julia (Debra Messing) panics when her son Leo (Emory Cohen) goes missing. Megan Hilty and Christian Borle also star.
Katharine McPhee as Karen Cartwright, Raza Jaffrey as Dev Sundaram

Katharine McPhee as Karen.

Uma Thurman as Rebecca Duvall and Sean Dugan as Randall.

Brian d'Arcy James as Frank Houston, Debra Messing as Julia Houston, Emory Cohen as Leo Houston.

Jaime Cepero as Ellis.

Thorsten Kaye as Nick, Anjelica Huston as Eileen Rand.

Jack Davenport as Derek Wills and Megan Hilty as Ivy Lynn.

Ann Harada as Linda.

Phillip Spaeth as Dennis, Christian Borle as Tom Levitt and Leslie Odom Jr. as Sam.