Except for a select few of us, practically everyone drinks coffee in the morning. For many of us it's a crutch -- we just can't live without it. And it's a good reason why a certain chain coffee shop has stayed in business all these years, but we've got a bone to pick with them. Not only has this coffee company created Italian-sounding names that were never Italian to begin with (Frappuccino) but it's also caused some confusion with authentic terms, namely the macchiato. Most people would know an espresso or a cappuccino when they saw one, but would you know a real macchiato?
The Macchiato Defined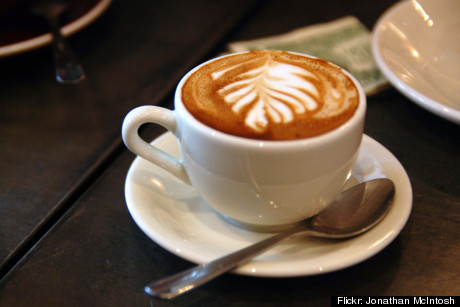 The macchiato (mah-key-AH-toe) is a cornerstone of Italian coffee culture, along with the espresso and cappuccino, among other coffee drinks. It's basically an espresso (served in a demitasse cup) with a small amount of foamed milk on top -- the name macchiato means "marked." So really, you could look at it as a cross between an espresso and a cappuccino. Since Italians only drink cappuccino in the morning, a macchiato gives the afternoon drinker the option of having a little milk in their espresso for some extra flavor. It's also a good option for those who can't tolerate a strong espresso but find a cappuccino too weak and milky.
There is another type of macchiato called "latte macchiato," which is a cup of hot milk with a shot of espresso, but it does not have caramel-flavored syrup added, which is what the chain coffee shop would have you believe is a true macchiato.
How To Order
An authentic macchiato is one of those coffee drinks that's served at any reputable coffee bar or restaurant, so you won't necessarily see it written up on the menu. Go ahead and order one without hesitation. But if you decide to order one at the chain coffee shop, you'll probably have to specify an "espresso macchiato" unless you want to get that caramel concoction. In Italy, all you have to ask for is a "caffe macchiato" and everyone will know what you want -- but don't ask for a frappuccino unless you want to be embarrassed.
What's your favorite kind of coffee? Let us know below.
See the slideshow below for some great drink ideas using coffee.
Cuban coffee is famous for the thick layer of foam. This recipe shows you how. All you need do is beat a portion of the espresso with sugar until foamy, add the remaining espresso and watch the foam rise to the top. Pour and serve. Get the Cafe Cubano recipe

This frothy coffee smoothie is easy to make in the blender -- just combine coffee, ice and milk. To heighten the coffee flavor, make the drink with Kahlua coffee liqueur or if you prefer, make it with Frangelico hazelnut liqueuer. For a non-alcoholic version use a touch of almond extract instead. Get the Kahluaccino recipe

Italians know how to enjoy their espresso in many different ways -- this one turns the drink into a dessert. All you need to make an affogato is add a scoop of ice cream to your cup of coffee. Use either vanilla or coffee ice cream for the best flavor. For some added texture, crumble over with biscotti. Get the Coffee Affogato recipe

Skip the corner coffee shop and save some money and calories all at the same time when you make this mochaccino at home. Start by freezing the coffee in ice cube trays -- this ensures the drink is strong and not watered down. Next blend the coffee ice cubes with low-fat milk, cocoa powder and maple syrup. Get the Frozen Mochaccino recipe

This recipe puts coffee in your breakfast smoothie for a jolt to begin the day. The recipe combines a banana, almonds, skim milk, espresso and amaretto liqueur. Blend with ice and enjoy immediately. Get the Monkey Business recipe

There's nothing like an iced coffee to refresh you on a hot day. This recipe is easy to make since it uses instant coffee, cold water and cold milk. To get the drink nice and frothy, shake it with ice in a jar or cocktail shaker. Get the Greek Iced Coffee recipe

Coffee, milk and sugar with ice are all you need to create this afternoon pick-me-up drink. Make it in the blender and feel free to vary the recipe to your taste by adding cocoa powder, ice cream or Irish cream. Get the Frozen Coffee Pick-Me-Up recipe

Learn to please a true coffee connoisseur with a hand-crafted caffe macchiato.
Main image courtesy of Jonathan McIntosh, Flickr.
Also See:
How To Make A Perfect Cup Of Coffee At Home
Taste Test: The Best Instant Coffee
UPDATE: The definition of "latte macchiato" has been added to this article.