"See the waves coming, crashing into me" --lyrics from Dave Matthews' popular song "Crash Into Me" -- came to life last weekend for three members of The Dave Matthews Tribute Band during post-gig escapades that left them stranded in an Orlando lake.
After their Friday night gig at Orlando's The Abbey, vocalist Ryan Clifford, horn-player Carlton Newcomb, and violinist Derryck Gleaton capped off the night by allegedly commandeering an elegant swan boat docked at Lake Eola before capsizing the vessel and getting marooned in the lake.
Orlando Police responded to a call at 2 a.m. Saturday, according to the police report. That's when they saw Clifford, 30, and Newcomb, 23, in the water trying unsuccessfully to right the capsized swan boat.
Police also saw Gleaton, 23, on shore and completely wet "from head to toe." Police heard Gleaton tell a witness on the lake that the boat "capsized due to his weight."
When the two musicians in the water had trouble righting the swan boat, police gave them rope to tow the boat with another boat stationed at the dock.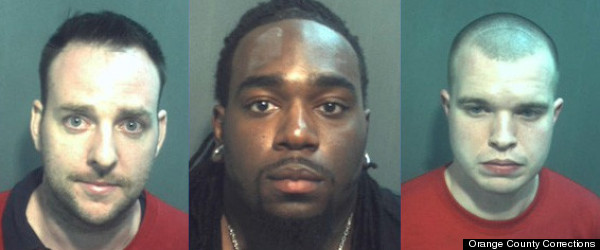 Ryan Clifford, Derryck Gleaton and Carlton Newcomb
All three admitted to taking the boat after they finished playing their gig, adding that the boat capsized when Gleaton stood up.
The Dave Mathews Tribute Band is the only nationally touring group to pay homage to the South African singer-songwriter, whose fame peaked in the 90s with albums "Remember Two Things," "Under the Table and Dreaming"; and appropriately, "Crash."
Newcomb, Clifford, and Gleaton were arrested and charged with being at the park, which is closed after midnight.
They were also brought in on probable cause of grand theft charges, after police estimated the swan boat value at $2,754.
When the park opened, officers spoke with Lake Eola park manager Chris Wallace who told them the electric swan boat was worth $10,000.
As of Monday, the swan boat was still capsized with its head stuck in the mud at the bottom of the lake.
Watch The Dave Matthews Tribute Band do their rendition of "So Much To Say":