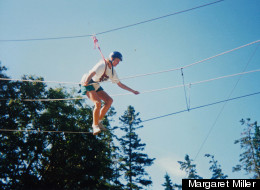 One of the reasons I started my website, Marlothomas.com, is that I wanted a place for women to come together and dream. Women should know that they don't have to hang on to an old dream that has stopped nurturing them -- that there is always time to start a new dream. This week's story is about a woman whose failed marriage led her down an adventurous path that ultimately enabled her to become the woman she always wanted to be. -- MT
By Lori Weiss
From the time Margaret Miller was a child, life was an adventure. Summers were spent taking road trips with her brother and sisters. With mom at the wheel, they'd take off from Houston and sing their way through cities like New York, San Francisco and Washington, D.C. -- one of the sibs always studying a map, navigating their next stop.
"Mom loved life and she wanted us to take it all in," Margaret recalled. "She took us to Mexico, where we rode the train with chickens. She taught me French when I was five. She wanted us to understand that not everyone spoke English and not everyone lived the way we did. Dad was working, so he'd fly in and meet us whenever he could, but Mom was happy to be our tour guide."
Sadly, their journey was cut far too short, when Margaret's mother was killed by a drunk driver at the age of 45. Margaret was only 14, but those early years set the tone for the way she hoped to live her life.
So no one was surprised when she set off to school out East, pursuing an adventure her mother would have loved to help her map out. But it was that choice that would lead her off course from the exciting path she believed she was embarking on.
"I was a writer," she explained, "and I spent a lot of time with other writers who made stories up in their heads, but didn't actually live them. And I fell in love with a poet. It was a cerebral life, and something in me knew it wasn't the life I wanted -- but I loved him. And I thought things would change."
Married by 24, Margaret and the poet had two children within five years. It was a quiet life, filled with walks in the woods, trips to the library and time cooking together as a family. Cozy as that may sound to some, Margaret felt the walls closing in. For her, it was a sheltered existence. And one she was desperate to break free from.
"Everyone thought we were the perfect couple -- the perfect family. No one knew how much I had lying dormant inside me. It was when my father died that it hit me that I had no parents, that I was unhappy in my marriage and that I didn't want to live the rest of my life like this."
As Margaret struggled to make peace with her decision to leave her marriage -- something no one in her family had ever done -- her older brother, who had hiked, biked, canoed and kayaked throughout the world, encouraged her to register for a marathon, despite the fact that she had never actually run one before.
"My brother knew I needed to achieve something for myself," Margaret said. "As a mother of two small children, it was almost embarrassing to say 'I've decided to claim part of the day for myself.' But I got up every morning before the crack of dawn and trained for nine months. I remember thinking it was the same amount of time it would take to make a new person."
And that's exactly what Margaret was doing: she was training for more than a marathon -- she was transforming herself into the person she always believed she could be.
And when that big day came, Margaret was ready. The race ran right past her house, which was more than half way to the finish line, and her kids were waiting outside with signs, eager to cheer Mom on to the end.
"It was at that point that I began to feel delirious," she said sadly. "The Red Cross had already been following me on bikes, asking if I was okay. I just couldn't run another block. So at mile 17, I stopped. I stopped but I didn't quit. I decided at that moment I was going to finish another one. It was bad enough that my marriage was failing, I was not going to fail at anything else."

Two months later, Margaret was back in the race. And as she heard the crowds cheering and her name called out at the finish line, she knew she was on her way to a new life -- and ready to take an even bigger step.
So with her children safely in her husband's care, she set out on an adventure that even her mother might not have considered. She celebrated her 40th birthday by booking an Outward Bound expedition -- a trip more often taken by teenagers and twenty-somethings in need of a little direction.
"My husband and I were separated at that point," Margaret said, "and I thought, If I'm not going to be a wife anymore -- if I'm going to be on my own -- I need to feel what that's like.
"I really didn't know much about Outward Bound," she continued. "I just knew it was a challenge for anyone who wanted to have an extreme experience. And I wanted to feel strong and competent. I needed to know I could do hard things. The funny thing is," she added with a laugh, "they don't give you too many details, because if they did, it would probably scare a lot of people away! They just give you a packing list and tell you that you'll be pushed to your limits."
And pushed to her limits she was. Margaret signed up for a sailing expedition and, before the group left shore, the leaders confiscated anything and everything that would connect the adventure-seekers to the rest of the world -- including their watches.
"We thought we'd just sail out to an island," Margaret recalled, "but then they dropped anchor in the middle of the ocean and welcomed us to our home for the next eight days. Our bathroom was a bucket on the bow of the boat, and the only way we could get privacy was by hoping the other passengers would turn away. In the mornings, they'd make us swim in freezing cold water. Then we'd scale cliffs in a granite quarry; and each of us had to complete a 24-hour camping solo, with only a sleeping bag and a gallon of water. There came a point where all I wanted was to be rescued by a helicopter.
"I have two children. I gave birth without drugs. But this was the hardest thing I ever did. Still, I survived -- and it's an incredible feeling to push yourself into something you're not sure you can do. It was the first step toward living the kind of life I wanted to live."
That step gave Margaret the courage to leave a marriage that wasn't working and to begin sharing her mother's spirit with her two sons.
"Part of me was hidden away for so long," Margaret said. "It was almost like I was introducing myself to my family. I wanted them to have the experiences I had with my mom. I took them to Mount Rushmore, to Williamsburg, Virginia, to New York. And not long after the Outward Bound trip, I took up skydiving, so when my sons turned 18, they did their first jumps."
Trips around the world quickly followed, where Margaret taught parenting skills to female prisoners in Peru and studied Spanish in Costa Rica. But it was on a solo trip to Rio de Janeiro that she made her most important discovery. She realized that while she wanted to live an adventurous life, she didn't want to live it alone. And once she figured out that part of the puzzle, it wasn't long before she found her missing piece.
Today Margaret is happily married to an Ironman triathlete, who is thrilled to cheer her on through every challenge she undertakes. And together they hope to become contestants on The Amazing Race.
"I wish someone had told me how important it is to remain true to yourself, even through marriage and motherhood. You can't give away everything you have to everyone else or you'll be lost in life. It doesn't have to be an extreme adventure -- maybe it's just singing in a choir or planting a garden or taking a trip on your own.

"Just do one little thing that's meaningful to you," she says quietly. "Break out of the box and you'll see, it can change your life."
Margaret's next adventure will be the Rock 'n' Roll Marathon in San Antonio, Texas, on November 11th, 2012. To track her journey, follow her on Facebook.
It Ain't Over: Margaret Miller
Margaret has run six marathons since taking her first step towards a more adventurous life. Here she is in 2004, at the Rock 'n' Roll Marathon in San Diego where she achieved her best time ever.

While most people do charity walks with friends, Margaret challenged herself to join 1,500 strangers for a three-day walk to raise awareness for breast cancer.

Margaret may have signed up alone for Avon's three-day walk, but after the group made their way from Boulder to Denver, traveling 30 miles a day, everyone walked away with new friends.

Back in 1988, Margaret was just a recreational jogger. The Symphony Classic 10K in Houston was the first race she ever entered. She never dreamed she could finish a marathon!

When she wasn't running, Margaret sang with the Houston Symphony Chorus. So this race, which benefited the Performing Arts of Houston, was the perfect place for her to tune up for her first marathon.

To get ready for her first marathon, Margaret ran shorter races. Here she is at a 20K in Galveston, Texas with her two biggest fans - sons Evan (right) and Blake (center).

And the race begins! Here's Margaret at the start of her first marathon in 1995. She made it to mile 17, but refused to be defeated. Two months later she was off to run her next race.

Growing up, Margaret's mom would put all the kids in the car and take them on road trips around the country. Margaret (standing, far right) credits her mom with instilling a sense of adventure in all of them. That's her brother Blake on the left, who challenged her to run her first marathon. Laura is in mom's lap and Ann is seated right next to them.

Margaret's mother, Earline Winchell, was killed by a drunk driver in 1969. Margaret was just 14, but old enough to know she wanted to carry on her mother's adventurous spirit.

Here's Margaret (far right) at the end of her eight-day Outward Bound expedition on land and sea. At 40, she was the oldest of the group, and to this day says it's the greatest challenge she's ever mastered.

Margaret and the rest of her Outward Bound group called this 30-foot sailboat "home" during their sailing expedition. They lived, cooked, ate, slept, dressed and went to the "bathroom" (a bucket on the bow) on this boat!

Margaret took her adventure to new heights. After five days of sailing, the Outward Bound group camped on Hurricane Island for three days. In addition to completing a ropes course, they climbed granite cliffs and spent 24 hours on a wilderness "solo" with just a sleeping bag and a gallon of water.

They may have started out as strangers, but after eight days of close quarters and tough challenges on this Outward Bound expedition, Margaret left with new friends.

Margaret's adventures have taken her around the world. Here she is on a mission trip to Lima, Peru, where she taught parenting skills to women in prison.

In 2001, Margaret took the big leap -- skydiving for the very first time!

By land, by sea and by air -- there is no place Margaret's adventures haven't taken her! Here she is doing a tandem jump 13,500 feet in the air. Each of her sons followed her lead, celebrating their 18th birthdays in the same way.

The Bay to Breakers 12K run in San Francisco is well-known for the costumes participants wear. Don't be fooled by the flags, this isn't really President George Bush and the First Lady. It was just Margaret and her husband Jerry having a little fun!

Margaret and her husband Jerry head for the finish line -- finishing the Bay to Breakers race in presidential style!

When Margaret and Jerry met, he loved her adventurous spirit. Here they are horseback riding at the Hyatt Resort in Albuquerque, New Mexico, one of their favorite weekend getaways.

Margaret's husband Jerry has finished four Ironman triathlons. Here they are together in Penticton, British Columbia. Margaret volunteers at every race -- peeling wetsuits off the competitors or "catching them" at the finish line. But her favorite part is being there to put the medal around Jerry's neck when he completes each race.
Add Marlo On Facebook:
Follow Marlo on Twitter:
Weekly Newsletter

Sign up to receive my email newsletter each week - It will keep you up-to-date on upcoming articles, Mondays with Marlo guests, videos, and more!

Sign up here