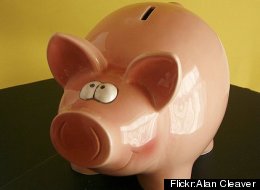 Tax day has come and gone -- and now that you've filed (or filed for an extension), hopefully at least some of your financial stress is melting away. Now it's time to eagerly await those tax returns -- and plan what to do with the extra bucks.
Last year, almost 75 percent of all taxpayers received money back, according to the IRS, and the average refund was around $2,900.
If you filed online, you can expect to see that cash within three weeks; if you filed a paper tax return, it will take more like six to eight weeks from the date it is received, according to the IRS.
This year, more Americans are planning to save at least some portion of their refund, according to the National Retail Federation's annual Tax Returns Consumer Survey. Almost 44 percent of people expecting a refund (the most in the survey's history) said they will put aside a chunk for savings, up from 42 percent last year.
While nearly 40 percent of the respondents said they will use their refund to pay down debt, 12 percent plan to buy a new car or TV and 11 percent will be funding an upcoming vacation.
Below, we compiled a list of some of our favorite smart and healthy ways to spend your tax return. Let us know in the comments how you'll be spending yours.
Mattresses tend to last anywhere from five to 10 years, depending on your age (older folks may experience discomfort sooner). But the cream of the crop models can cost a pretty penny. Check your mattress for visible signs of wear and tear, and also assess how you've been sleeping and whether or not you wake up feeling sore or stiff. If it seems like it could be time for a new one, hit the mattress store. Since a new mattress should be more comfy than your old, worn-out digs, your brain will be triggered less often to make you roll over, helping you sleep more soundly, according to WebMD. Flickr photo by vagueonthehow

Spa Week, conveniently ongoing through the 22nd, is great for booking a relaxing, re-energizing treatment for this week, but with your refund, you might consider scheduling a massage every month for the next year. Not only will it ease your tax-season stress and soothe sore muscles, it can also improve your sleep, boost your body's disease-fighting powers and curb headaches, along with some other surprising benefits of massage. Never been? Here's what to expect at your first massage. Flickr photo by Nick J Webb

You could also use your refund to join that yoga studio or Spinning gym you've been lusting after -- or upgrade your current membership to make use of additional healthy perks that will keep you excited and motivated to go. You could shell out some extra bucks for personal training sessions, just in time to shape up for summer. Need some guidance? Here are some tips from our bloggers for picking the right gym and finding the perfect personal trainer. Flickr photo by istolethetv

Airfare, hotels, dining out, entertainment -- vacation expenses can add up. But the rewards are worth it. Taking a trip will not only help you de-stress, it may also help you live longer, think more creatively, lower your risk of heart disease and heart attack and improve your sleep. Flickr photo by Horia Varlan

While we firmly believe that healthy eating doesn't have to break the bank, it's no secret that some good-for-you eats, especially organic produce, are more expensive than their conventional counterparts, due to high demand and more labor, among other reasons. So allot some of your refund to smarter grocery shopping. Every year, the Environmental Working Group releases their Dirty Dozen, a list of the most pesticide-ridden fruits and vegetables. Picking organic varieties of these culprits can help you avoid harmful chemicals. Flickr photo by dorena-wm

We'd be remiss not to mention that the smartest plan of attack might just be to save those bonus bucks, or use them to pay off bills or debt or loans or invest. Doing so can seriously cut back on financial stress while you're filing next year's taxes, or even farther down the road, when emergency expenses arise or when it comes time to retire. One money blogger suggests putting at least a third into a savings account right away (while still allotting five percent to a purchase on something that makes you feel good). Flickr photo by Alan Cleaver
For more on stress, click here.