With 16 unexcused absences -- just two more than the amount permitted by the school district -- high school senior Austin Fisher was told that he wouldn't be able to walk at graduation with his classmates. But the 17-year-old protested the decision, because all of his absences were the result of staying at home to care for his sick mother.
Austin's single mom, Teri Fisher, was battling Stage IV cancer and was often too sick to call in and excuse his absences. And some of the absences resulted from Fisher driving his mother to chemotherapy treatments, which would technically not be excused.
The Carrollton Exempted Village School District in Ohio initially banned Fisher from graduation because he missed too many school days and did not take into account the reason for the absences.
Austin told Fox 8 News: "I wanted to take a lot of pressure off of her, because that's the most important thing when you have a cancer -– a stress-free lifestyle. I mean, that's how you heal the best, so that's what I was trying to do."
Austin's story resonated with his entire community and beyond.
In a letter to the school district published in the Carroll County newspaper, the Free Press Standard, Angela Howard wrote:
How is this decision right? Put yourselves in this family's shoes. If you were the sick parent and your child missed too many days caring for you, wouldn't you still want to see your child walk across the stage, especially after everything your family went through? Wouldn't that give you something to look forward to?
In addition to receiving a front-page headline in the local newspaper -- "FISH WILL WALK" -- the story has also garnered national attention. Austin has received support from thousands who petitioned on Facebook, and nearly 100,000 people who signed a change.org petition urging the school district to reverse their decision and allow Fisher to walk.
After meeting with Austin and his mother, school administrators released the following statement: "Based on this new information and after careful consideration by school officials and the board of education, it was decided that Austin would be permitted to participate in commencement.
However, the Milford Daily News noted that justice was only partially served. The teen will still not be allowed to participate in other end-of-year activities like prom and senior trip.
But thanks to the help of his friends, community, and almost 100,000 online supporters, Fish will walk.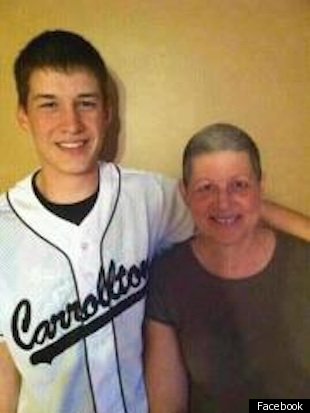 Austin and his mother, via Facebook.