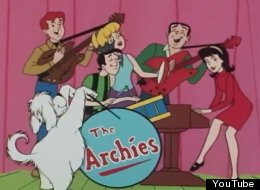 Chew on this: Of all the different genres of rock music, nothing has been more maligned than bubble gum music.
The name itself implies sugary confections designed for cheap mass consumption by a youthful audience that presumedly doesn't appreciate something more musically substantial. It's a term that has been used to dismiss artists that appeal to youngsters from the Monkees back in the late 1960s to Justin Bieber and Katy Perry.
"Bubble gum music" as a recognized form of music is celebrating its 45th anniversary this year, and in honor of what some might call a dubious historical event, three of the top bubble gum acts of the late 1960s are performing together at B.B. King Blues Club and Grill in New York on April 22.
The acts are Ron Dante, who sang lead for all the hits of The Archies including their 1969 No. 1 hit "Sugar Sugar"; Joey Levine, who wrote and sang hits like "Yummy Yummy Yummy" and "Chewy Chewy" for the Ohio Express; and the 1910 Fruitgum Company, famous for hits like "Simon Says" and "1,2,3 Red Light."
To folks familiar with the early years of the genre, this bubble gum version of Woodstock might be surprising since most of the early acts didn't exist outside the side of the studio, or, in the Archies case, the TV screen.
BUBBLEGUM MUSIC THROUGH THE AGES (Story continues below)
Bubble Gum Rock Through The Ages
"Yummy Yummy Yummy" was a big hit in 1968 for Ohio Express, but the touring band never played on the band's hits, which were written and produced by Joey Levine, who sang lead on the singles backed by studio musicians. There were times when the touring band didn't know they had a hit until fans asked for it at shows.

In 1969, The Archies hit No. 1 with "Sugar Sugar," a bubble gum rock classic written by Rock and Roll Hall of Fame songwriter Jeff Barry and Andy Kin. Although the record was supposedly sung by Archie Comics characters, the real work was done by a studio-created pop band that featured Ron Dante on lead vocals with Toni Wine, who co-wrote "A Groovy Kind Of Love" a few years earlier, doing the female part.

The 1910 Fruitgum Company's hits in the late '60s like "Simon Says" and "1,2,3 Red Light" seemed like nursery rhymes put to music, but their stripped-down sound was influential on late '70s new wave bands like Talking Heads who performed cover versions in shows.

The Jackson 5ive were originally promoted as a soul alternative to bubblegum bands like The Archies, but quickly moved away from that label, despite having their own Saturday morning cartoon show.

Conventional wisdom suggests the Monkees were bubble gum since, like most acts in the genre, they were prefabricated and their music was targeted to pre-teens. However, some rock historians feel they were more like an inspiration, especially since album cuts like "Take A Giant Step" and "What Am I Doing Hanging 'Round?" helped inspire country rock. "I'm A Believer," their biggest hit was produced by "Sugar Sugar" co-writer Jeff Barry and was written by Neil Diamond.

The Partridge Family had a No. 1 hit with "I Think I Love You," and the only performers from the show on the song were David Cassidy and his real-life step-mom Shirley Jones.

In the mid-1970s, the Bay City Rollers topped the charts with "Saturday Night" and had a few other teeny bopper hits like this remake of a Dusty Springfield song.

After Shaun Cassidy starred on "The Nancy Drew/Hardy Boys Mysteries," he followed in brother David's footsteps and became a teen idol himself. These days, he produces TV shows.

In the early-to-mid-1970s, Donny Osmond had a legion of fans who wore purple socks in his honor.

Tony DeFranco became a teen idol in the early 1970s, in part because he looked like Donny Osmond. "Heartbeat (It's A Lovebeat)" was the biggest of his three top 40 hits, and later got indie cred when it was covered by the influential punk band The Replacements.

Back in the late 1980s, Debbie Gibson was a bubble gum babe who earned respect among older musicians by writing and producing her own songs, something unusual in the pre-fabricated bubble gum world.

Tiffany was yin to Debbie Gibson's yang during the late 1980s and hit No. 1 with her debut single, a remake of "I Think We're Alone Now," a hit for Tommy James that is considered to be a bubble gum classic.

In the mid-1980s, New Edition was an R&B group of teen idols who had mainstream success with hits like "Candy Girl" and "Cool It Now." Members of the band went on to success in groups like Bell Biv Devoe or as solo stars like Bobby Brown, who also married Whitney Houston.

Menudo is a Spanish-language bubble gum act that has been around since 1977. The main problem with bubble gum acts is that the audience grows up and stops being interested in the music -- or the acts. Menudo solved this by having members retire around they started getting chest hair. The group was biggest in the 1980s when one of the members was Ricky Martin.

New Kids On The Block was hugely successful in the early 1990s, and has since reunited for shows co-starring the Backstreet Boys. Mark Wahlberg was an early member before Joey McIntyre joined but he quit and later had a No. 2 solo rap hit with "Good Vibrations" under the name "Marky Mark." The band's original producer, Maurice Starr, also worked with New Edition.

The Backstreet Boys kicked off the mid-90s run of boy bands that included N'Sync, LFO and 98 Degrees. These days, they are no longer boys, but do shows with New Kids On The Block, who are no longer kids.

N'Sync fought it out with Backstreet Boys to be the top boy band before Justin Timberlake went solo. This video was controversial as experts believed it presented an inaccurate view of mental health problems.

Justin Bieber is one of the biggest bubble gum stars in memory, but, truth be told, he eats licorice in this video.
Even though Levine wrote and sang the Ohio Express' hits, he never performed -- or actually met -- the members of the band sent out by their record company, Buddah Records.
"Nope, never did," Levine admitted to The Huffington Post. "I wrote the songs and sang them."
Legend has it that songs would be released without the knowledge of the touring band who would have no clue they had a new hit until the crowd was yelling for it.
Levine said he was in the music business to make a living and have fun and never worried about getting credit (or apparently meeting the guys who were performing his songs in concert).
"We were cutting everything to be hits, not to be an artist," he said.
Although the songs were geared towards a pre-teen audience, Levine admits he pushed the envelope by including double entendres. For instance, the second line of "Yummy, Yummy, Yummy" is "I've got love in my tummy," and only people above the age of 12 might wonder how the love got there in the first place.
"There's so many sexual innuendos, but I was young at the time and that's what you have on your mind," Levine laughed. "I don't know if the people who liked the songs got them."
Like Levine, Dante had no problem with being a paid studio singer hired by the session. Heck, it allowed him to have two hits under two names at the same.
In 1969, when "Sugar Sugar" was No. 1, Dante hit No. 12 on the charts with "Tracy," which was billed as The Cuff Links, and he was also riding high with two successful jingles for Pepsi and and McDonalds, making him the most famous man in America that no one knew.
"I was OK with that," he told The Huffington Post. "I was very adaptable. I liked knowing I was in every home in America."
Dante, who later went on to produce Barry Manilow's early hits, believes bubble gum rock should get more respect since it takes talent to write songs that are catchy, as well as arrangements that create catchy "ear worms" that make the song stick.
"Some day it will be respected," he said. "Jeff Barry, who wrote 'Sugar Sugar' and 'Hanky Panky' is in the Rock and Roll Hall of Fame, and Don Kirshner, who helped created the Monkees and the Archies, just made it.
"You have to understand: We were making music for preteens and kids. We never wanted to be compared to Cream and the Stones, but we led those kids to rock or R&B or whatever other music they liked."
Pop music historian David Smay, who wrote and edited "Bubble Gum Music Is The Naked Truth" (Feral House), says the genre gets a bad rap because rock criticism rose with the counterculture, a movement "where authenticity is key."
"There's this myth that good rock comes from an autonomous band like the Beatles, but most of rock has been created by songwriters who wrote the songs and studio musicians who played on them," Smay told The Huffington Post.
However, not every bubble gum band was a pre-fabricated entity.
The 1910 Fruitgum Company, which guitarist and only original member Frank Jeckell claims was inspired by a candy wrapper that he found in his attic, was actually an existing band before signing with Buddah Records in 1967.
"We started out playing Cream and Vanilla Fudge-type music, not anything like what we became known for," Jeckell told The Huffington Post. "I think even when we hit it big, some of the other band members became disenchanted because other groups we'd play with didn't give us mutual respect. They couldn't understand why we had hits."
Jeckell said after the band fell off the charts around 1970, he felt bad about his music career and focused on information technologies for companies like IBM, but when the punk explosion happened in the late 1970s, he discovered his band was actually a big influence on future new wave bands like Talking Heads and the Ramones.
"After that, I was more willing to speak up about my past," he admitted. "Before I kept it to myself. You know, The Ramones actually covered 'Indian Giver,' but they did it their own way."
Considering that a title like "Indian Giver" is not exactly politically correct, Jeckell admits that it has caused the band some concern.
"A while back, we performed at a Native American casino and we told the manager we might cut the song from the set out of respect to their culture and he stopped us mid-sentence and said, 'You can't do that! It's my favorite song.'"