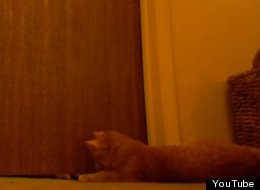 The owner of the cat featured in this YouTube video has no need for an alarm clock. That's Boo's job.
The appropriately named fury feline uses his paws to slide and ping the door stop each morning to wake his owner. Over and over again, he just can't get enough.
No matter how annoying, this attention-seeking cat's flexible paws are pretty impressive.
The footage is almost as adorable as the blind kitten playing with its toys or the baby elephant who didn't get his trunk.
Can't get enough cuteness? Check out the best animal videos of 2011:
Cutest Animal Videos Of 2011(CLONED)
Oskar the blind kitten plays with his first toys. More here.

This cute little guy doesn't seem to understand its trunk. More here.

Is this the world's cutest dog? More here.

How cute are these wrestling baby bears? More here.

This orphaned baby chimp danced until he dropped! More here.

These adorable baby pandas snuggled together in a crib. More here.

These adorable red pandas can't seem to stop kissing. More here.

This baby seal can't believe it gets to go home! More here.

These little chimps got to have their first steps in the sunlight. More here.

These baby bears had some fun on a hammock! More here.