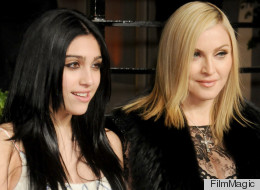 Madonna is making headlines recently not only for her latest album and controversial perfume ad, but for her parenting. She wasn't too pleased with her daughter Lourdes' recent cigarette smoking, but she is a big fan of the 15-year-old's wardrobe.
"I live in her Converse sneakers," Madonna told Life & Style. "She's always wearing my combat boots."
It's true: despite the 40-year age gap between them, Lourdes and her famous mom share a love of black clothes and punky accessories finished off with an unexpected edge. (We are unsure, however, how Lourdes feels about mantyhose or, um, wings.)
Which other celebs have passed their style sense onto their daughters? Below, check out Carole and Kate Middleton, Rumer Willis and Demi Moore and the other famous mommy-daughter pairs who not only look alike but also dress alike.
Celebrity Mother-Daughter Duos
Madonna has adopted her daughter Loudres' rocker-chic style.

Mother to one of the most famous faces in the world, Carole favors sleek blazers over feminine, to-the-knee dresses just like her royal daughter.

Rumor Willis takes after her mother Demi Moore in her love for black attire, but adds a pop of color with her orange clutch at this Cinema For Peace event in in Beverly Hills.

In both her mannerisms and professional style, Chelsea Clinton takes after her mother, Secretary of State Hillary Rodham Clinton. Fortunately, the youngest Chelsea has not adopted her mother's practical use of scrunchies.

Former Spice Girls member Geri Halliwell and 5-year-old daughter Bluebell Madonna wear pastels for spring while shopping in France.

Blythe Danner and her daughter Gwyneth Paltrow are another mother-daughter duo who know who to wear black. Danner sports a slightly more conservative look with a higher neckline and sheer jacket.

Kate Moss and her daughter Lila Grace know how to dress for warm weather, both wearing light-weight cover-ups on a boating trip.

Debbie Reynolds and daughter Carrie Fisher both wore slim-fitting jackets over black at the 2011 Primetime Creative Arts Emmy Awards in Los Angeles, California.

Joan Rivers and her daughter Melissa both incorporate bright colors into their wardrobe. However, Melissa does not share her mother's love of bulky jewelry.

Sarah Jessica Parker's twin daughter has inherited her mother's fashion sense. On a stroll in New York, she rocks sunglasses and rolled pants like her mom.

Susan Sarandon and her daughter Eva Amurri share a love of fashion. The pair attended the Lela Rose Spring 2012 fashion show during New York's Mercedes-Benz Fashion Week.