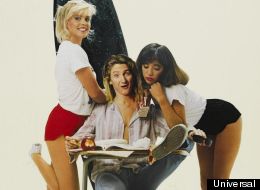 420, or April 20 if you're not a stoner, is here. The day cannabis aficionados around the world celebrate yearly has finally arrived -- on a Friday, no less -- meaning squares hoping to grab a bag of Doritos from the local supermarket might be out of luck.
For those who participate in National Weed Day (celebrated on 420 because of the number's connection with marijuana smoking; click here for the 420 backstory), the chances are good that at least some of these characters will be quoted and/or emulated in the hours ahead.
Check out HuffPost Entertainment's list of the best stoner characters of all time -- from Spicoli to The Dude. Remember: please smoke responsibly.
Before he was BRAD PITT, Brad Pitt was just another guy making a bong out of plastic honey bear. Don't "condenscened" him, man. (Bonus: Young James Gandolfini!)

Not only do Marty's (Fran Kranz) pot-smoking ways help save him from the horrible secrets inside the cabin in the woods (cue: thunderclap), but he actually uses his collapsable bong to render a zombie incapacitated.

Anna Faris won "Stoner of the Year" from High Times for her loopy role in "Smiley Face."

Kumar (Kal Penn) has sex with a bag of weed. That is all.

Carl (Bill Murray) grows his own grass. And his own grass. "The amazing stuff about this is, you can play 36 holes on it in the afternoon, take it home and get stoned to the bejesus belt that night." Cannonball coming! (It's a little harsh.)

When a small earthquake strikes, Ben Stone (Seth Rogen) grabs his bong before his pregnant girlfriend (Katherine Heigl). His stoner bona fides are not fooling.

Dude's name is Smokey. "I'm gonna get you high today, 'cause it's Friday; you ain't got no job, and you ain't got shit to do." Noted.

"Did you ever look at a dollar bill, man?" Ron Slater, we'll catch you later. (Alternate: every other cast member in "Dazed and Confused.")

The Dude abides.

Thurgood (Dave Chappelle) may love weed, but he also loves ... well, women, too.

Remember when Sean Penn was funny and lighthearted and not dour and serious? If not, just pop in "Fast Times at Ridgemont High." Aloha, Mr. Hand!

Cheech and Chong: The O.G. stoners to remember on 4/20.