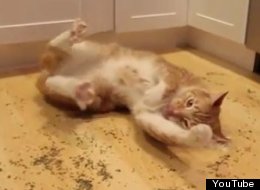 We've shown you dogs that look like they're high, presenting some nitty-gritty facts about the plant that makes April 20 a very special day for millions of America. But those on the feline side of the "cats vs. dogs" debate can put a tally on their side: Cats don't need to be manipulated by a clever photographer to look like they're on something. No, they have their very own mind-altering treat made just for them, and don't even need a holiday as an excuse to indulge in it.
The best part is that cats seem to love catnip almost as much as we enjoy watching them go crazy while on it. So have at it, readers. Here are 9 videos of cats on catnip. And please, enjoy Human Catnip Day responsibly.
Hanging out, listening to some tunes.

I can't believe I never noticed how plush and comfortable this carpet was before.

Found it!

Hold on, just let me roll around a little more.

Typical catnip freak-out.

Woah, have you ever lied down this way and looked up at the ceiling?

Even a small amount of catnip can work wonders.

This Canadian stuff is CRAZY.

Too much catnip.