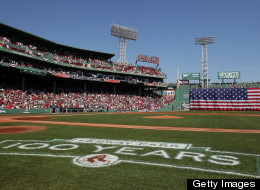 Fenway Park, the home of the Boston Red Sox, hosted its first baseball game on April 20, 1912. (Fun fact: the game was initially scheduled for April 18, but was delayed two days because of rain.) The venerable ballpark is the oldest Major League Baseball stadium currently in use, and housed some incredible moments over the last century -- from Carlton Fisk's home run in Game 6 of the 1975 World Series to David Ortiz's dramatic heroics in the 2004 American League Championship Series.
Fittingly, the Red Sox will play the New York Yankees on Friday night to mark the anniversary -- the first game was against the New York Highlanders, who later became the Yankees -- but here at HuffPost Entertainment, the best way to honor 100 years of Fenway is by looking back through cinema. (Hey, it's Friday.)
Ahead, the five best Fenway Park moments on film.
Fenway Park At The Movies
Ben Affleck's underrated 2010 heist thriller features a third-act robbery of Fenway Park. Literally. Unfortunately for Affleck and his team of merry robbers, things go about as well as September 2011 did for Boston.

At the end of Bennett Miller's "Moneyball," Oakland A's general manager Billy Beane (Brad Pitt) heads to Fenway Park to meet with Red Sox owner John Henry (Arliss Howard). "It's threatening the way that they do things," Henry tells Beane about his Moneyball practices, before offering him a job to be general manager in Boston. Beane declined and stayed in Oakland; Boston hired Theo Epstein and won two World Series. (See Fenway in the trailer above at 1:44.)

The Farrelly brothers' baseball romcom (which, despite protestations from people like Bill Simmons, is actually a good baseball movie *ducks*) features numerous scenes set at Fenway Park and cameos from Johnny Damon, Trot Nixon and Jason Varitek.

"Go the distance." (OMINOUS MUSIC CUE.)

This scene doesn't technically take place at Fenway Park, but who cares: "Sorry, guys; I gotta see about a girl."