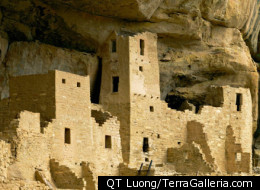 It's National Parks Week and to celebrate our nation's beautiful natural treasures MapQuest has launched a new feature outlining all 58 national parks in the United States.
The new website features park guides on all 58 National Parks with beautiful photography from world-renowned outdoor and adventure photographer QT Luong and videos hosted by park rangers giving an overview of what there is to see and do at a given park.
The site has extensive coverage of Colorado's parks with entries for: Rocky Mountain National Park, Mesa Verde, Great Sand Dunes, and Black Canyon of the Gunnison.
And for Utah, our neighbor state to the West, there is lots to explore at: Arches, Bryce Canyon, Canyonlands, Capitol Reef and Zion National Park.
Take a look at the stunning images below from photographer QT Luong and start exploring the National Parks at MapQuest.
LOOK: Images from Colorado and Utah's National Parks: