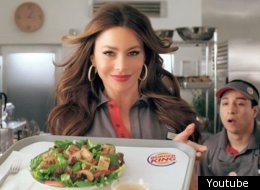 Forget Double Whoppers and fries. Now, that Sofia Vergara has joined the new Burger King campaign, the Spanish-speaking audience (and everyone else for that matter) might be drooling over the fast-food chain's healthier salads and wraps.
Burger King recently revealed it's new menu featuring fruit smoothies, salads and other healthier choices.
In their new commercial, Vergara wears a Burger King uniform and with sexy music in the background and slow motion taked of the Colombian actress, she spices up the kitchen making an apple and cranberry salad.
What can we say? She has a way of making things look extra sexy.
The company has starred other A-listers in their commercials, including fellow Latina, Salma Hayek, Jay Leno and David Beckham.
CHECK OUT SOFIA VERGARA OVER THE YEARS
Sofia Vergara Over The Years
Actress Sofia Vergara poses outside Club A.D. on June 15, 2002 in Hollywood, California.

Model Sofia Vergara poses outside The Lounge club May 2, 2002 in West Hollywood, CA.

In 2003... Sofia Vergara attends the afterparty for the special screening of 'Chasing Papi' at the U/A Union Square Theater.

BEVERLY HILLS, CA - JULY 26: Actress Sofia Vergara attends the panel discussion for 'Hot Properties' during the ABC 2005 Television Critics Association Summer Press Tour at the Beverly Hilton Hotel on July 26, 2005 in Beverly Hills, California. (Photo by Frederick M. Brown/Getty Images)

HOLLYWOOD - JULY 16: Actors Sofia Vergara and George Lopez speak onstage during the 2003 ESPY Awards at the Kodak Theatre July 16, 2003 in Hollywood, California. (Photo by Kevin Winter/Getty Images)

Sofia stands backstage during a taping for 'MTV Spring Break 2003' at the Surfcomber Hotel March 12, 2003 in Miami Beach, Florida.

Actress Sofia Vergara arrives at 'Platinum Guild Internationals Women With Heart' celebrity auction February 12, 2002 in Los Angeles, CA.

Sofia Vergara attends the first 'Lo Nuestro' awards hosted by Univision Spanish-language television on February 7, 2002 in Miami, FL.

Sofia arrives at the 8th annual latin GRAMMY awards held at the Mandalay Bay Events Center on November 8, 2007 in Las Vegas, Nevada.

Sofia poses at the photocall for the out of competition film 'Four Brothers' at the Palazzo del Casino as part of the 62nd Venice Film Festival on September 3, 2005 in Venice, Italy.

Sofia Vergara attends the 16th Annual Elton John AIDS Foundation Academy Awards viewing party at the Pacific Design Center on February 24, 2008 in West Hollywood, California.

Sofia Vergara, at an award ceremony, gives a flirty grin to the cameras.

Vergara appeared at a Kmart department store to introduce her new Sofia by Sofia Vergara Collection which launched this past September.

Vergara posing with some of her clothing designs.

Here on the set of Modern Family, where Vergara plays Gloria, the loud sassy Colombian with the hot bod. So, uh, essentially she's playing herself right?

Vergara poses in the press room after winning the award for Outstanding Supporting Actress in a Comedy Series for 'Modern Family' at the 42nd NAACP Image Awards.

Vergara played the live-action character Odile in the "Smurfs" movie.

Vergara was the face of the Diet Pepsi commercial with David Beckham. To watch the commercial click here.

Vergara poses with her son Manolo for a"got milk?" campaign in Los Angeles.

Nominee for Best Performance by an Actress in a Supporting Role in a Series, Mini-Series or Motion Picture Made for Television Sofia Vergara gestures on the red carpet for the 69th annual Golden Globe Awards at the Beverly Hilton Hotel in Beverly Hills, California, January 15, 2012.

Actors Ed O'Neill and Sofia Vergara arrive to The Paley Center for Media's PaleyFest 2012 honoring 'Modern Family' at Saban Theatre on March 14, 2012 in Beverly Hills, California.

Sophia Vergara makes a funny face while announcing the nominations for the Golden Globe Awards, on December 15, 2011 in Beverly Hills, California.