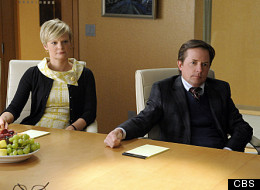 This TV week kicks off with quite a bit of "Bones" drama. Airing Monday at 8 p.m. ET, the Fox series will feature a dead body found in the woods, Hodgins (T.J. Thyne) going overboard on lab equipment purchases, and the return of Booth (David Boreanaz)'s son Parker.
For some less deadly drama, the series premiere of "The L.A. Complex" airs on Tuesday at 9 p.m. ET on The CW. The new Canadian import is the gripping -- if not a little soapy -- story of twentysomethings trying to make it in Hollywood, starring Cassie Steele, Jewel Staite and Chelan Simmons.
On Wednesday's "Don't Trust The B---- In Apartment 23" (9:30 p.m. ET on ABC), Kiernan Shipka -- better known as "Mad Men's" scene-stealing Sally Draper -- will make an appearance as James Van Der Beek's co-star in a new movie.
Finally, it's time to bid "The Good Wife" farewell. The CBS legal drama wraps up its season on Sunday at 9 p.m. with Louis Canning (guest star Michael J. Fox) and Patti Nyholm (Martha Plimpton) teaming up to bankrupt the firm.
Click through our slideshow to see what else is worth watching this week.
"Bones" (8 p.m. ET on Fox) The corpse of a truck company employee is found in the middle of the woods. After the victim's son is questioned, Booth and Brennan visit his karate class in search of a motive. Back at the lab, Hodgins is going overboard purchasing lab equipment. Then, Booth's son Parker returns from England and Brennan is apprehensive about how he'll react to his new baby sister.

"RuPaul's Drag Race" (9 p.m. ET on Logo) season finale The competition reaches epic proportions as the top 3 queens compete in their final challenge starring in the music video for RuPaul's hit Glamazon with choreographer Candis Cayne.

"Smash" (10 p.m. ET on NBC) Karen finds herself seduced by the glamorous life of new BFF Rebecca Duvall (special guest star Uma Thurman) -- but can Rebecca be trusted? What will Karen's ascent mean to her relationship with Dev? And will Rebecca drive Derek insane? Eileen introduces new beau Nick (guest star Thorsten Kaye) to ex-husband Jerry (guest star Michael Cristofer), while Julia panics when her son Leo goes missing. (And the rest of us throw a party.)

"Cougar Town" (8.30 p.m. ET on ABC) Jules and Grayson can't see eye to eye when it comes to joining their finances, but they're both going to have to make some sacrifices if they actually want to get married -- and that is not going to be easy. Meanwhile, Laurie's Krazy Kakes business is doing surprisingly well, and Travis convinces her to make some grown up decisions of her own.

"The L.A. Complex" (9 p.m. ET on The CW) series premiere Canadian imports are all the rage these days, and this soapy drama has all the attitude and sexiness sorely lacking from The CW's most recent homegrown efforts like "90210" and "Melrose Place." Give the first three episodes a try, since it's a lot closer to the typical Hollywood experience than "Entourage" ever got. Broke and desperate, aspiring actress Abby (Cassie Steele) finds a place to crash at "The Lux" Motel in L.A. There, she meets a group of like-minded displaced dreamers; Raquel (Jewel Staite), a former teen star in need of another chance; Alicia (Chelan Simmons), a tenacious dancer who gets so close (but not close enough) in every audition; Tariq (Benjamin Charles Watson), an intern trying to get noticed in the competitive hip-hop world; Nick (Joe Dinicol), a struggling comedian who has no luck with women and Connor (Jonathan Patrick Moore), the strikingly handsome Australian actor who has just landed a series lead.

"New Girl" (9 p.m. ET on Fox) Jess fears she and Russell (guest star Dermot Mulroney) don't share the fiery passion he exhibits with his ex-wife Ouli (guest star Jeanne Tripplehorn). Meanwhile, Cece is not yet willing to admit her true feelings for Schmidt, so she encourages him to go on a date with one of her Russian model roommates. Then, a down-in-the-dumps Nick channels all of his energy into a new vegetable garden.

"Don't Trust The B---- In Apt 23" (9.30 p.m. ET on ABC) Type-A June is operating at her highest potential when she lands a demanding internship, juggles two jobs and adds on more responsibilities. But she meets her match when she's tasked with cleaning up one of Chloe's incredibly irresponsible, half-baked ideas. Meanwhile, James is psyched to have landed a classic body-swap movie, co-starring the talented Kiernan Shipka, and dives head first into the research.

"Revenge" (10 p.m. ET on ABC) Whether or not she intended it to happen, Victoria's pawns are caught in the middle of an insidious cover-up and have to pay the ultimate price when Emily discovers the identity of the mysterious man who murdered her father. Meanwhile, Declan's testimony marks the beginning of the end of his relationship with a self-destructive Charlotte.

"Ugly Americans" (10.30 p.m. ET on Comedy Central) season finale Mark chooses April Fool's Day to ask Callie to take their relationship to the next level, but his romantic gesture is threatened when Callie's vengeful ex-boyfriend returns to win her back. Meanwhile, Leonard tries desperately to redeem a winning lottery ticket as Randall attempts to cut himself in on the prize.

"The Big Bang Theory" (8 p.m. ET on CBS) Bernadette reconsiders marrying Howard after learning about his sexual history. Wil Wheaton guest-stars.

"Community" (8 p.m. ET on NBC) When Annie discovers the study group's yam experiment smashed to smithereens on the science lab floor, the group mobilizes to expose the criminal and save their grade. Once Abed and Troy think they have located the perpetrator, the group conducts a "trial," with a reluctant Professor Kane (guest star Michael K. Williams) serving as judge. Jeff soon realizes, however, that the plot is thicker than anyone suspects.

"Touch" (9 p.m. ET on Fox) Martin attempts to find Teller's mysterious workshop and winds up aiding another professor, Logan, to win big at poker. Meanwhile, a young Italian man creates a viral video to track down the love of his life, whom he only met in passing, and a city slicker who plans to sell off his dead father's ranch, winds up learning a lesson from a horse that makes him appreciate the rural life his father chose. Then, Martin's sister-in-law, Abigail (guest star Catherine Dent) visits Clea and Jake at the board-and-care facility, much to Martin's dismay.

"Nikita" (8 p.m. ET on The CW) Nikita convinces a reluctant Birkhoff to use 20 million dollars of his own money in a plan to bankrupt Percy and Division, but when Percy ends up stealing the hacker's entire life savings, Birkhoff and Nikita clash. Team Nikita has one last chance to hit Percy again, but Birkhoff is arrested trying to regain his millions and Nikita realizes she must break him out of jail before Division gets to him, leaving Michael and Alex go after Birkhoff's stolen money.

"Fringe" (9 p.m. ET on Fox) The teams on both sides fight on for a common cause, and there are shocking developments tied to the Cortexiphan children. HuffPost TV was on set for this episode, so keep an eye out for our exclusive interviews on Friday.

"Supernatural" (9 p.m. ET on The CW) Dick Roman acquires Frank's hard drive containing sensitive information about the Winchesters, and gives it to an unsuspecting hacker named Charlie (guest star Felicia Day) telling her she has 48 hours to crack the firewall or she is fired. Sam and Dean are tipped off that Dick has the hard drive and race to get to Charlie before she breaks the code. Meanwhile, Bobby tries to help the brothers, but his rage towards Dick for killing him starts to get in the way.

"Young Justice" (10.30 a.m. ET on Cartoon Network) season premiere The superhero team takes on the intergalactic bounty hunter Lobo ... as a precursor to a larger and more destructive threat.

"The Thick of It" (11.59 p.m. ET on BBC America) season premiere The second season of this British comedy starring Peter Capaldi as the Prime Minister's Machiavellian spin-doctor Malcolm Tucker, who seeks to unpick the latest muddles that have been dumped onto his plate. This season follows the newly appointed Secretary of State for Social Affairs and Citizenship, Nicola Murray (Rebecca Front) and her used-up team of advisors as they struggle to achieve anything at all under Malcolm's watchful eye.

"Once Upon a Time" (8 p.m. ET on ABC) August promises to enlighten Emma and take her on a journey that will show her how she can beat Regina, and possibly take custody of Henry; and with Mary Margaret returning to work, Regina puts a plan in motion to seduce David. Meanwhile, in the fairytale land that was, with the Evil Queen's curse about to strike, Geppetto agrees to a plan that will save Snow White and Prince Charming's daughter, but with a proviso that could also save his own son.

"The Good Wife" (9 p.m. ET on CBS) season finale Will and Diane scramble when Louis Canning (guest star Michael J. Fox) and Patti Nyholm (Martha Plimpton) team up to bankrupt the firm. Also, Alicia faces conflicted feelings regarding her relationship with Peter, and Kalinda's past catches up to her.

"My Big Fat American Gypsy Wedding" (10 p.m. ET on TLC) series premiere Going inside the hidden world of American Gypsies, each of the series' 8 episodes will explore the tight-knit Gypsy community, offering up unprecedented access to their lives, welcoming viewers into their homes and trailers, and inviting them to their infamous Swarovski Crystal-studded weddings. Building on the worldwide success of the UK series "My Big Fat Gypsy Wedding," TLC will now go across the United States to share what it's like to be living as a Gypsy in America.