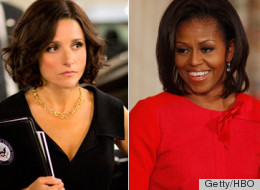 Julia Louis-Dreyfus stars as the vice-president in the new HBO series "Veep," and to get her character's wardrobe just right, she took her style cues from one of D.C.'s biggest style icons -- Michelle Obama.
The actress, recently told People magazine that FLOTUS' fashion choices helped get into the right sartorial mindset to play her character, Selina Meyer.
Louis-Dreyfus confesses, though, that her character is not totally as chic as our beloved First Lady Michelle Obama. The actress also says she's a huge fan of FLOTUS' looks IRL; she gushes that Michelle is "my icon, I adore her. Oh, my god, look how she puts the belt around the sweater! I don't feel as though I'm as cool as she is." A girl after our own hearts!
Louis-Dreyfus sports a professional look on the show, wearing slim-fitting suits and colorful blouses. Though she steers away from Michelle Obama's style of florals and prints her character is not afraid to accessorize, donning everything from a classic string of pearls to a huge brooch. While the first lady tends toward a refined and stylish look, Louis-Dreyfus adopts a slightly sexier look with lower necklines.
Though we're big fans of the power suit, we'd like to see Julia Louis-Dreyfus change it up with some rotating colors besides the stereotypical black and various shades of red and burgundy. We suggest a form-fitting jacket with a straight edge, instead of a typical blazer cut. Also, how about changing up the top-bottom combos? Jackets don't need to match skirts so that your figure turns into a blob of singular color.
We look forward to seeing what else Selina Meyer has in her closet this season.
Check out our roundup of Veep's FLOTUS-inspired looks!
The first lady wore a purplish burgundy dress.

Julia Louis-Dreyfus wore a burgundy dress with a string of dark pearls around her neck in this scene of "Veep."

Michelle Obama wears a fitted black suit with a dash of color poking out from underneath her jacket.

The "Veep" star wore burgundy again, although this time around she showed off the flattering color in a power suit.

The first lady accessorizes her ensemble with a striking brooch.

The star of "Veep," sports a large star brooch alongside a American flag pin on her black fitted blazer.

Michelle Obama dresses up a simple red blouse with a sparkling broach.

The "Veep" star dresses down in a plain black blouse, but adds a gold necklace.

The first lady accessorizes a royal blue dress with a classic -- white pearls.

The "Veep" star wore a simple purple blouse with a lower neckline, but added a string of white pearls.

The first lady wore a brillant red blouse with a bow that tied across the neckline.

Louis-Dreyfus wore a colorful pink blouse with a flowered bow that tied across the neckline.

The first lady often shows off her toned arms with sleeveless fitted dresses and blouses.

Louis-Dreyfus also shows off her shoulders in during this "Veep" scene when she wears a classic little black dress.