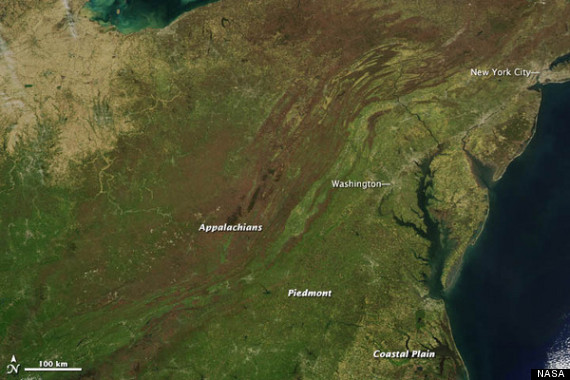 With the onset of spring comes first the buds on trees and then the riot of green leaves, which is so pervasive it can even be seen from space.
NASA's Aqua satellite took this image of the Piedmont, a forested plateau between the Appalachians and the lower elevation plains along the U.S. Atlantic coast, on April 7 with its Moderate Resolution Imaging Spectroradiometer (MODIS) instrument.
The Appalachian Mountains themselves are still colored brown because trees at higher, and thus cooler, altitudes were likely still in bloom and had not yet begun to produce leaves, according to a NASA statement.
Combined with observations on the ground, satellite measurements of spring greening can help scientists better study the effects of global warming. Research by Mark D. Schwartz, a geographer at the University of Wisconsin-Milwaukee, that marries these two types of observations has found that the onset of spring has moved up by 1.1 days per decade in North America since 1960, according to a NASA statement. Change has been particularly fast in the west, where it has advanced by 1.5 days per decade.
Of course, not all plant species benefit from the warmer temperatures; some tree species need the cold of winter to grow properly come spring. A study of satellite observations from 1982 to 2005 found that about 30 percent of North America — particularly areas south of 35 degrees north latitude — have actually been greening later due to the lack of cool winters.
Copyright 2012 OurAmazingPlanet, a TechMediaNetwork company. All rights reserved. This material may not be published, broadcast, rewritten or redistributed.
SUBSCRIBE TO & FOLLOW THE MORNING EMAIL
The Morning Email helps you start your workday with everything you need to know: breaking news, entertainment and a dash of fun. Learn more