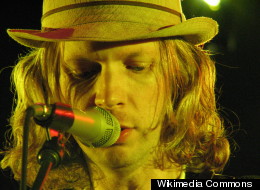 Beck once again proved his talent as a multifaceted musician by covering "I Only Have Eyes for You" by the Flamingos.
The track is gorgeous and a true dedication to the 1959 doo wop original. There is a hint of lo-fi with washed out vocals and instrumentals, akin to the recording techniques back in the day.
The cover is a part of multimedia artist Doug Aitken's "SONG 1" light installation project at the Hirshhorn Museum in Washington D.C. Along with Beck, artists like Devendra Banhart and James Murphy took a spin at "I Only Have Eyes for You" for the project as well.
Beck seems to be in cover-mode lately. Today, his rendition of the 1928 song "Corrina, Corrina," for Christy Turlington's collaboration album with Every Mother Counts, was also released.

Listen below for Beck's cover of "I Only Have Eyes for You:"


Head over to Pitchfork to listen to Beck's version of "Corrina, Corrina."