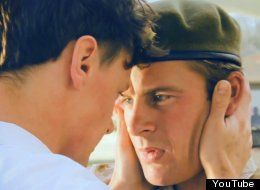 A poignant short film aims to rally support for gay marriage in the U.K. through social media.
Produced by the Coalition for Equal Marriage, a British marriage equality advocacy group, the new movie is titled "Homecoming," and depicts a soldier embracing his boyfriend on a military tarmac before a romantic proposal and passionate kiss.
"All men can be heroes," a tagline reads. "All men can be husbands. End marriage discrimination."
Director Mike Buonaiuto told Pink News that his own desire to marry his longterm partner inspired him to make the film. "One day I would like to marry my partner of almost 5 years and the celebration of our commitment should mean no more or less than any other straight couple," he said. "I made the film to promote change and also inspire others to use their creativity to support equality and make history happen, not sit back and passively watch it."
You can read more about the Coalition For Equal Marriage here.
Take a look at some of our favorite same-sex kisses in the slideshow below:
A Navy tradition caught up with the 2011 repeal of the U.S. military's "don't ask, don't tell" rule when Marissa Gaeta And Citlalic Snell, two U.S. naval petty officers, became the first to share the coveted "first kiss" on the pier after one of them returned from 80 days at sea.

One couple certainly got their opinion about the victory of Spain's Mariano Ranjoya and his conservative People's Party cross in an unusual way by "videobombing" an Al Jazeera reporter, kissing passionately as the hapless correspondent spoke on the election.

Gleeks rejoiced after the much-anticipated kiss between Kurt and Blaine. Several months later, the characters' first love scene drew additional praise (and controversy).

Breana Hansen (L) and Monica Chacon kiss as they celebrate outside of San Francisco City Hall on Feb. 7, 2012 in San Francisco after a three-judge panel of the 9th U.S. Circuit Court of Appeals ruled that the voter-approved Proposition 8 measure violates the civil rights of gay men and lesbians.

Although the Denver Broncos quarterback filmed a Superbowl commercial in 2010 for the anti-gay, anti-abortion organization Focus On The Family (FOTF), he seems to have no problem sharing a male-on-male lip-lock in front of thousands (millions?) of onlookers when he kissed teammate Demaryius Thomas.

In March 2011, gay couples kiss during a ceremonial 'wedding' as they try to raise awareness of the issue of homosexual marriage, in Wuhan, in central China's Hubei province.

The first gay kiss on daytime television was shared between characters Luke and Noah on "As The World Turns" in 2007.

Participants kiss as they march during the 2010 Euro Pride gay parade in Warsaw, Poland.

This ad featured two fathers kissing and drew over 200 complaints from concerned parents who were upset they "had to explain same-sex relationships to their offspring." Heinz ended up pulling the ad.

A gay couple kisses as Pope Benedict XVI (R) waves to faithful from his popemobile on his way to Cibeles square in Madrid, on Aug. 18, 2011, before a welcoming ceremony.

After sharing a kiss with his male bandmate on the 2009 American Music Awards, Lambert's performance due to take place later that week on 'Good Morning America' was canceled. The morning show said he was too racy for their viewers, but many believed homophobia was at play.

A gay couple kiss during a kiss-in flashmob to denounce the violence against members of the homosexual community in Brussels last year.

In 2000, "Dawson's Creek" featured a groundbreaking gay kiss on primetime when characters Jack and Ethan locked lips.

A gay couple kisses on Feb. 14, 2011 during a protest against the Greek state's refusal to recognise same-sex marriages on Athens' Ermou St, the capital's main shopping thoroughfare.

Sorry, Michelle Williams -- our favorite part of this Oscar-winning epic was the passionate reunion kiss between Ennis Del Mar (Heath Ledger) and Jack Twist (Jake Gyllenhaal)

In 1994 "Roseanne" aired a lesbian kiss between the title character and Sharon, played by Mariel Hemingway. The episode was almost pulled by ABC who was worried about reactions to the kiss, but ultimately it was aired and seen by 30 million people.

Israelis and foreigners of the gay community enjoy a Purim party as they celebrate in Tel Aviv.

After fans noticed that gay couple Cam and Mitchell hadn't shared a kiss, they started a successful Facebook campaign to get the producers of "Modern Family" to have the characters share more intimate moments.

As is the case with most of his storylines, Chuck Bass' man-on-man smooch had a secretly devious intention. Still, we couldn't help but love watching the hit show's resident bad boy (played by the ever-dashing Ed Westwick) lock lips with a man in this much-hyped sequence.

Darlene Garner (L) and Candy Holmes (R), both are reverends of Metropolitan Community Churches, exchange kisses during their wedding ceremony on the first day same-sex couples were legal to wed under a new law March 9, 2010.

Certainly groundbreaking for its time when it aired in 1999, a hot kiss between Ally (Calista Flockheart) and Ling (Lucy Liu) took place after the latter character's erotic dream. As After Ellen notes, both women ultimately concluded that what they really want out of a relationship is 'a penis,' but were at least willing to consider the possibility that they might be 'gay.'

"After the hours that Selma Blair and I practiced, we felt ready to go out there," Sarah Michelle Gellar said of her steamy "Cruel Intentions" kiss in 1999. "And I think it showed. Our motto was 'Rehearse, rehearse, rehearse." Looks like the rehearsal paid off: the pair were awarded the Best Kiss award at the MTV Movie Awards the following year.

J. Inness (L) and Drew Staffen kiss in front of the Castro Theatre during a 'Kiss-In' to recognize the International Day Against Homophobia in San Francisco.

People kiss at the Trocadero, in front of the Eiffel Tower in Paris during a "kiss-in" operation for the world day against homophobia.