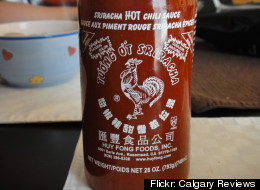 We all have a favorite ingredient -- one that we toss (often inappropriately) into our recipes or that we douse on all of our food. For many it's hot sauce, ketchup or even tartar sauce -- but the real kicker is what those foods are poured on (we sort of love the idea of ranch dressing on pizza).
We polled our coworkers here at HuffPost and put together a slideshow of the ingredients we use most often. But we want to know what yours are, too. Do you have a secret ingredient you can't get enough of? Share yours with us in the slideshow below!
Ingredient You Put On Everything
"Ranch dressing, especially on pizza." -- Zoe Triska, associate editor, HuffPost Books Image courtesy of whitneyinchicago, Flickr.

"Gomashio, which I learned about during my macrobiotic phase." -- Brad Hill, VP, audience development "I put sesame salt in my homemade mayo (it's my secret ingredient) and then on top of anything savory. Though I bet it'd also be amazing on brownies." -- Julie R. Thomson, associate editor, HuffPost Kitchen Daily

"My girlfriend, Helen, is a cooking master and has been doing *wonders* with matcha lately. She's made matcha coconut pancakes, matcha rolls, a matcha almond cake, matcha macarons, and she mixed it with ricotta. And, of course, she drinks plenty of cups of matcha." -- Christian Rocha, design technologist Image courtesy of fred_v, Flickr.

"There's this certain form of white kimchi that's made by Real Pickles, a company in Massachusetts, that goes strangely well with a huge variety of foods. It's a little expensive, so I don't always have a bottle in my fridge, but when I do, I find myself putting it atop quinoa, beans, sandwiches, pasta, meat and quesadillas." -- Joe Satran, entertainment reporter, HuffPost Entertainment Image courtesy of JoePhoto, Flickr.

"Cinnamon -- I put in tomato-based sauce. My mother and I used to make stuffed cabbage, and I would put it in the sauce that you cook the cabbage in." -- Lila Kalick, associate blog editor Image courtesy of samantha celera, Flickr.

"I wouldn't say I put it on everything, but around my house we've become enamored of pimenton and keep finding new ways to use it. It's the new secret ingredient in my deviled eggs!" -- Laura Goldstein, managing editor, AOL Money and Finance

"Vinegar is my favorite condiment. Balsamic, red wine, apple, rice. I love them all." -- Christine Friar, associate editor, HuffPost Comedy Image courtesy of @rgs, Flickr.

"Limes, limes, limes -- isn't all that outlandish even if I'm a 10 year vegan and vegetarian lifer." -- Andreas Turanski, senior tech director Image courtesy of adamjtaylor, Flickr.

"Avocado! Avocado pesto, avocado salad, avocado soup." -- Riddhi Shah, editor, HuffPost Good News Image courtesy of cyclonebill, Flickr.

"An egg makes any last-minute dish taste better. Whip an egg into your stir fry or crack an egg over a steaming hot bowl of pasta with oil and garlic and you've got a gourmet meal!" -- Emily Cohn, editor, HuffPost Money

"I put lemon on more or less everything except my tax returns." -- Dan Treadway, assistant editor, HuffPost Sports Image courtesy of James Bowe, Flickr.

"Tartar sauce ... I put it on anything savory." -- Brad Hill, VP, audience development

"I liberally douse all of my dishes with ground cayenne pepper. It adds spiciness without altering the flavor, and it goes well with everything: veggies, meats, starches, even nut butters." -- Amanda Chan, associate editor, HuffPost Health News Image courtesy of rcferdin, Flickr.

"I put Sriracha on almost everything I eat. Eggs, sandwiches, rice, salad. You name it I pretty much will eat it with that, if it's not available I go to Tabasco as a second choice. Hot sauce pretty much makes anything better- puts a little kick in it. Love, love , love it." -- Darina Kagan, executive assistant "Sriracha with sandwiches and more robust foods, like meats with sauces or just to spice up carbs (yes, I love brown rice with just sriracha and salt)." -- Jessica Leader, assistant editor, HuffPost Green Image courtesy of Calgary Reviews, Flickr.

"Fresh ground black pepper. It's even great on fresh melon." -- Elizabeth Kuster, editor, HuffPost Becoming Fearless "Copious amounts of black pepper on everything, before I even taste it." -- Marcia Greenblatt, account director

"Ketchup on virtually everything ... EVERYTHING!" -- Kate Bratskeir, associate editor, HuffPost Mindful Living "Ketchup -- I use to take the edge off a spicy Asian-inspired sauce. I sometimes add it to my peanut sauce." -- Lila Kalick, associate blog editor Image courtesy of stevendepolo, Flickr.

"I put hot sauce on everything ... Cholula hot sauce is my number one, always and forever. I do favor certain restaurants for their sauce selections, though." -- Rebecca Dolan, assistant editor, HuffPost Travel Image courtesy of valakirka, Flickr.

Melissa Joulwan:Sunshine Sauce is like Asian peanut sauce, but made with sunflower butter instead of peanuts. Creamy, nutty, with a touch of heat and luscious from coconut milk. YUM!

Kasado:Spicier than black pepper yet less than cayenne.

pizanarocker:For most of my meals, or even drinks at times, I love either adding or eating Mezzetta Hot Chili Peppers right out of the jar. I guess I am one of the Mezzetta brand's "hard-core fans" because I enjoy eating them whole, right out of the jar. They are also wonderful as garnish and bites with breakfasts, eggs, BLTs, salads, soups, sandwiches, steaks, Italian food, and most any meal. They are also a spicy and colorful complement to a Dirty Martini (with extra olive juice) with either Gin or Vodka (no flavored alcohols are my preference, but they could be good with lemon, lime, chocolate, vanilla, etc., flavored Vodkas). Also, they could be good with as a bit of spice with a tasty chocolate treat, and nice bottle of Cabernet or Merlot vino (wine). Just like the Mezzetta web site implies, they are not for the timid. I call them "bullets," because they are similar in shape and you have to have the courage to "bite the bullet" because their hot spice will give your mouth and taste buds a bit of heat and kick to get ya going. Some are hotter than others, or even can vary a bit in length within any given jar, and can make your eyes tear up too. My family and friends think I am crazy to indulge in them like I do. However, it has been proven that spicy foods can also help boost your immune system and keep you healthier. So, I also enjoy that added perk, and that they grow from Mother Nature's spicy vines. At times, when I've lived in areas that didn't have any available at the local grocer, I've even special ordered them. I think I'm addicted to them, but don't need or want any intervention. Ha, ha! Besides, rehab is for quitters. I gotta have my Mezzetta. Grazie, to the Mezzetta family for their creation. If you need any "spicy" or colorful personality to help you promote them, then contact me anytime. I'm an Italiana, too. I LOVE THEM! Buono Appetito. Ciao for now. :) Jules Zuffoletto, self-proclaimed connoisseur of food and wine.

thebarbecuemast:i put some hot peppers or hot pepper sauce i make on 99 percent of what i eat.

Bbq Guy:Bbbbbacon, it's the meat that keeps me shakin'!