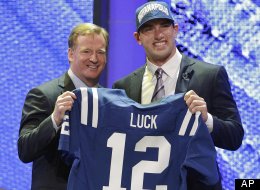 Entering the 2012 NFL Draft, we knew that quarterbacks Andrew Luck and Robert Griffin III were going to be the first players off the board. There were no surprises here as both college standouts came up to shake hands with NFL Commissioner Roger Goodell.
As for the rest of the selections called out, football fans at Radio City Music Hall and at home waited on the edges of their seats. Except for Jets fans. They were doing a lot of standing and booing.
The drama began before NFL Commissioner Roger Goodell even opened the draft, as the Minnesota Vikings and Cleveland Browns made a deal involving the No. 3 overall pick. This was just the first of several trades made along the way.
Scroll down and check out the rest of the results from the first round of the 2012 NFL Draft and vote on which picks were great and which you think will be busts.
NFL Draft Round 1 Results
Acquired via trade with Minnesota

Traded down with Cleveland to No. 4

Acquired from Tampa Bay for No. 7 pick.

Traded up with St. Louis to get No. 6 pick.

Traded down from No. 5 to No. 7 (with Jaguars)

Traded up with Seattle to get No. 12 pick.

Rams traded down to No. 14 with Dallas.

Traded down to No. 15 with the Eagles.

Acquire pick through the Carson Palmer trade

Acquired via trade with Cincinnati

Acquired via trade with Denver

Acquired via trade with Patriots.

Acquires via trade with Baltimore.

Acquired via trade with Denver.