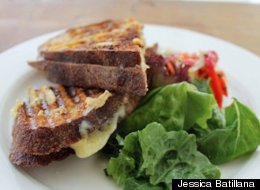 Each month, HuffPost SF joins our friends at Tasting Table to highlight our five favorite finds from the city's sprawling culinary scene. After eating around the city, here's what caught Tasting Table San Francisco editor Jessica Battilana's eye in April.
Allow us to introduce you to the latest, best sandwiches in town. Spice Kit's genius version involves a steamed Chinese-style bun, a paper-thin folded egg omelet and some slow-cooked pork belly.

Wednesday nights at Heirloom Café they're serving an all-sandwich menu, including a Reuben and an open-face asparagus-and-burrata sandwich.

And at Duc Loi Supermarket, five bucks gets you a fresh, filling banh mi.

At Gajalee on Valencia Street, skip the tikka masala in favor of seafood. The menu here focuses on dishes from Goa, on the west coast of India, where seafood and coconuts are prevalent. Get the superlative fish curry or the semolina-crusted fried basa.

Pop Nation's refreshing frozen pops--in flavors like strawberry lemonade; kiwi,ginger and lime; and chocolate are just what you want on these first warm days of spring. Find the colorful carts parked in the Castro and at local farmers' markets.

At Mission Bowling Alley, Anthony Myint (of Mission Chinese Food) has created a menu that includes the expected--like an insanely rich, juicy burger with caper aioli, and cheese-and-sausage corn dogs--as well as the unexpected, like the bright, fresh seven-bean salad.
Visit Tasting Table for more food highlights from San Francisco and beyond.