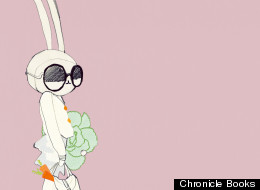 Who's the most stylish rabbit of all? It's Fifi Lapin, of course!
The rabbit (yes, the rabbit...it's BY Fifi Lapin) just came out with a new book, "The Wonderful World of Fifi Lapin: Style Secrets from a Furry Fashionista" [Chronicle Books]. The book reveals her fashion secrets, as well as tips for perfecting everyday chic looks. It also features interviews with famous designers, such as Anna Sui and Paul Smith.
You can read her blog here.
Below are some highlights of the book: