Hot On Pinterest: 5 Pinners To Follow Now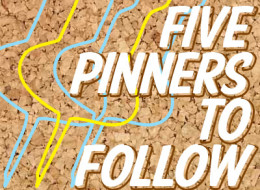 In this week's installment of Hot On Pinterest, we have design on our minds. From quirky decor ideas to incredible color inspiration, these 5 pinners are motivating us to give our own homes a makeover. See who caught our eye this week -- and who you should be following too!
Corinne Kowal: This interior designer from Belgium has a flair for all things bright and bold, and she's not afraid to show it. She has the usual boards you might expect to see from a color aficionado like "Colorful Interiors" and "Wallpaper." But it's her attention to quirky and off-beat design ideas like colorful painted ceilings and "Dark Painted Rooms" -- a board centered around all-black decor -- that has us inspired to do a little painting ourselves.
Andrea Victoria: With almost 50 different boards covering everything from style to organization tips to plans for her 3-year-old's birthday celebration, this Stylelist Home reader has a little something for everybody. We especially love her "Inspired Party" board, full of great decorating, entertaining and craft ideas for both kid-friendly get-togethers and more grownup soirees.
Ben Stovold: It's not very often we get to view the world from a guy's point of view on Pinterest, but this London-based user lets us do just that. His "Man Stuff" board is exactly what it sounds like -- a fun hodge podge of motorcycles, cars and skateboards. But what really caught our attention was his carefully curated "House and Home" page, where he shows off his impeccable taste for sleek furniture, unique products and modern design.
Liz @ It's Great To Be Home: This DIY blogger has a digital design inspiration board for just about every room in the house. From bright and breezy kitchens to cozy bedrooms and living rooms, she's rounded up hundreds of photos of beautiful interiors -- including ones from her own home. Follow her "My Renovations" board to see what home improvement projects she currently has up her sleeve.
Holly Becker: The blogger behind Decor 8 has no shortage of ideas when it comes to creating beautiful spaces, and her Pinterest account is a reflection of her eye for detail. Whether you're looking to spruce up a large room or add interest to an overlooked corner, her "Styling" board is a must-see. For a fun dose of sparkle, check out "#discomania," a board reserved for disco balls and all things shiny.
Want to see your account in our weekly top 5? Then send us an email! Simply click "Send Us A Tip" (below) with a link to your account. (We also accept nominations!) And don't forget -- Stylelist Home is on Pinterest, too.
Have something to say? Be sure to check out Stylelist Home on Twitter, Facebook and Pinterest.