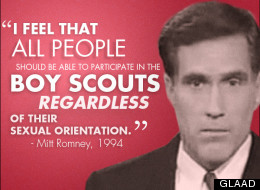 In fighting for a lesbian mother's right to serve as her son's Tiger Scout leader, the Gay and Lesbian Alliance Against Defamation (GLAAD) is drawing attention to a 1994 video in which Republican presidential candidate Mitt Romney voiced his support for gay people's participation in the Boy Scouts of America.
In the video, Romney, who once served as a member of the Boy Scouts of America's National Executive Board, states:
"I believe that the Boy Scouts of America does a wonderful service for this country. I support the right of the Boy Scouts of America to decide what it wants to do on that issue. I feel that all people should be able to participate in the Boy Scouts regardless of their sexual orientation."
As GLAAD officials noted in an email statement, Romney's statement echoes the opinion of those who have already joined Ohio mom Jennifer Tyrrell's Change.org action calling on the Boy Scouts of America to end its long history of discrimination against LGBT people. Thus far, over 160,000 people have signed on in support of Tyrrell.
Tyrrell was forced to resign as scout leader of her 7-year-old son's troop because she's a lesbian. "It is time for the Boy Scouts of America to reconsider its policy of exclusivity against gay youth and leaders," Tyrrell, who also appeared at the 2012 GLAAD Awards in Los Angeles over the weekend, notes in the petition. "As more individuals become aware of the discrimination I've been dealing with, it is my hope that these incidents will happen less frequently -- if at all."
GLAAD President Herndon Graddick noted in a statement, "The only 'character development' and 'values-based leadership training' the Boy Scouts have taught our young people in this case is that blatant discrimination is OK. Tossing aside the hard work and leadership of a committed mom because of who she loves is not a 'value' that a majority Americans want taught to their children."
You can view the petition here.
Take a look at other employees who were dismissed for being LGBT below:

LGBT Discrimination In The Workplace
A Missouri-based gay music teacher at an area Catholic school was recently dismissed from his job after authorities learned of his plans to wed his male partner of 20 years in New York. Al Fischer was reportedly fired Feb. 17, 2012 from St. Ann Catholic School in north St. Louis County, where he'd worked for four years. Fischer did not comment directly about his dismissal, but instead referred to an email sent to his students' parents after he was terminated. "A family conversation about whether or not justice was served here could be a great thing," he wrote. "I do not want the lesson from this for the kids to be, 'Keep your mouth shut, hide who you are or what you think if it will get you in trouble.'" Fischer's partner, Charlie Robin, told the paper that the couple's relationship was not a secret at the school, and that Fischer was only fired after a representative of the St. Louis Archdiocese overheard him talking to co-workers about his wedding plans. Read the full story here.