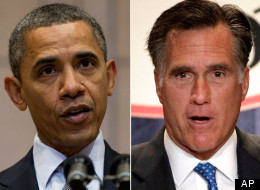 Everyone knows that the curtain came down on the 2012 GOP Primary a few weeks ago, but it wasn't until this week -- after Rick Santorum had taken his final bow, and Newt Gingrich finally stopped shouting about Delaware from the orchestra pit -- that the stagehands finally got to strike the set and put the costumes in storage for another four years. Mitt Romney went on his Northeast sweep of the April 24th primaries. Santorum offered Romney a non-endorsement endorsement on Piers Morgan's CNN show, "CNN Presents Piers Morgan, For Some Reason," and the Obama campaign team saluted reporters on a campaign conference call with a jaunty, "Welcome to the general election."
And that's basically that. A rowdy field of GOP candidates has furnished forth its party's champion, Mitt Romney -- the "next in line" figure from 2008 that we'd always figured would beat a weak field by outsmarting the fools and outspending the rest. Now Mitt Romney and President Barack Obama will get down to the business at hand: defining themselves, defining their opponents and defining the stakes of the election.
Much has been made of the "pivot" to the "center" that Romney will have to endure, and a lot of ink has already been spilled about the political costs he may or may not face from having to spend an awful lot of time catering to the desires of the GOP base. But there's no pivot more significant right now than how he engages Obama. We've seen a consistent message from Romney this week: Obama's a nice guy who's in over his head.
That message is tailored to driving a wedge between independent voters who -- while unsure about what's been accomplished in Obama's first term -- still personally like him. The pitfall here is that it's become an article of faith in the GOP base that Sen. John McCain lost in 2008 because he lacked the stomach to throw the high, hard stuff at Obama. How long can Romney stay aloof from that before they see the same story unfolding? We're going to find out.
Meanwhile, the Obama campaign is still feeling out how it'll go at Romney. On the one hand, it has the option of tying Romney to his own words: "I was a severely conservative governor." This is the strategy that former President Bill Clinton, in particular, has been urging. But Obama is keeping a populist card in his pocket as well -- figuring that broadly depicting Romney as an out-of-touch toff might drive swing state voters away from the Republican hopeful. The more Romney obliviously ridicules the wares of local bakeries, the more that works.
But while Romney's wealth remains something the Democrats hope to weaponize, the real story of the election won't be about the candidates' money -- it will be about yours. How much you're making, how much you're saving and how much you think you'll have four years from now. As Jonathan Chait points out, Romney's message is "very, very simple": "The economy has been bad since 2009, and voters should blame President Obama."
Obama will obviously have to counter that by painting Romney as the guy who'll take the country back to the Bush years, but he'll also have to develop some storytelling chops -- fast -- to explain what his administration did manage to solve. And he'll have to convince an electorate that's not as inclined toward being convinced as Obama might prefer.
Of course, the economy is not just going to affect the election in the way it allows the candidates to spin glib metaphors. It literally has an impact on how people vote. Consider what Larry Bartels wrote in The New York Times two weeks ago:
Sixty years of political history suggest that income growth in the months leading up to Election Day has a strong, consistent impact on the incumbent party's re-election prospects -- what happens in the rest of a president's term is mostly irrelevant. If the last 15 presidential elections are a reliable guide, income growth between now and Nov. 6 will matter more to voters than how the economy has fared through President Obama's first 39 months in the White House.
Bartels adds: "This analysis suggests that an additional percentage point of real income growth in the second quarter of a presidential election year increases the incumbent party's expected popular vote margin by more than 5 percentage points."
When does the second quarter of this presidential election year start? Four weeks ago.
And this is also where our coverage of the GOP primary ends. Next time you see us, we'll be on to the general, and bringing some focus to the key downticket races that will shape the fortunes of these rivals' parties. But for one last look back at the candidates and characters who made the primary season what it was, please feel free to enter the Speculatron for the week of April 27, 2012.
A Look Back At The Primary Season's Also Rans
Michele Bachmann seemed to have a lot going for her over the summer. Conservative in a way Mitt Romney wasn't and relevant in a way that Rick Santorum hadn't yet become, Bachmann mounted a charm offensive in Iowa. And Iowans were mainly willing to look past the way she mistook John Wayne for John Wayne Gacy. It all culminated in August, when she became the first female candidate ever to win the Ames Straw Poll. Her victory cemented her status as frontrunner and knocked Tim Pawlenty from the race. And then, almost overnight, Bachmann swung into a steep and unalterable decline. Some point to a big GOP dinner the same weekend at Ames, where Bachmann, annoyed by Rick Perry's presence, alienated the gathered voters by sulking on her bus and refusing to come out until Perry had quit the stage. We'd actually attribute her decline to Perry himself, who jumped in the race the same weekend and gave voters an outlet for their conservative views -- and, perhaps, their sexism. Though Bachmann was definitely the victim of more outlandish acts of misogyny (see: Newsweek cover, The Roots). Bachmann did her best to be a thorn in Rick Perry's side, actually, but it led her down the sorts of avenues that just reminded everyone of how strange she is. Her decision to echo a claim presented to her in a parking lot about how the HPV vaccine made someone mentally disabled roiled Twitter and the medical community. Ultimately, she hung on until the Iowa caucus, where things did not go as well as they did in Ames.

The first sign that Herman Cain had real potential came after the first debate in South Carolina. Cain had kicked off his bid in high style and bold proclamation, and Frank Luntz' focus group was straight up going nuts over the former head of Godfather's Pizza. Cain actually should get credit as being one of the few Romney rivals to have two shots at being an alternative frontrunner, because while he faded into the background a little bit over the summer, he started building momentum again by the early fall. Cain's "9-9-9 Plan," developed in secret by Cleveland's own Rich Lowrie, became a staple of his stump speeches and debate appearances. In fact, it was basically the one good trick he had up his sleeve. His momentum, however, was cut short by a Politico article that detailed allegations of sexual misconduct. Cain's team proved to be real novices when it came to damage control, and the candidate spent the next few weeks offering semi-contradictory remembrances of who said what and what settlements were agreed to with whom. All of this was compounded by a few public gaffes -- his famous inability to remember what was going on in Libya lives on -- and by December, with his standing in the polls once again in decline, Cain opted to quit the race. In lieu of his candidacy, Cain has launched "Cain's Solution Revolution," which as of this writing seems mainly involved in producing odd YouTube ads in which animals are killed in increasingly outlandish fashion.

Newt Gingrich ended his decade-long dither-fest and finally decided to jump into the presidential race. It was mostly a disaster. The bold idea underpinning Gingrich's candidacy was this notion that he was going to run a different sort of campaign -- he was going to combine really deep thoughts and really huge ideas with a campaign that was mainly focused on doing social media stuff and challenging everyone to long, "Lincoln-Douglas style" debates. But beyond this windowdressing, there wasn't much to Gingrich's candidacy other than a titanic ego run amok. Gingrich didn't understand why he couldn't just go on long vacations in the middle of the competition, and he strenuously objected to the media requesting the candidates to draw contrasts between them at debates. This was deemed by Gingrich to be "too negative." His long Greek vacation, he insisted, was actually a fact-finding mission about the global economy. Gingrich's first group of dedicated supporters quit en masse after he'd returned from the Aegean Sea. And when Gingrich wasn't burning bridges with his staff, he was torching his party. He deemed Paul Ryan's budget plan, beloved by conservatives, to be "right wing social engineering." The GOP establishment responded by slagging him with delight. The National Review, in fact, dedicated an entire issue of its magazine to criticizing Gingrich. Nevertheless, Gingrich, like just about every Romney rival, got his shot at being a frontrunner. His effort peaked in South Carolina, where he won that state's primary in grandiose fashion, lighting up Romney and members of the media in a pair of crowd-pleasing debate appearances. But that was largely the beginning of his decline. Unable to establish any sort of momentum, Gingrich became the 2012 primary season's half-mad wraith, haunting the proceedings long after everyone else had moved on. Gingrich finally got the hint this week when he failed to win the Delaware primary. He'll drop out next week. Why he doesn't just drop out now is a mystery. He is at least $4 million in debt. It is perhaps possible that this whole run for president was some sort of "Brewster's Millions" arrangement in which someone promised Gingrich that he could run the San Diego Zoo if he managed to spend millions of dollars and destroy his reputation.

When Jon Huntsman quit his job as the U.S. Ambassador to China in order to run for president, he already had two strikes against him. First, he was a member of the Obama administration, and the two men had, by that time, evinced some measure of personal respect for one another -- a big no-no for Republican primary voters. Second, he was widely known as a moderate in a primary where voters were largely hoping that a viable far-right alternative to Romney would emerge. With those factors already working to his detriment, Huntsman decided that the best thing he could do was run a campaign steeped in gauzy meta-theatrics and surrealist imagery, and hope that he could get by on his dad's money, a few well-placed profiles in glossy magazines, and his own handsomeness. As you might expect, this didn't work. Huntsman left the race after a poor showing in New Hampshire, and he is now supposed to be a Romney endorser. Though, it does not seem like his heart is in it? Huntsman was uninvited from a Florida GOP fundraiser after he called for a third party to get into the political mix, and to this day, he does not seem to understand why the GOP objected to this. He recently referred to the incident as being comparable to "Communist China" during a discussion with Jeff Greenfield at the 92nd Street Y. (We sort of see the problem here, right? Huntsman comparing the Republican Party to communists while speaking at a New York City liberal enclave?) At any rate, people still think that Huntsman is hinting at something with these remarks, but it's likely that whatever he's hinting at won't make too much of a difference to your lives.

Gary Johnson was one of a handful of candidates who was deemed unfit to appear at the GOP primary debates, though he did make a go of it in the early running. Alienated by this treatment, Johnson went on to find a more welcoming environment in the Libertarian Party. There, he's had a chance to do what the GOP's primary process rarely enabled him to do -- draw broad contrasts between his political philosophy and policy positions and those of Mitt Romney and Barack Obama. Johnson currently has the inside track to the Libertarian Party's nomination, and has even polled as high as 7 percent in a three-way race with Romney and Obama. But for Johnson to achieve his goal of earning an invitation to this autumn's debates, he'll have to move that number up to 15 percent. Either way, he's one to watch, because he's polling well enough that he may end up being something of a spoiler. Whether his bid adversely impacts Romney or Obama remains to be seen.

Fred Karger, who is still competing in what's left of the primary, prided himself on being a candidate of firsts. He was the first candidate to file with the FEC, the first to get on the ballot in New Hampshire, and the first Jewish candidate to run for the GOP presidential nomination. But of course, Karger's biggest first was that he was the first openly gay candidate to run for the White House in either party. Karger's candidacy is probably best seen as an undertaking designed to push the Republican Party in a more LGBT-friendly direction. To that end, he made explicit his support for marriage equality, and battled the enemies of same-sex marriage and the LGBT community with as much zeal as he did his ostensible primary opponents. Karger also lived to be a thorn in the side of Mitt Romney, for whom he has a special contempt for because of Romney's support for the same-sex marriage ban in California. His desire to be Romney's bete-noire led to his one real misstep -- a website his campaign created specifically to ridicule the Mormon church. Aside from that, Karger ran as the 2012 cycle's warm and friendly optimist. Staffed by a small team of campaign workers who were just as sunny and affable as Karger himself, the Karger campaign was an unending source of prankish pluck. His appearances on the stump involved frisbees and bagpipers, and his campaign ads often spoofed his debate exclusion by digitally inserting himself into debate footage. (A repeated joke from those ads involved presenting the virulently anti-gay Michele Bachmann as an enthusiastically applauding Karger fan.) Karger is obviously long past the day when he might have had a shot at the nomination, but his effort has perhaps made the day that an openly gay candidate might have a shot at a presidential nomination a lot less long in coming.

Thaddeus McCotter is 2012's version of Virginia Gov. Jim Gilmore in 2008: the guy whose presidential run you will have forgotten about until we remind you.

When Ron Paul returned for another tilt at the GOP nomination, he didn't really have much more than a remote chance of winning. But as it turns out, everyone who defined the Paul campaign as solely an effort to win the nomination was probably missing the point. Paul surmised, correctly, that one component of the lingering aftermath of the 2008 financial crisis was that it had caused a shift in the electorate toward his point of view. In 2011, there were more people weary of war than ever before, and animosity toward the Federal Reserve and the wired connection between Beltway power and Wall Street wealth had grown from an obsession among online Libertarians to a real source of anger on Main Street. So Paul set out in 2012 with a new strategy. He'd train up his army of supporters in the arts of street-level politicking, and run a game in the caucus states designed to pry delegates loose from the mostly unobserved state convention process to build leverage. As the only late-stage competitor other than Romney to successfully manifest a campaign infrastructure, Paul's game plan proved to be surprisingly effective. Just this week, his team grabbed additional delegates from Minnesota's process. But beyond that, Paul's ardent supporters have been transformed from the sophomoric band of blimp enthusiasts they once were into a savvier group of political actors, now steeped in the arcana of process and used to forging an intimate connection with voters and party players. They're cleaned up, dressed to impress and now have a skill set. Some will be there when Paul's son Rand decides to make a White House run of his own. And some are probably going to run for office themselves. Ron Paul himself significantly improved upon his 2008 results, and he's still out there competing -- though he persists while remaining in a semi-aligned state with Mitt Romney. The next stage of Paul's candidacy will involve his attempt to extract concessions from Romney and the Republican party. The next stage for Paul's movement, however, probably begins in 2014.

Cast your mind back to 2008. Tim Pawlenty is a dedicated campaign surrogate for John McCain. He's a blue-state governor, with an aw-shucks appeal and a past free of embarrassments. And he would have liked, very much, to have been picked as McCain's vice president. But according to an HBO movie whose commercials we watched on YouTube, McCain was in need of a GAME CHANGE, and that GAME CHANGE involved tapping a Tina Fey clone who lacked Fey's ability to form complete sentences and speak them aloud. What might have happened, had McCain chosen TPaw in 2008? Well, we suppose we shouldn't preclude the possibility that he might have ended up the VPOTUS. But he would have almost certainly grabbed a share of that "next in line" label that Mitt Romney, as the cycle's silver medalist, claimed for himself. Instead, Pawlenty ran a campaign that very few people seemed to notice or care about. We suggested that the song "Mr. Cellophane" from the musical "Chicago" summed him up most succinctly. There was only one moment where the world sat up and got interested in his campaign, and that came on a Fox News Sunday appearance. Pawlenty coined the term "Obamneycare" as a way of tying Romney and President Barack Obama together on the health care issue. Days later, Pawlenty was given a chance to make the charge to Romney's face. He chickened out, in embarrassing fashion, and the electorate was back to putting him on fade. Pawlenty officially quit the race after losing the Ames Straw Poll, and eventually signed on as a surrogate to the man who he couldn't go jaw-to-jaw with in public. He hasn't exactly excelled as a Romney endorser. Some weeks after he joined Mitt's bandwagon, Pawlenty -- observing the up and down fortunes of Romney's rivals -- publicly lamented his decision to get out of the race when he did. Hey, you notice that no one includes Pawlenty in any of the ramped up speculation over who will be Romney's running mate, don't you?

Ahh, Rick Perry. He was the great conservative hope of 2012. The swaggering Texas governor who could boast a pocketful of economic miracles, broad evangelical appeal and -- unlike the last governor his state sent to the presidential primary -- a military career of distinction. He was supposed to be the complete package: the one guy who could unite Tea Party insurgents, Beltway elites and fiscal conservatives under one banner. Sure enough, the moment he jumped into the race, he became the top not-Romney in the field. And then debates happened. And they often seemed to happen around Perry, as if Perry were in another room, or 10 minutes behind the world, or at a speed with which Perry could not keep up. Words didn't so much fail him as much as they went on a wildcat strike against the speech center of his brain. And while Perry made a good show, in calmer moments, of self-deprecating charm, those debate appearances did lasting damage. Everyone remembers that he failed to count to three, when asked. Interestingly enough, we're not sure if those debate gaffes were the real beginning of Perry's undoing. At his first debate, things seemed to go sideways on Perry the moment he actually started explaining who he was and what he believed in. He was proud of having disseminated the HPV vaccine to the children in his state. He was very clearly concerned about cancer and the role he could play in stopping it. And he stood by his beliefs on his mostly sensitive policies toward undocumented immigrants, at one point labeling his opponents as "heartless." His opponents beat him all about the room with these issues, and it all seemed to catch Perry off guard. It frankly caught us off guard, as well. But we've since come to believe that Perry's greatest problem was that he came with so many expectations attached to him before he even ventured forth on the campaign trail. Everyone seemingly decided in advance that Perry was going to be all things for all people. It wasn't until Perry gave everyone a glimpse of the man he really was that everything started to go wrong.

It can be argued that no one is running a more principled campaign than Buddy Roemer, if only because no one else's campaign is as hindered by his or her own principles. Twenty-five years after Roemer got out of politics, he emerged out of the blue with a presidential run, and immediately set up shop on some largely unclaimed territory: a robust critique of the corrupting nature of Big Money in our political culture. Roemer lustily decried lobbyists, battered super PACs, broke bread with Wall Street's #occupiers, and built his case around the notion that Washington was no longer a venue for a substantive debate among competing ideologies. Rather, it had become an elaborate counting house where all of the interests got balanced in favor of whoever wrote the biggest campaign check. Where these principles aided in Roemer's own undoing was in his steadfast refusal to take any donation larger than $100 for his campaign. That ensured that he'd remain cash-strapped and low profile. He never made much of a dent in the polls, and was easily excluded from the debates for this transgression. (Though there was always a whiff that the corporate media were only too happy to keep Roemer from becoming a ghost in their machine.) Roemer, who had spent his out years running Business First Bank in Louisiana, could have probably used some high-flying connections to get a foothold if he'd wanted. One passionate bundler of ducats might have bought him a shot at the debates. But Roemer stuck to his guns. He did not, however, stick with his party, and like the disillusioned Gary Johnson, he abandoned his GOP bid for a third party effort. Roemer currently has two options to keep his bid alive -- the Reform Party and Americans Elect. (His chances seem better with the former.) Chances are, America won't be swearing Roemer in come January 2013. But Roemer has excelled in the late night political comedy circuit, famously joining up with Stephen Colbert's anti-super PAC satire. And on Twitter, Roemer has become one of the fastest, snarkiest, caller-out-of-B.S. in the land. Could Roemer build the next great movement of political insurgents, aligned on a common goal of defragging the unholy alliance of money and power? We are going to find out!

Your Speculatroners will keep restating this: We were wrong about Rick Santorum. Back during the fall of 2011, when Santorum seemed permanently mired in the low single digits, we wrote him off. Did the GOP base like Santorum? Sure. But was it going to seriously consider him as a nominee? We said no, and soon enough, we were wiping egg from our faces. When Santorum finally got his shot at being the not-Romney of the week, the timing was perfect. He was an eyebrow-raising contender right away, forcing a photo finish in Iowa -- reports originally said Romney won by eight votes, but it was then determined that Santorum pulled out ahead. If the Iowa results had been correct the first time, who knows what he might have done. With the Iowa win in hand, he might have skipped New Hampshire and set up shop in South Carolina ahead of the rest of the GOP's movable feast. Still, Santorum went through a pretty long period of time where he was outperforming expectations. Eventually, however, the Romney campaign -- and its ability to out-spend Santorum's spit-and-boot-leather campaign by massive margins -- began to slowly strangle Santorum's hopes. Big leads that Santorum had established in important states began to erode, each more quickly than the last. Eventually, he was presented with a choice: drop out of the race, or endure a shellacking in his home state of Pennsylvania, to match his last Keystone State defeat. Santorum opted to leave the race and concede Pennsylvania to Romney. And in so doing, he has perhaps preserved something of a political future. Should Romney falter in November, chances are high that one side of the internecine war that will unfold among Republicans will be insistent on a return to orthodox conservatism. Santorum will be available to speak to that. In the meantime, he has some important things to teach nascent campaigns and young conservative turks about how to scrap your way into a race against stronger opponents, and how to avoid getting into a war of attrition, where money matters more than moxie.

Ha! You guys remember when THIS was happening? Weren't you all like: "COME, MAYANS, COME?" Yeah. That was a really odd time in our lives. Still a big ol' Birther Romney surrogate, though!
[Would you like to follow me on Twitter? Because why not?]