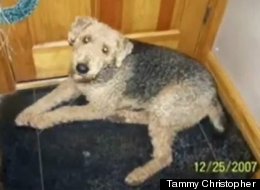 Last week, Austin, Texas, Police Chief Art Acevedo publicly apologized to Michael Paxton over the death of his dog Cisco. Paxton was playing fetch with the Australian cattle dog in his backyard when a police officer pulled into the driveway in response to a 911 call. The officer had the wrong house. When Paxton left the yard to get something from his truck, he said the officer confronted him. Cisco ran around from the back, toward the officer. The officer simultaneously ordered Paxton to put his hands in the air and to restrain his dog. The officer then shot the dog.
Cisco's death made national news. Paxton's Facebook page detailing the killing and calling for a reprimand of the officer, has generated more than 100,000 "likes." But Paxton isn't the first dog owner whose pet has been shot to death by police. A search of news articles from the past year shows more than 100 separate incidents.
There are no national records of dogs shot by cops. There isn't even good national data on the number of people shot by police. As a result, there's no way to tell if pet killings by police are increasing in frequency. The increased attention may be due to awareness or to news outlets more likely to report them. Pet owners also can publicize the incidents through social media. And with public surveillance, cell phone cameras, and security cameras, there is more likely to be video of a shooting. Sites that include "Dogs That Cops Killed" and the Facebook group "Dogs Shot by Police" track new incidents and allow grieving owners to share stories. The activism site Change.org also now includes calls for action in similar cases, with petitions like "Justice for Big Boy," and "Justice for Bud."
When police officers shoot dogs, departments usually deem the shooting justified if the officer felt threatened by the animal. But an officer's perception doesn't always mean the animal actually was a threat. In recent years, police officers have shot and killed chihuahuas, miniature dachshunds, Wheaton terriers, and Jack Russell terriers. Last month, a California police officer shot and killed a boxer puppy and pregnant chihuahua, claiming the boxer had threatened him. The chihuahua, he said, got caught in the crossfire. When a San Bernardino, Calif., woman called police to report a burglary in progress behind her house last month, they responded, jumped her fence to confront the burglars, then shot her dalmatian mix, Julio. He survived. Police officers have also recently shot dogs that were chained, tied, or leashed -- obviously posing no real threat to officers who killed them.
Given how often police officers encounter pets, one would think training for handling dogs would be common. An officer untrained in recognizing a dog's body language, for example, could easily mistake a bounding dog from a charging one, a nervous dog from an angry one, or an aggressive dog from one that's merely territorial. Groups like the Humane Society and the American Society for the Prevention of Cruelty to Animals offer free training to police departments, but both organizations said few departments take them up on the offer. New York, Los Angeles, Chicago and Seattle are among departments that don't provide regular training to officers on how to respond to dogs.
Contrast that to the U.S. Postal Service, another government organization whose employees regularly come into contact with pets. A Postal Service spokesman said in a 2009 interview that serious dog attacks on mail carriers are extremely rare. That's likely because postal workers are annually shown a two-hour video and given further training on "how to distract dogs with toys, subdue them with voice commands, or, at worst, incapacitate them with Mace."
In drug raids, killing any dog in the house has become almost perfunctory. In this video of a 2008 drug raid in Columbia, Mo., you can see police kill two dogs, including one as it retreats. Despite police assurance that the dogs were menacing, the video depicts the officers discussing who will kill the dogs before they even arrive at the house. During a raid in Durham, N.C., last year, police shot and killed a black Lab they claimed "appeared to growl and make aggressive moves." But in video of the raid taken by a local news station, the dog appears to make no such gestures.
Many criminals -- particularly drug dealers -- protect themselves with aggressive dogs trained to attack intruders. But shooting the animals as a matter of procedure is also dangerous. During a 2008 raid in Lima, Ohio, one officer heard his fellow officer shooting dogs in the home and mistook the shots for hostile gunfire. Thinking he was under attack, he opened fire at shadows coming from an upstairs bedroom. In that room, 24-year-old Tarika Wilson was on her knees, as she had been instructed, with one hand in the air and her other arm holding her year-old son. Wilson was killed, and the boy lost a hand. During a 2007 raid in Stockton, Calif., a police officer inadvertently wounded Kari Bailey, 23, and her 5-year-old daughter Hailey while trying to kill the family dog. (The police had shown up at the wrong address.) Last month, one officer firing at pit bulls in Minneapolis accidentally shot a fellow cop.
Below, HuffPost has assembled a slideshow of cop-shoots-dog incidents from the last several years, as well as the results of our efforts to see if the police departments involved provide training in the handling of dogs.
When a neighbor spotted Rosie, a Newfoundland, running into traffic in November 2010, she called the police to come help the dog. Officers from the Des Moines, Wash., Police Department said that when they cornered the dog in a neighbor's backyard, she appeared threatening. One officer shot her four times, killing her. The neighbor in whose backyard Rosie was shot told KOMO news, "I was shocked to see an assault rifle. I was shocked to see three police officers aiming their guns at a dog that was a huge dog, but I mean the dog was no threat." The officers were cleared of wrongdoing. Training: A police spokesman wouldn't say if officers get dog-related training, saying only that the department always calls the city animal control department to handle calls involving dogs. He wouldn't say why animal control wasn't called in this case.

When John Espinoza of Lubbock, Texas, found intruders in his garage in July 2011, he chased the criminals down the street. In the commotion, the family dog, a Saint Bernard named Payton, escaped from the house. When police officers arrived to investigate, Payton ran out of the garage to greet them. The police shot her in the head, in front of Espinoza, his wife, and their two daughters. Police then refused the family's request to bury their pet, calling animal services to dispose of Payton's body. Police told local media outlets that it is standard procedure for officers to use deadly force if an animal endangers them. Training: Sgt. Frank Picon of the Lubbock Police Department told HuffPost that officers get no specific training related to dogs. Be it dogs or humans, common sense dictates when an officer should use lethal force, Picon said.

When Bollinger County, Mo., Sheriff's Deputy Kelley Barks received permission to search the home of a man arrested for domestic abuse in March 2011, she found three dogs growling at her. According to TV station KFVS, she mistakenly believed one of the dogs, a chihuahua, had bitten her, so she shot it. After discovering she actually hadn't been bitten, Barks shot the dog twice more, the last time as the dog retreated to its kennel. Barks later resigned. In response, the Bollinger County Sheriff Leo McElrath said he would add new training for his deputies. (Note: Photo is not of the chihuahua from the story.) UPDATE: According to a lawsuit Barks has filed against the Bollinger County Sheriff's Department, the dog did actually bite Barks on the calf. The suit also alleges that after Barks shot the dog once, she called a veterinarian, who advised her to put the dog down. She then shot the dog twice more. Training: The Bollinger County Sheriff's Department did not return HuffPost's request for information.

In December 2010, a police officer who had responded to a complaint in a Jonesboro, Ga., subdivision walked past the King family home on his way back to his car when Buddy, the Kings' golden retriever, leaped from the porch. Buddy was kept in his yard by an invisible fence. The officer, who said Buddy was "barking and running," fatally shot the dog. A neighbor who witnessed the shooting told ABC News Buddy was "not an attack dog. He's a golden retriever and that's it. I've known this dog since he was a puppy." The officer was cleared of wrongdoing. Training: The Clayton County Police Department did not return HuffPost's queries.

In 2008 Dixie, a 2-year-old sheepdog, was playing in her family's yard when police arrived to serve legal papers. Officers asked family members to restrain the dog. They complied by shutting Dixie inside the home. A few minutes later, the owner's 2 year-old niece pushed open a door, and Dixie ran outside. While two children watched, the deputies shot the dog. The person the officers sought no longer lived at the address. A Charles County police spokesperson defended the officers: "It is unfortunate that the accidental release of the dog, when a child opened the door, resulted in a situation where an officer felt his safety was threatened." Training: The police department did not respond to requests for information about training.

When the Bullock family returned home from a funeral in June 2009, they discovered their pet chihuahua mix Jack dead on their porch, along with a note to call the police in Blue Ash County, Ohio. The Bullocks had inadvertently had left Jack outside. When police officers arrived to corral the seven-pound dog, he bit one officer. Another officer jolted Jack with a Tazer, then shot the dog three times. The Bullocks were fined $100 for violating the city's vicious dog ordinance. Training: Blue Ash County police did not answer requests for training information.

In June 2009, a Danville, Va., police officer serving two warrants at a neighboring house shot and killed "Killer," a miniature dachshund that, despite his name, neighbors described as a "sweet, mild-mannered dog." Owner Tawaiin Harper says Killer's killer was leaning against his squad car smoking a cigarette after the incident, and refused to provide his name or badge number. The officer's supervisor later apologized. Danville Police Chief Philip Broadfoot also wouldn't name the officer, but said in a press release that upon returning to his squad car after serving the warrants, the officer noticed the 11-pound dog running toward him, "leaving him with just seconds to consider his options." Instead of getting into his car, the officer shot the dog, which Broadfoot added, is "within the department's policy." Training: Danville police did not answer requests for training information.

Bubba was a 7-year-old Labrador-springer spaniel mix who played with neighborhood children and worked in a local nursing home. In 2004, while Bubba and his owner were entertaining friends in his backyard, Milwaukee officers approached looking for a wanted man. The dog jumped the three-foot fence to greet them and officers shot him twice. Police said Bubba was acting aggressively. Seven witnesses said the dog retreated to the bushes and whimpered toward his owner before officers fired two more times, killing him. Police wrote Bubba's owner a $122 ticket for allowing the dog to run loose. In a 2008 lawsuit against the city, Bubba's owner discovered that Milwaukee police shoot and kill about 40 dogs a year. Training: A Milwaukee police spokesman told HuffPost that animal control officials give officers tips on dealing with animals. Officers are taught to differentiate between an aggressive dog and a territorial dog, police said.

When an sheriff's deputy pulled into the driveway of Tammy Christopher's rural Oklahoma home in 2008 to ask for directions, her dog Bruiser ran to greet the car. Instead of the usual pat, he was shot in the head. Police initially said Bruiser approached the officer maliciously. Christopher's home security camera presented a different picture. In the video, Bruiser is bounding to greet the officer, not charging. (WARNING: Video may be difficult to watch.) Tammy said police offered her money to keep quiet and told her not to show the video to the media. The department refused to comment to local news reporters. Christopher later settled with the county for $15,000. Training: The sheriff's department in Grady County, Okla., said officers get no training on interacting with dogs.

In 2008, a Prince George's County, Md., narcotics team intercepted a package of marijuana at a shipping warehouse. An undercover officer later delivered the package to the address where it was sent and a SWAT team raided the home. The home turned out to be that of Cheye Calvo, the mayor of Berwyn Heights, Md. The package was part of a drug-running scheme and was never intended to reach the Calvo home. During the raid, SWAT officers shot and killed Calvo's two black Labs, Payton and Chase. A veterinarian later determined the dogs were shot as they were retreating, not charging, as the officers claimed. Prince George's County officials admitted that Calvo and his family weren't drug dealers, but maintain to this day that they were justified in raiding the home and killing the dogs. Calvo settled with the county in 2011. The settlement included mandatory changes in the way the county police conduct drug raids. Calvo has since documented other cases across Maryland in which police had needlessly killed dogs. Training: The Prince George's Police Department did not return inquiries about training.

In 2009, Chicago police raided the home of the Russell family to serve a drug warrant. Officers entered with drawn guns and refused one of the Russell brothers' request to lock up their black Lab, Lady. When Lady rushed around the corner, tail wagging, a SWAT officer shot her. Police found no drugs in the apartment. Two years later, a federal jury awarded the family $333,000 in damages. In response, a city Law Department spokeswoman said, "The officers involved in this case were executing a valid search warrant when this incident occurred and were simply protecting themselves. We are extremely disappointed and reviewing all of our options. In particular, we think the damages awarded to the plaintiffs were excessive." Dog pictured is not the dog from the story. Training: A Chicago police spokesperson said officers get no training in interacting with dogs.

In 2011, police in Camden, N.J., opened fire on Capone, an 8-month-old pit bull belonging to the 11-year-old son of Sherronda Aycox. The dog had escaped from its home. Police fired at least 33 rounds, hitting nearby homes and cars. Police said Capone attacked them. One neighbor confirmed their account, although others said the response was excessive and that the dog, though loose, wasn't aggressive. Training: A Camden police spokesman said officers get no training in interacting with dogs.

During the 2010 Adams Morgan Day festival in Washington, D.C., a scuffle broke out between a poodle and a pit bull-shar pei mix named "Parrot." the dog was being cared for by a foster owner. DCist reported that when the foster owner rushed to restrain Parrot -- wearing a harness and leash -- a police officer pulled the owner away, put his knee into Parrot's back and pulled back the dog's forelegs. Witnesses said the officer then lifted Parrot, carried him to the top of a 12-step drop, and threw him down the stairs. The officer then shot the dog to death. A police report said Parrot was "out of control," and charged and bit the officer, leaving "scratching" on the officer's wrist. Witnesses contradicted the police report. Training: Washington's police department did not respond to queries about training.

In February 2012, a New Mexico state police officer shot Victoria Baca's 11-year-old dog, Jilly, after jumping Baca's fence and ignoring "Beware of Dog" signs. Baca had called the police to report an Internet scam. When the officer failed to show up, she left to run errands, but asked that the police call her before coming to the house. The officer showed up without calling. According to police, the officer shot Jilly after she bit him. When Baca returned home, she found Jilly in a pool of blood on the porch. Baca told KOB News that not only did her young son and daughter witness the dog's body, her son shook Jilly in an attempt to wake her. The officer wasn't disciplined. Training: New Mexico state police did not return queries about training. A spokesman told TV station KOB that "there's no training" for the scenario in which the officer found himself in Baca's yard.

In 2010, Lexington, Ky., police officer Aaron Greenleaf shot and killed Rocky, a Rottweiler mix and companion to Michael Powell and his 8-year-old son. The officer was pursuing a teenager who had fled a nearby home. The officer jumped Powell's chain-link fence into Rocky's yard, at which point Rocky confronted him and, according to the Greenleaf, bit him. Greenleaf then shot Rocky six times. The fence included a "Beware of Dog" sign. Lexington police spokeswoman Sherelle Roberts said Greenleaf acted appropriately and didn't violate department policy. "Neither the dog nor the officer did anything wrong. They both did what they had to do," Roberts said. "The dog was protecting its property and the officer was protecting his safety." She added that Greenleaf "had a legal right to be there because he was pursuing a suspect." Training: Lexington police did not respond to queries about training.

In January 2012, a police officer in Dekalb County, Ga., went to the wrong house in response to a call about a domestic dispute. When he walked into the garage of the Currie family, their dog Easy, a German shepherd, confronted the officer. Though Easy was chained, the officer claimed he felt in danger and shot Easy in the head, killing her. The officer was not disciplined. Training: Dekalb police did not return queries about training.

In April 2012, Elkhart County, Ind., sheriff's deputy visited the home of Josh Bender to investigate a minor traffic incident. When the deputy got out of his car, Bender's dog Charlie -- a red heeler-Lab mix -- growled at him. The deputy responded by shooting and killing the dog. Elkhart County Sheriff Brad Rogers said the deputy misjudged the dog's demeanor, but that killing the dog was still the right thing. "The officer was placed in a situation where he needed to use deadly force on the dog, Rogers told WSBT. Bender said his dog was trying to play with the officer. Training: The Elkhart County Sheriff's Department did not respond to queries about officer training. Rogers told WSBT that his deputies would get new training about dogs in light of the incident.

In March 2012, police in St. Petersburg, Fla., responded to a domestic disturbance at an apartment complex. The couple that had caused the disturbance had opened the door for Phero, a dog belonging to neighbor Debra Vachon. While police were investigating, Phero ran out of the house and was shot by a police officer from 10 feet away. Police described Phero as a "pit bull," but Vachon said he's a mixed breed. According to the Tampa Bay Times, St. Petersburg police killed seven dogs in 2011. Chief Chuck Harmon implemented new policies pertaining to how officers deal with dogs. Training: Via email, St. Petersburg police told HuffPost the department's policy "is to only dispatch officers when a vicious dog that threatens public safety is reported. Otherwise, calls go to Animal Control." When possible, the department dispatches officers trained to use dog-snaring poles.

When Mary Kate Hallock returned to her Oakland, Calif., home from errands in September 2010, she found a note on her door informing her that her dog "advanced on officers in a threatening manner before being shot and killed." Police had responded to the Hallock family's burglar alarm. When Officer Victor Garcia checked the backyard, he said Gloria, Hallock's 11-year-old yellow Lab, growled and began running toward him, so he killed the dog. Hallock says the dog was old, arthritic, and had trouble getting around. "Gloria's never bit anyone. She's just a gentle old dog, a classic Lab, always wagging her tail," Hallock told the San Francisco Chronicle. Training: Oakland police did not respond to HuffPost queries about officer training. Chief Anthony Batts told a local NBC affiliate, "We are investigating the incident to ensure that proper policies and procedures were followed and evaluating possible ways to improve outcomes related to future contacts with animals." Two weeks later, Batts announced that Oakland police would "undergo mandatory training in handling dogs and wildlife." The announcement came in response to the killing of Gloria and an earlier incident in which police had fired six rounds into a frightened fawn.

The Feicther family was on vacation in North Carolina in 2009 when they received a notice that the burglar alarm had been set off at their home in Atlanta. They called 911 and also asked Hillary Stewart, who sometimes babysat for them, to check on the house. Stewart arrived first, found nothing amiss, and called the family just as an Atlanta police officer arrived. According to the Atlanta Journal Constitution, the officer took the phone from Stewart, told the Feicthers he would look around, then gave the phone back. Moments later, Stewart exclaimed, "'Oh my God! He just shot her!" The officer had killed Ciarra, a 65-pound Lab the family had adopted six years earlier. The officer offered no explanation. Training: After several calls, an Atlanta police spokesman said he was unable to say whether officers are given on training on how to deal with dogs.

In 2008, several undercover San Diego police officers gathered behind a home to investigate a "chemical smell" they thought might have been evidence of drug activity. When they circled back to the front of his house, Demarkus Peeples opened his back door to investigate. His 3-year-old Staffordshire terrier, Egypt, came out with him. One of the officers had left Peeples' backyard gate open and Egypt ran around the house toward the undercover officers. The officers shot the dog dead. Police said Egypt hadn't attacked and was running in the officers' direction. Police then arrested Peeples and charged him with assault with a deadly weapon -- the weapon being his now-dying dog. The charge was later dropped. Training: San Diego police did not respond to queries about training.

In 2009 a Pinellas County, Fla., sheriff's deputy came to the home of Lee Ann Hutt to inquire about reports of a burglary in the neighborhood. Hutt's dog Smoke, a chow-pit bull mix, began barking. According to the Tampa Bay Times, the deputy later said he shooed Smoke with his foot and the dog charged. Fearing the dog was about to bite, the deputy shot Smoke in the head. Hutt and a neighbor who claimed to have seen the shooting said the deputy grew angry at the dog's barking, then kicked the dog and shot it. Training: The Pinellas County Sheriff's Department did not respond to queries about officer training.

In 2009, while chasing a DUI suspect who had fled on foot, Las Vegas police got a tip from a police helicopter with heat-seeking technology that there was a large mass hiding in a shed. When police opened the shed, they found Coco, a 6-year-old pit bull that belonged to Jose Fernandez. Police were in Coco's backyard. Police said Coco "confronted" them, leaving them no choice but to shoot the dog. A neighbor who claimed to have witnessed the incident told the Las Vegas Review-Journal "she never heard Coco bark or growl at the officers." The DUI suspect was arrested nearby. Las Vegas police spokesman Bill Cassell told the newspaper, "This is an extra-unfortunate incident. All cops are animal lovers and it hurts us deeply when something like this occurs." Training: Las Vegas police did not respond to queries about training.