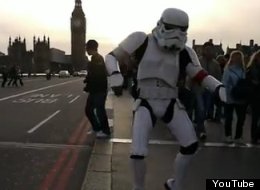 Dancing stormtrooper Danny Choo likes to bust a move, but when he puts on his dancing shoes, he really suits up.
Since 2007, Choo, a Japanese TV personality and pop-culture lecturer who hosts a weekly show called Culture Japan, has made a habit of dancing in public around Tokyo while wearing a full "Star Wars" stormtrooper outfit.
Not surprisingly, the light-hearted stunt -- dubbed "Tokyo Dance Trooper" -- became a bit of an Internet sensation, and Choo has since filmed himself getting down in various locations around the world, from Tokyo's Shibuya and Harajuku districts to the Champs du Mars.
Choo's dancing trooper was featured in the official Star Wars blog.
WATCH: Tokyo Dance Trooper Danny Choo