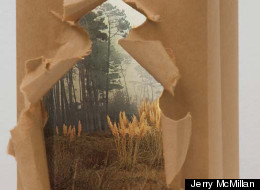 HuffPost Arts' Haiku Reviews are regular features where we invite critics to review exhibitions and performances in short form. Some will be in the traditional Haiku form of 5x7x5 syllables, others might be a sonnet or even a string of words. This week George Heymont, Laurence Vittes and Peter Frank capture the best of the art world now.
Check out the slideshow and let us know what you think in the comments section below:
Pavel Haas Quartet April 21, Samueli Theater Segerstrom Center for the Arts Britten: Three Divertimenti Pavel Haas: Quartet No.2 Smetana: String Quartet in E Minor, "From My life" Both Czech Republic and Slovakia have a long history of producing string quartets of extremely serious virtuosity and insightful music making. The young Pavel Haas Quartet is one of the latest in the line of succession, in this case "descended" from the famous, extremely serious Smetana Quartet whose violist, Milan Skampa, seemingly continues to tutor every young quartet in sight. The Quartet takes its name from the Czech composer Pavel Haas (1899-1944), who was imprisoned at Theresienstadt in 1941 and murdered at Auschwitz three years later. Quartets like these are very important to the health (strength?) of the classical music industry, and there are a lot of good ones out there ready to be snapped up right now. The leader of the Quartet, a strikingly beautiful blond named Veronika Jaruskova who was the original founder of the quartet, features a distinction common to all great Czech and Slovakian quartets, of being able to blend the first violin line in with the others so that the music is like you see it on the page when you're reading the score: All the lines are always there, before your eyes and thence your ears. The 12-minute Britten Divertimenti were originally called Go play, boy, play, and it's an invigorating early work which audiences will be eager to hear. Haas's Second Quartet is earnest, ardent, young and pregnant with fate. Veronika took over in the Smetana and kept it magnificently tight-lipped all the way. A large audience in wonderful Samueli Theater warmed to the serious nature of the Quartet's and the music's love and devotion. By Laurence Vittes (drawing of Veronika Jaruskova by Larisa Pilinsky)

Yasmine Reza's God of Carnage begins with two sets of parents squaring off against each other and soon devolves into an age-old battle of the sexes. All four parents start the evening as middle-aged adults whose earned wealth, professional status, and feigned empathy should allow them to deal with their children's fight quite rationally. However, Reza's play requires an ensemble that can skillfully transition from a polite comedy of manners filled with people making snotty remarks about each other into a physical brawl in which supposedly mature adults degenerate into screaming brats whose behavior would embarrass their children. As directed by Rick Lombardo, the San Jose Rep's co-production with the Arizona Theatre Company takes place on a extremely handsome unit set designed by Kent Dorsey. I was especially taken by Benjamin Evett's loathsome lawyer and Joey Parsons (whose talent at physical comedy transformed her from a tightly-wound, somewhat submissive wife to an avenging antelope). NAME OF ARTIST/PERFORMER: San Jose Repertory Theatre NAME OF SHOW: God of Carnage By George Heymont

Sean Cheetham and Marc Trujillo make strange bedfellows as far as subject matter goes; Trujillo focuses on the vacuous public spaces of suburban life - malls, banks, business streets - while Cheetham mostly renders portraits of young people dressed in their punk, rocker, gang, or other regalia. But they start to overlap at the edges, as their two-person show revealed - and, to be sure, they both champion a painted contemporary naturalism, a kind of "new objectivity" for 21st-century America. Both experiment with their own reportorial obsessiveness, Trujillo zooming in on various fast-food meals and establishing a kind of Styrofoam-filled still life genre, Cheetham isolating eccentric subjects -- his son in a swing, a huge slab of meat - against white backgrounds. These were featured in his solo gallery show; alongside Trujillo, Cheetham featured his slightly earlier, more self-consciously dramatic figure-in-interior pictures. Cheetham paints with a rich old-master technique, which at once ironizes and iconicizes the outlandishness and studied casualness of his sitters; by contrast, Trujillo's smooth, affectless hyperrealism heightens the deadening anonymity of his places. (The presence of figures makes those spaces seem yet emptier.) Of course, in portraying current life (in, but not confined to, Los Angeles), Cheetham and Trujillo maintain the American democratic-realist tradition, in all its unsettled, tragic glory. (Trujillo and Cheetham at Santa Monica College Pete and Susan Barrett Gallery, 1310 11th St., S. Monica, www.smc.edu/Barrett; Cheetham at Katherine Cone, 2673 S. La Cienega Blvd., LA, www.katherineconegallery.com; both closed.) - Peter Frank SEAN CHEETHAM, I Pity The Fool #2, 2012, Oil and 22K gold on panel, 45 x 30 inches

Memorial Concert in honor of Vitaly Margulis (1928-2011) April 16, Schoenberg Hall, UCLA Alissa Margulis, violin. Natalia Margulis, cello. Jura Margulis, piano. Daniel Shindarov, violin. Vladimir Chernov, baritone. Kanae Matsumoto, piano. Music by Schubert, Saint-Saëns, Tchaikovsky, Mussorgsky, Rachmaninoff, and Shostakovich Vitaly Margulis was since 1994 a mainstay of the UCLA piano faculty; he also performed widely throughout Russia and the West, tempering the life and style of a virtuoso with the deeper concerns of continually probing the musical arts and passing on his legacy to the next generations. It was an approach which led him in pursuit of deeper pulses that might reveal new dimensions of religious symbolism and spirituality in the music of the composers he loved most, particularly Beethoven and Bach. The program began with Shostakovich's early first Piano Trio, reminiscent of his legacy to Tchaikovsky, after which Daniel Shindarov, another old lion of undiminished glory, played Shostakovich duets with Alissa Margulis, then Saint-Saens and then an encore; LA Opera baritone Vladimir Chernov sang in a full, rich voice that made us realize just how good an acoustic space Schoenberg Hall still is. Vitaly's son Jura made a final gesture of farewell with 8 Rachmaninoff preludes played with no holds barred and a miraculous tone which seemed to float just above the notes; he was joined by his two sisters to play the last two movements of Shostakovich's second Piano Trio, each bringing a virtuoso's charismatic tone and blending it into a musical world that was ghostly, wild, and deeply sad. By Laurence Vittes

Foodies who fell in love with El Bulli: Cooking In Progress and Jiro Dreams of Sushi have another delightful film coming their way. Paul LaCoste's Step Up To The Plate captures the family drama as renowned French chef, Michel Bras, embarks on the process of handing over his Michelin-rated three star restaurant to his son, Sebastien (who has been working with him for 15 years). While the camera follows the family and their restaurant through a year-long transition, it's great fun to watch a father/son team of perfectionists eyeing each other's moves like hawks. Karol Beffa's score makes remarkable use of a spare piano to mark changes in mood while Yvan Quebec's cinematography captures the light of the changing seasons in the French countryside. At the end of the film, there is a wonderful moment (that echoes Auntie Mame) in which Sebastian glances over his shoulder to see both his father and his son (wearing a chef's toque) slicing bread together as another generation of his family prepares to learn the restaurant trade. NAME OF ARTIST/PERFORMER: San Francisco International Film Festival NAME OF SHOW: Step Up To The Plate By George Heymont

Shirley Tse's assemblage sculptures elegantly formalize the most ordinary detritus, capitalizing on the way things become so strange - perhaps estranged - when they are used up and discarded. Tse amplifies the alien feel of broken appliances, compromised tools, eroded fixtures, stacked empty containers, and the like by bringing them together with one another and turning such proximity into a dynamic condition - abetted by a slapstick comedian's sense of timing and poise. Indeed, Tse's inventions, squat and spindly by turns, are often laugh-out-loud funny. Some look as if they should do something, but have forgotten what it is they do. Others look like hybrids who have inherited all the wrong traits from their progenitors. Still others seem to have been carted away as is from haunted junkyards where disparate elements spontaneously fuse into sui generic Frankenrobots. There are many sculptors working in this vein, but Tse displays a particular wit and charm, a light touch that performs magic while lightly transforming relationships between objects and substances - lightly enough to allow those objects and substances to retain their individual identities while blending into very different wholes. (Shoshana Wayne, Bergamot Station, 2525 Michigan Ave. #B1, S. Monica; closed. www.shoshanawayne.com) - Peter Frank SHIRLEY TSE, installation view, Photo: Gene Ogami

Barockes Welttheater: Johann Heinrich Schmelzer Sonate & Balletti Freiburger Barock Consort Harmonia Mundi In line with my long and firmly-held belief that you can never have too much Schmelzer, the Freiburger Barock Consort's new CD uses the old "world theatre" conceit for exploring the multiple facets of the great 17th-century Austrian master whose sonatas and dance suites influenced not only musicians at the Habsburg court for which they were written but the composers who followed in Schmelzer's footsteps, including, most notably, Biber. Some of the court occasions were quite grand: "After the Emperor had entered to the sound of trumpets, four small court ladies appeared, representing the quarter-hours, and danced to the accompaniment of divers extraordinary instruments. This was followed by a ballet of six huntresses, seven Indian women and seven bergamaskers who were dressed like Mezzetino in the commedia dell'arte and drew after them an enormous piece of parmesan." Cheese, that is. Tors Ten Johann's liner notes, which are primarily concerned that Hapsburg Kapellmeisters at like Valentini, Sances, Bertali and Schmelzer are "nowadays to be numbered among the 'unknowns' on the compositional Olympus," may be exhaustive and exhausting but will definitely get you into a properly 17th century state of mind. Recorded in the Paulussaal in Freiburg, the sound is simply magnificent: what they had in mind when they invented the word, "audiophile." By Laurence Vittes

Rex Reed's musical revue entitled The Man That Got Away featured a talented quartet of veteran performers (Linda Purl, Sally Mayes, Kurt Reichenbach, and Gregory Harrison) during the performance I attended at the Jewish Community Center of San Francisco. It was most notable, however, for the two blazing talents who were not onstage. Dedicated to the lyrics Ira Gershwin wrote without his brilliant brother George, the evening's high points included Reed's description of the night he got to dance with Fred Astaire as well as an explanation of how, after Yip Harburg was blacklisted by the House UnAmerican Activities Committee, Ira Gershwin was enlisted to write the lyrics for the songs in A Star Is Born ). During his career, Ira (whose first songs were published under the name "Arthur Francis") worked with such great composers as Vernon Duke, Kurt Weill, Harold Arlen, Harry Warren, and Jerome Kern, Although everyone onstage repeatedly acknowledged the show's music director, Mike Renzi, the truth is that the unsung star of the evening was Todd Firth, whose arrangements glistened with a wit and brilliance to match Ira Gershwin's. The following video (from when the show was originally produced at the 92nd Street YMHA) gives a sense of the musical gems contained in Rex Reed's homage to Ira Gershwin. NAME OF ARTIST/PERFORMER: Jewish Community Center of San Francisco NAME OF SHOW: The Man That Got Away By George Heymont

The bricolage approach to sculpture - composing three-dimensional objects out of other, pre-extant (and probably post-functional) objects and materials - demands a deft formal sense and a very dry wit if it is not to descend into welded-tin-man bathos. "Death and Life of an Object" brought together three masters of the genre, almost challenging them to outdo one another. Indeed, all three, per their usual practice, went for spectacular results wrestled from single, notably obdurate things and materials. Tim Hawkinson transforms single materials, usually in great quantities, into unlikely measurements of his own body. Here, for instance, he fashioned cardboard into cross-sections of his hand and created a massive quilt embroidered with his own footprint. Lynn Aldrich conjured suggestive forms out of entirely non-suggestive elements, constructing lengths of bent drainpipe into a free-standing presence that seemed at once treelike and Medusa-esque. Her wall-hung accumulations seemed similarly menacing - in contrast to the antsy, chatty, gaily colored collages compiled by Laurie Frick, who also contributed a veritable mural of similarly charged color samples. (Edward Cella, 6018 Wilshire Blvd., LA; closed. www.edwardcella.com) - Peter Frank LYNN ALDRICH, Hydra Hydrant, 2008, Plastic downspouts and elbows, leaf strainers, gutter parts, 94 x 55 x 55 inches

Harpsichord Music for a Thin Place: Music by the Couperins, Bach, Rameau, Sweelinck, Byrd Forqueray, Froberger and Larry Bell Paul Cienniwa Whaling City Sound WCS 059, 66 mins. Listened at the right time of day, in the right mood, this is like the early music beauty that so many of us fell in love with when we were young. Paul Cienniwa, who is music director at First Church of Boston, is young and obviously deeply in love with this string of contemplative beauties. As he notes on his website, this is music of meditation. The sequencing of the 16 tracks is what makes this mix so extraordinary. These types of miscellaneous CDs are usually grouped by composer, the early ones first. The most common alternative is either adding at the end or interspersing in a conceptualized way music by contemporary composers. Cienniwa adopts another mode, based on his inner sense of creative flow, fueled by an abundance of musical imagination and desire. Performed on a lovely, gentle William Dowd harpsichord of 1966, the equally lovely, gentle recording was made at St. Francis of Assisi Parish Church in Swansea, a Massachusetts town founded as early as 1662. Cienniwa is less insistent on even articulation than he is in the inevitably of rhythm and sense of tone, thereby lulling you into hearing harmonic patterns that the composer is going to subtly shade and interrupt. The one contemporary work, a Sarabande by Larry Thomas Bell, bridges Rameau and Sweelinck by crystallizing their music in modern, angular terms, and then making slight adjustments. It's music that Bach would have listened to carefully. After a bewitching sequence of Sweelinck, Byrd and Louis Couperin, Cienniwa reveals just how radical and free Bach's Fantasy BWV 797 was when he wrote it. It is a dizzying experience in a very quiet meditative place. Then, after Francois Couperin shares his concern for the sins he has committed, Froberger and Rameau welcome back the living with teasing reminders of how pleasant life is meant to be. "A thin place," Cienniwa writes, "is the threshold between the ordinary and the spiritual ... my greatest desire is to bring my audience to a thin place through the beautiful stately elegance of the harpsichord's most introspective repertoire." By Laurence Vittes

John Haptas and Kristine Samuelson refer to their documentary, Tokyo Waka, as a city poem. Focused primarily on the crows which have found their way into Japanese art and culture (while continuing to scavenge food from local garbage), their film is filled with wondrous footage and some very funny moments. Watching Tokyo's crows dive bomb people on a staircase (or fashion a nest out of metal hangers) is entertaining enough. But learning how crows devised a scheme to let passing cars crush walnuts for them shows a level of ingenuity that eventually had an effect on Japanese driving habits. The filmmakers gather thoughts about the crows from a wide variety of talking heads (a young homeless woman, a trio of old ladies, a priest commenting on spirituality in Shintoism and Buddhism, and Tokyo's youth) but the real stars of the film are the crows, who are a crafty group of performers. NAME OF ARTIST/PERFORMER: San Francisco International Film Festival NAME OF SHOW: Tokyo Waka By George Heymont

Abigail Reynolds works in - and with - rural England. Her handsome assemblages, pairing glass, industrial materials, books and pages from books, and photographs take on an architectural rectitude in their carefully organized rhythms. Those rhythms and their rigorous disposition make them "read" like the books they contain, and we can clearly "read" (as well as actually read) that they address issues having to do with the land. Reynolds' is not a primarily ecological preoccupation, however, but an aestheticized investigation into how the land in the UK has been socialized, and how agriculture as well as environment has recently maintained in Britain. Given the particular cultural and economic associations between British soul and soil, historic and fraught, the exhibition threatened to devolve into a piecemeal history of modern England, an image of miners here behind a tinted surface, an old news photo of agrarian hippies there stuck to a screen, a hundred-year-old tome on gardening propping up a panel. But that very discontinuity helped the work maintain its status and effect as art, while revealing another level of Reynolds' topical concern: the mediated way we receive information about our surroundings. (Ambach & Rice, 6048 Wilshire Blvd., LA; closed. www.ambachandrice.com) - Peter Frank ABIGAIL REYNOLDS, Off Camera, 2011, Book pages, reeded glass, Plexiglas, mirrored Plexiglas, synthetic mesh, steel, metal clamps, 71½ x 63 x 21 2/3 inches and 71½ x 31½ x 12 inches

Through Brahms: Music by Brahms, Schumann and many other composers (see below for track listing with details of music and performers) - Music@Menlo LIVE, 7 vols., available singly or in a paper wrapper, 7:57:00 ****: In addition a fine football team, the Menlo Park area of California boasts an excellent chamber music festival. Music@Menlo chose Brahms as the inspiration for its 2011 chamber music festival and so out comes yet another seven-disc set, available singly or in a convenient slipcase, of programs that highlighted some of the composer's most beloved chamber works, complemented by music by his most important influences, contemporaries, and artistic heirs. As with past sets, the performances, featuring stars and newcomers, vary unpredictably. Each disc seems to have its own personality, and it is worth noting that there are nuggets of Brahms and Schumann Lieder (with neither texts or adequate synopses) as well as of instrumental gold strewn about. Disc one, for example, begins with Arnaud Sussmann sublime in Mozart, Eric Kim showing what a cello can do for a unassuming Vivaldi continuo, three dreary Schumann songs, and then a miraculous Brahms Op. 18 Sextet in which Kim gives perhaps the most lyrically beautiful and inventive reading of the first movement's opening in memory--and that's just for starters! On disc seven, Paul Neubauer plays Brahms's Second Viola Sonata with incomparable, supernal beauty, as if his instrument were a human voice. Neubauer also collaborates on disc six in a performance of Brahms's great G Major Quintet that is both sumptuous and totally light and airy. The collection yields some sequences of extraordinary ingenuity, or just plain foolish daring: Disc 3 starts with Bach at his most studious but increasingly highly prestigious, exquisitely played, followed by Fritz Kreisler, Wieniawski, then the obscure (except to violists) Hermann Schulenberg and Charles Robert Valdez before returning to Brahms. Disc 5 starts out with Laurence Lesser's honest playing of Bach Solo Cello Suite No. 2, with the great Sarabande played with deep sadness and the composer's invitation to improvise at the end of the opening Prelude declined in favor of the long, held broken chords. Ian Swensen's Schoenberg Phantasy startles with the clarity and beauty of his tone, then the oddly desolate, isolated FAE Sonata movement by Brahms compounded by the stupefying intensity of Ravel's Tzigane. The sound throughout is exemplary, tonally honest and intimate. - Laurence Vittes

Dyan McBride recently staged Sugar for San Francisco's 42nd Street Moon (a company dedicated to "lost Broadway musicals). While 2012 marks the 40th anniversary of Sugar's Broadway premiere , it was clear that the Jule Styne-Bob Merrill musical (which is based on 1959's hit film Some Like It Hot) has not improved much since its troubled 1972 Boston tryout. Despite solid performances by Darlene Popovic as Sweet Sue, Scott Hayes as Osgood Fielding, Jr., and Riley Krull as Sugar, the show ultimately rests on the shoulders of its two male leads. Both Michael Kern Cassidy (as Joe/Josephine) and Tony Panighetti (as Jerry/Daphne) worked hard to entertain their audience and hit comic gold. Unfortunately, the real problem is the show itself, whose strongest numbers are "The Beauty That Makes Men Mad" and "Doin' It For Sugar." NAME OF ARTIST/PERFORMER: 42nd Street Moon NAME OF SHOW: Sugar Tony Panighetti, Riley Krull, and Michael Kern Cassidy star in Sugar (Photo by: David Allen) By George Heymont

Jerry McMillan is well known in the annals of Los Angeles art, not only for his associations (with his Okla-homies Ed Ruscha and Joe Goode, for starters) but for his impact on contemporary photography. But few really know what McMillan did to have that impact, and what he's done since. Finally, in PST's wake, McMillan was treated to a relatively small but relatively thorough retrospective, and some mysteries, at least, cleared up - including why his work has remained in obscurity. Early a practitioner of "photo-sculpture," McMillan has spent his entire career addressing the physical and visual boundaries of two and three dimensions, turning flat photographs into objects and flattening objects into photographs - in ways usually so subtle and visually restrained as to be almost invisible. His aesthetic may be technically daring, but it is physically modest, resulting in wall-hung and free-standing artworks of great charm and mystery and surprise, but little obvious spectacle. No matter what he makes, whether cutout metal silhouettes of photographed palm trees or images printed on (or in) paper bags or Bauhaus-like geometric patterns whose raised elements defy the photographic surface, McMillan always works at the approximate scale of traditional photographs, effecting a compelling intimacy and avoiding the grand impact upon which his painter friends capitalized. McMillan is better known for the 1960s photo-portraits he made of his fellow LA artists, not included in the retrospective but shown concurrently by his gallery. Some of these are straight-up, good-looking studio shots, others are very funny staged photos (usually done for exhibition announcements), still others candids; all are crucial documents in the reclamation of LA's art history. (CSU Northridge Art Galleries, 18111 Nordhoff St., Northridge CA, www.csun.edu/artgalleries; and Craig Krull, 2525 Michigan Ave. #B3, S. Monica, www.craigkrullgallery.com; both closed.) - Peter Frank JERRY McMILLAN, Torn Bag, 1968, Photographic offset lithograph bag construction, 11 x 5¾ x 5½ inches

What happens when a retired cat burglar (Frank Langella) showing early signs of dementia discovers that the caretaker robot his son (James Marsden) has foisted on him could, with a minimum of training, become a skilled accomplice in petty crime? Jake Schreier's droll comedy pits a wily curmudgeon against spoiled yuppies while framing Frank's kleptomania against his family's concern for a cranky father who is in deep denial about his advancing loss of memory. Langella gives a beautiful performance as an ornery old coot itching to make another heist. Christopher D. Ford's script offers nice cameos for Susan Sarandon, Liv Tyler, Jeremy Strong, Ana Gastayer, and Jeremy Sisto but the real action takes place within Frank's twisted mind. NAME OF ARTIST/PERFORMER: San Francisco International Film Festival NAME OF SHOW: Robot and Frank By George Heymont Frank Langella plays an aging cat burglar who figures out new uses for a caretaker robot.

Ellsworth Kelly has helped shape the visual sensibility of the modern world with his stark, vivid paintings of clear shapes in binary, usually figure-ground relationships. He has been concentrating lately on black on white compositions, and these dominated his Los Angeles gallery show, right down to the façade of the new gallery space. But, unlike his last New York show, this one was spiced crucially with paintings of vivid color and color contrasts, expansive and beautiful in a way Kelly has rarely explored since the '60s. In one panel a green orb burgeoned against a deep blue field, in another a red lobe did much the same from the opposite direction, and so forth. As these descriptions indicate, the show was not all straight lines, either, and its de facto centerpiece was a curvaceous black cipher - a pudgy "C" whose negative space defines a mere slit - occupying most of the panel but surrounded by white. Kelly's dry wit, it seems, has returned to his drop-dead elegance. (Matthew Marks, 1062 N. Orange Grove, LA; closed. www.matthewmarks.com) - Peter Frank ELLSWORTH KELLY, installation view, Los Angeles, Photo: Joshua White

I've often wondered if Neil Simon's audience moved on without him or, perhaps, simply relocated to Florida. Sometimes his humor doesn't travel well outside of its New York comfort zone. Simon's 1988 farce, Rumors, centers on a 10th anniversary party gone horribly wrong for a man who is a former Deputy Mayor of New York City. What should be a farce about wealthy professionals caught in an embarrassing situation (the men all arrive for a cocktail party wearing tuxedos) ended up seeming extremely mechanical and surprisingly lackluster. Despite the directorial work of Timothy Near, you could easily spot moments in the script where a joke was being hammered to death yet failed to soar across the footlights on the wings of Simon's legendary wit. The best performances came from Mark Anderson Phillips, Gabriel Marin, and Sharon Rietkirk. NAME OF ARTIST/PERFORMER: Center Rep NAME OF SHOW: Rumors By George Heymont Mark Anderson Phillips, Mark Farrell, Gabriel Marin, and Michael Butler in a scene from Rumors at Center Rep. (Photo by: Kevin Berne)

Todd Schorr, long regarded as one of the leading lights in the "lowbrow" - or "newbrow" or "Pop Surrealism" or "Juxtapoz" - movement, has wowed that movement's broad fan base with his virtuosic precision, his impossibly crowded narrative imagery, and his wacky but moralizing storytelling. Practicing a difficult-to-look-at-but-fun-to-see kitchen-sink surrealism, Schorr challenges his viewers to "get" what he's carrying on about even while he challenges himself to compose a coherent picture out of an avalanche of references. He lifts more than a page from Robert Williams' playbook, but has a far different program, impetus, and even look: while Williams relies on the flat, glossy Dick-and-Janeism of the comic strip, Schorr's is a more veristic method, more redolent of cinematic FX than of cartoons. Both painters, of course, rely on illustration chops to achieve what they do, and both seem to be gently mocking their viewers' predilection for detail and spectacle by giving them everything they want and then some. Like Williams, Schorr has been evolving some recurring pictorial leitmotifs - both of them, miraculously, without falling into the tail-chasing repetition to which any number of their newbrow peers have succumbed. Although he is willing to get silly in his work, Schorr is not willing to get dull, and even the most persistent of his themes and characters keep coming back refreshed. (Merry Karnowsky, 170 S. La Brea Ave., LA; closed. www.mkgallery.com) - Peter Frank TODD SCHORR, The Last Polar Expedition of Commander Peary, 2011, Acrylic on canvas, 72 x 96 inches, Photo: Larry Underhill

The final installation in Micha X. Peled's trilogy of documentaries about the hidden effects of globalization, Bitter Seeds, delves into the mystery of why, every 30 minutes, another cotton farmer in Central India commits suicide by drinking Monsanto pesticide. Whereas cotton farmers formerly nurtured seeds from the previous year's crop with cow dung (a natural fertilizer), Monsanto's genetically modified seeds have taken over the market and forced many farmers into bankruptcy. The new seeds are more expensive, require costly fertilizer, pesticide, more water, and rarely produce their advertised yields. Bitter Seeds is a bracing work of documentary journalism which shines a light on class warfare within an emerging superpower. Farmers who cannot get a bank loan are forced to work with illegal moneylenders. When the crops lack sufficient water (or succumb to infestations of mealybug), farmers often lose their land to the moneylenders who heap insult on injury by charging outrageous interest rates on their loans. Peled's storyline follows the efforts of an 18-year-old woman whose father committed suicide. Manjusha's goal is to become a journalist so that she can write about what is causing so many farmers to commit suicide. Peled's heartrending film shows farmers caught in a web of debt, ignorance, and shame who can find no escape from their troubles other than death. NAME OF ARTIST/PERFORMER: San Francisco International Film Festival NAME OF SHOW: Bitter Seeds By George Heymont

Andrew Lewicki has successfully married Andy Warhol to Meret Oppenheim. Lewicki reconfigures common household objects - Lego blocks, juicer trays, waffle irons - either with drastic scale changes or with subtler modifications that repurpose those objects, thereby bringing forth formal rhymes between disparate things. The juicer tray, for instance, becomes an ashtray with the introduction of a few extra grooves. Lewicki's waffle iron becomes a branding iron of a sort when he replaces its grid pattern with the pattern found on Louis Vuitton handbags. The Lego blocks are now the size of tree logs. And so on. Lewicki's transformations are invariably clever, but the best ones are downright revelatory, like a really good joke, and more than slightly disorienting. He has a keen sense for the unusual integrity that maintains with regard to functional identity, and knows that the most powerful tweak to that integrity is the smallest. (Charlie James, 969 Chung King Rd., LA; closed. www.cjamesgallery.com) - Peter Frank ANDREW LEWICKI, Louis Vuitton Waffle Maker, 2012, Teflon-coated aluminum, enamel on aluminum sheet, generic waffle-maker parts, 14 x 11½ x 13½ inches

Some industries are ripe for outsourcing. Varla Jean Merman is not one of them. How many drag queens possess a fierce falsetto and have starred in commercials for Fleet enemas? How many 6'2" breathless bombshells make their properties man come onstage dressed as a giant, unraveling foreskin? How many sopranos are accompanied on the piano by a former porn star? Varla Jean's hilarious videos keep the audience distracted during her costume changes but, once onstage, she is a tireless entertainer with the energy of Bette Midler and the innuendo of Mae West. Varla Jean (who can simulate the Queen of the Night's aria from The Magic Flute by using an iPhone application called "Ocarina") takes great delight in trying to gross out her audience. She might succeed if the folks on the other side of the footlights weren't cheering, stomping their feet, and rooting for her. Besides, who else will demonstrate how to work your iPhone while wearing gloves? Hint: try swiping a frankfurter across the screen! NAME OF ARTIST/PERFORMER: Varla Jean Merman NAME OF SHOW: The Book of Merman GALLERY/VENUE WEBSITE: http://www.varlaonline.com/ By George Heymont

The Mono-ha movement emerged In Japan at the same time as did minimalism in America and arte povera in Italy, from many of the same sources and with many of the same goals. There is a peculiar intensity and sensuousness to Mono-ha art, however, that betrays its roots in traditional Japanese culture and practice, specifically the aesthetic of wabi no sabi that places great value on the physical facture of natural objects and materials. In search of such material integrity, the Mono-ha artists were as wont to move mountains as to make sculptures. "Requiem for the Sun: The Art of Mono-Ha" filled a generous sequence of gallery spaces with large, rough, puzzling and yet oddly familiar things, all produced (or at least designed) in the late 1960s and early '70s, that harmonized the extreme differences between materials, shapes, spaces, and physical behaviors. Katsuro Yoshida's stuffing a steel pipe full of cotton, Susumu Koshimizu's encasing stone in an immense paper bag, the integration of light bulbs and stones effected by Lee Ufan, and Nobuo Sekine's meeting of sponge and steel all exemplified Mono-ha's sense of perfect dissonance. Formal displacement manifested in things like Noriyuki Haraguchi's propped-up steel beam and Sekine's monumental cylinder excavated from the gallery's backyard. The exhibition included several experimental films as well, the fusion of image and celluloid exemplifying Mono-ha's aesthetic of elemental synthesis. Although Mono-ha has been examined in the West before, and several of its participants were showing here almost from the beginning, the movement has been overshadowed by its counterparts in Europe and America. This persuasive survey, including nine artists, stressed the distinctiveness of Mono-ha's aesthetic philosophy. Now the history books need to integrate it into their accounts of late-modern experimentalism. (Blum & Poe, 2727 S. La Cienega Blvd., LA; closed. www.blumandpoe.com) - Peter Frank "Requiem for the Sun: The Art of Mono-ha" exhibition installation shot, Photo: Joshua White

Jasson Minadakis recently staged an abbreviated version of Shakespeare's Othello for Marin Theatre Company with a cast of only nine actors. One of the blessings of MTC's production was the chance to experience the Moor's tragedy in the intimate confines of the 225-seat Boyer Theatre. Not only did this put the audience much closer to the action, it saved the actors from having to project on the scale needed to fill a 1,500-seat auditorium. This level of intimacy also allowed audiences to appreciate the insidiousness of Iago's slander at closer range. Aldo Billingslea gave a towering performance in the title role, with Craig Marker working beside him as a fair-haired, handsome Iago whose bitterness is palpable. Nicholas Pelczar scored strongly as a buffoonish Roderigo. Although Mairin Lee's Desdemona captured the character's loyalty, purity, and confusion at Othello's mood swings, I found myself more impressed with Liz Sklar's portrayal of Aemilia. NAME OF ARTIST/PERFORMER: Marin Theatre Company NAME OF SHOW: Othello By George Heymont

Jon Poblador practices a highly refined minimalist painting, sticking to single colors in his various panels and - unlike many monochrome (or, as they're called in Europe, "radical") painters - working on a small scale, as often page size as easel size. Poblador achieves his unusually limpid tones by slowly painting thin but deeply pigmented acrylic, up to thirty layers on a raw canvas. This allows a translucency, even a pellucidity, to permeate the color, which becomes more a veil than a barrier. In many of the paintings the color is scored with vertical or horizontal lines. Poblador did not tape these off but demarcated them and, in his painstaking fashion, painted up to but not over them, leaving them as "cuts" in his darkly shimmering surfaces. It takes some of the same patience and concentration to appreciate Poblador's achievement, that is, to see it rather than just know about it. Mark Rothko said that the ideal distance from which to view his paintings is 10 inches, and that may be doubly true for Poblador's - except you'd feel as if your breath might blow away the color. (Larry Becker, 43 North 2nd St., Philadelphia; closed. www.artnet.com/becker.html) - Peter Frank JON POBLADOR, Living Mountain, 2010, Acrylic on linen, 36 x 24 inches

Written and directed by Tusi Tamasese, The Orator stars Fa'afiaula Sanote as Saili, a Samoan dwarf who, in addition to facing ridicule because of his physique, carries the social stigma of having married a woman who was banished from another village. With his wife, Vaaiga (Tausili Pushparaj) dying, his unmarried teenage daughter, Litia (Salamasina Mataia) newly pregnant, and having recently lost his job as night watchman for a grocery store, Saili's predicament takes a turn for the worse when, as he is digging his wife's grave, his brother-in-law (Ioata Tanielu Poto) steals Vaaiga's body during a rainstorm. The Orator gives a rare view into how dishonor, dysfunction, and despair exact their toll on a pair of small Samoan villages. Shot on the island of Upolu,Tamasese's film has a rare visual splendor (thanks in large part to Leon Narbey's cinematography). If the film's dialogue is sparse, Tim Prebble's beautiful score and sound design more than compensate for any lack of speech. NAME OF ARTIST/PERFORMER: San Francisco International Film Festival NAME OF SHOW: The Orator By George Heymont

Anil Revri and Cristóbal Gabarrón would seem to have little artistically in common with one another, but they share an emblematic quality and a sense of play. Revri, a Mumbai native now living in Washington, D.C., gently plays with language and cultural disparity, covering large panels and smaller pages with notations in different languages and alphabets. Most of the inscriptions are excerpted from holy books. No matter their content, Revri's paintings resemble pages from a prayer book, with the texts inset in the center and ringed with elaborate detail. Given their dark, vibrant glow and their effervescent abundance of detail (written and otherwise), these "pages" almost take on a meditative life of their own. Gabarrón, based in Spain and New York, is far less conceptually or religiously motivated, but a certain spirituality does pervade his celebration of natural forms, plant, animal, and human, invariably rendered with deep, rich color and an assured balance between representation and abstraction. The prolific painter-sculptor showed two bodies of work, a sequence of tondo paintings containing flower and animal forms, hung at various levels in the museum's atrium, and a cluster of towering figures fashioned from painted steel almost as if cut out of paper and stood erect. Especially in their comic painterly detail (their heads sprouting beaks, their clothing oddly shaded), Gabarrón indulges a remarkably persuasive and genial wit. (American University Museum, 4400 Massachusetts Ave. NW, Washington DC; closed. www.american.edu/museum) - Peter Frank

Although, going by the spoken word, The Aliens may have one of the shortest scripts on record, the SFPlayhouse production transforms Annie Baker's play into a tender coming-of-age experience in which an impressionable teen finds the most unlikely mentors in two directionless 30-something slackers. Under the careful direction of Lila Neugebauer, the cast of three paces its pauses with calculated nonchalance. Underplaying a role is much more difficult than emoting onstage with broad gestures. To his credit, Brian Miskell's portrait of Evan Shelmerdine is imbued with a rare, lackluster type of truth and beauty (watching Miskell as he tries to appear cool and relaxed while self-consciously lighting one of his first cigarettes is a study in body language and dramatic pacing). When Haynes Thigpen launches into TJ's lonely aria about a childhood event -- in which he repeats the word "ladder" as if practicing a Philip Glass exercise in modulation -- the audience can easily find itself challenged by the temptation to count how many times he says the word "ladder" (more than 80), the desire to savor his emotional detachment, or to simply wonder about the depth of his depression. NAME OF ARTIST/PERFORMER: SFPlayhouse NAME OF SHOW: The Aliens DATES OF SHOW: Through May 5 GALLERY/VENUE WEBSITE: http://www.sfplayhouse.org/season1112/aliens.php By George Heymont

Albert Contreras left a promising career forged in Europe and New York, came home to Los Angeles, and did not paint for a quarter century. He resumed painting in the 1990s, and has been going great guns ever since. Contreras' origins in abstract expressionism, his fascination with minimalism, his struggle with the void and his renewed youthful vigor all show in the grid paintings he has been cranking out to considerable acclaim. They glorify the mark - Contreras fills each square with nothing more than an assertive "X" seemingly gouged out of a thick dollop of purlescent acrylic, leaving behind parallel grooves. What thus resembles scarification in cake icing repeats from unit to unit in Contreras' grids, setting up a pattern whose rote repetition is offset by inevitable variations between the hand-rendered incisions - variations that include shifts in the paint's own luster. Contreras' obsessive, uncomplicated schemata allow the lusciousness of his paint to assert itself that much more extravagantly; they seem almost obscenely edible. (Peter Mendenhall, 6150 Wilshire Blvd., LA; thru April 28. www.petermendenhallgallery.com) - Peter Frank ALBERT CONTRERAS, Untitled, 2012, Acrylic on panel, 18 x 18 inches

Many a child has wondered what he would discover if he dug a hole straight through to the other side of the Earth. Director Victor Kossakovsky has followed through on this fantasy, contrasting the geographic and cultural landscapes to be found in four sets of antipodes. The rural lethargy of Entre Rios, Argentina offers a shocking contrast to the manic pace of Shanghai. Strange rock formations in Spain capture the camera's imagination while, on the other side of the planet, New Zealanders carve up a beached whale with buzz saws so they can bury the carcass near the beach. Whether focusing on the elephants, giraffes, hippos, and lions near a dusty village in Botswana or the red-hot lava erupting from the famed Kilauea volcano on the big island of Hawaii, Kossakovsky's camera finds rare moments of natural beauty while teasing the audience with music from each location's antipode. He also finds ingenious ways to anchor visuals from two antipodes along a horizontal axis and then rotate his camera until the audience finds itself on the other side of the planet. ¡Vivan las antipodas! has a rare cinematic beauty which is thrillingly brought to life by Alexander Popov's magnificent score. NAME OF ARTIST/PERFORMER: San Francisco International Film Festival NAME OF SHOW: ¡Vivan las antipodas! By George Heymont

Daniel Cummings practices a form of abstraction that hovers between the geometric and the painterly, the gestural and the composed, the lucid and the sensual. In fact, throughout the century-long history of abstraction, many artists have oscillated thus between exactitude and spontaneity. Rather few, though, have made it work equally well in large scale and small, in two dimensions and three, in color and in black and white. When he jumps into the room with colored steel piping, Cummings manages the same expansive precision - or, if you would, careful openness - he achieves in his paintings and drawings, relying on line to define the eye's movement and color to reward it (although it's a subtle reward in the 3D work, which instead provide an almost roller-coaster-like spatial thrill). Cummings knows how to enliven shapes by knocking lines around and then injecting them with gratifying dark-light contrasts (even, somehow, in the sculptures), which seem to decide to become color almost as an afterthought - or, if you would, dessert. Cummings' art is a formalist workout, rigorous and vigorous and altogether refreshing. (ACME, 6150 Wilshire Blvd., LA; closed. www.acmelosangeles.com) - Peter Frank DANIEL CUMMINGS, installation view, Photo: Robert Wedemeyer

If The Caretaker gets off to a rocky start with American audiences, it is largely because most of the geographical references to London neighborhoods mean nothing. It can also take a while for American audiences to get used to the actors' British accents. Harold Pinter's play becomes increasingly comical and obtuse during the first half of the performance. While Jonathan Pryce's Davies is obviously someone with delusions of grandeur, it isn't until Alan Cox's poignant soliloquy describing Aston's experience in a mental institution that the audience gets any insight into the relationship between the two brothers. The Caretaker provides a star vehicle for Jonathan Pryce, but the tone of any performance (at least to my mind) is determined by how Mick is portrayed. Alex Hassell is quite mischievous and mercurial -- a young man with a panther-like agility who, as long as he is saddled with his brother's hopeless situation and the responsibility of maintaining a decaying house, seems eager to keep himself amused. NAME OF SHOW: The Caretaker LINK TO PHOTO: See attached ZIP file. PHOTO CAPTION: Jonathan Pryce in The Caretaker (Photo by: Helen Warner) By George Heymont

Rowan Wood pretends at minimalist abstraction, but his works quickly give away their sources in the observed world, or at least in the kind of shape modification that constantly catches our eye when we're looking at desks, notebooks, and other banal, intimate devices. The shapes and compositions in Wood's larger paintings pick up on the visual buzz of repeated horizontal scoring, for instance, or the rounded corners of an iPad or backlit photographic frame. In a series of small works Wood plays more overtly with "real-world" images, games and doodles such as those made by tracing one's hand, the ludic quality contrasting with the compartmented starkness of the works overall. Wood's abstraction, then, is not abstract art as we know it at all, but a highly deracinated kind of pop art effacing itself into a condition of conceptual self-reflection. Still, its prime impact is formal, hitting the eye with immensely powerful shapes that stand on their own even as they suggest or even imitate various actual things. This work does not fall between the cracks, but sprawls across them with uncanny grace. (Steve Turner, 6026 Wilshire Blvd., LA; closed. www.steveturnercontemporary.com) - Peter Frank ROWAN WOOD, Left From Center 1, 2011, Oil and acrylic on canvas, 48 x 36 inches

Jordan Harrison's Maple and Vine rests on a dramatic foundation of "Beware your fantasy; it might just come true." The factor which is most confusing for audiences is wondering why anyone in his or her right mind would choose to leave today's permissive, modern lifestyle (with its wealth of technological sophistication) in order to revert to a falsely virtuous society filled with racism, sexism, smoking, red-baiting, covert drinking, and internalized homophobia. Thanks to Mark Rucker's intelligent direction, American Conservatory Theatre's ensemble takes the audience within a stone's throw of The Twilight Zone. I tip my hat to Ralph Funicello, who not only makes the homes inhabited by the Society for Dynamic Obsolescence seem cartoonishly appealing but, with one huge photographic backdrop for the scenes in New York, has created a magnificent sense of an overpoweringly urban here and now. NAME OF ARTIST/PERFORMER: American Conservatory Theatre NAME OF SHOW: Maple and Vine By George Heymont Katha (Emily Donahoe) and Ellen (Julia Coffey) get to know each other in Act II of Maple and Vine (Photo by: Kevin Berne)

Ben Sakoguchi comments on political realities - current and historical - with the acuity of a political cartoonist, the wit of a stand-up comedian, and the visual dexterity of a pop painter. In fact, Sakoguchi has been painting his pointed comments for almost half a century, so he brings a vintage pop sensibility to his work. He appropriates lowbrow visual culture - postcards, fruit crate labels, magazine ads, etc. - not in order to satirize it, but to launch biting critiques at the civilization that has generated those images. Sakoguchi has proved himself one of the art world's most consistent and unyielding critics of American political and social policy; his anti-Iraq paintings deliberately resemble his anti-Vietnam paintings, as well they should, since the two wars resemble each other, and he implicitly takes America to task for committing the same mistake. As a child Sakoguchi was the victim of an earlier American mistake, the internment of Japanese-Americans during World War II, and the series of paintings he has done about that vile moment were probably the most moving and shaming in the whole show - which is saying a lot. Fortunately, the exhibition featured plenty of comic relief as well, not least in Sakoguchi's crowded figurescapes filled with art and art-world references. (CardwellJimmerson, 85868 Washington Blvd., Culver City; closed. www.cardwelljimmerson.com) - Peter Frank BEN SAKOGUCHI, Taruko, ca. 2000, Acrylic on canvas, 11 x 16 inches

Margret Schaefer's new translation of Arthur Schnitzler's Anatol makes it crystal clear that, for all of his upper class privilege, Anatol von Huber is a pompous fool, a preening and immature narcissist, a severely insecure twit, an utterly bourgeois romantic sentimentalist, an insufferably jealous playboy, and a self-avowed frivolous melancholic. In short, a little bit of Anatol von Huber's ego goes a long, long way. Shortly after Mike Ryan appeared onstage, I noticed his physical resemblance to Kelsey Grammar. But it wasn't until he was facing away from me (and I could only hear his voice as he spoke Schnitzler's words) that I realized how much Anatol sounds like a 110-year-old prototype for Frasier Crane. Barbara Oliver has directed this production with a keen sense of the battle between the sexes. With Tim Kniffin as the protagonist's jaded friend, Max, Delia MacDougall triumphs as six different women who are among Anatol's many, many lovers. NAME OF ARTIST/PERFORMER: Aurora Theatre Company NAME OF SHOW: Anatol DATES OF SHOW: Through May 13 GALLERY/VENUE WEBSITE: http://auroratheatre.org/?q=anatol By George Heymont Mike Ryan, Delia MacDougall, and Tim Kniffin in a scene from Anatol (Photo by: David Allen)

Mike Sinclair works in a manner that fuses - or, rather, balances - the reportorial coolness and visual sensuality of William Eggleston and Stephen Shore with the brittle "new topographic" approach of Robert Adams, Frank Gohlke, and others. This is only fitting, as Sinclair's purview is Kansas City, south or north or east or west of the terrains covered by these other photographers. Whether shooting city parks in early spring or attendees at municipal board meetings, Sinclair awakens our eyes to fleeting patterns and textures, and to the way they recapture incident and atmosphere in a novelistic rather than journalistic way. Sinclair drains even his ball games of urgency, even momentousness, but does not turn them into monuments of the everyday. Rather, he relishes their very ordinariness, their temperate, present-tense, self-explanatory self-containment; they may not be momentous, but they are in the moment. And they may not be average, but they locate themselves right down the middle of American experience. Certain of his pictures, especially in this latest exhibition, "speak" of Kansas City, documenting places in town that locals can readily identify. But as many shots could have been taken in Atlanta or Sacramento or Milwaukee or anywhere Americans do what they do. Sinclair would be a good candidate for updating Robert Frank's The Americans; his eye isn't quite as critical as Frank's, but it is at least as restless and optically hungry. And you get the feeling Sinclair could turn his beloved KC into a synecdoche for the whole country, finding a whole country in a single city. (Dolphin, 1600 Liberty St., KC; through April 28. www.thedolphingallery.com) - Peter Frank MIKE SINCLAIR, School Board Meeting, Pigment ink print, 8 x 10 inches

Manuel von Stürler's charming new documentary, Winter Nomads, follows two shepherds who, in November 2010, embark on a four-month transhumance across 600 km near the Swiss-French Alpine border. Pascal Eguisier and Carole Noblanc are accompanied by three donkeys, four dogs, 800 sheep and occasionally receive visits from the owner of their flock. Although the animals and weather dictate the drama, Stürler has a fantastic eye for framing some of his shots. In addition to helping viewers understand the actual work of a professional shepherd, he has provided audiences with a luxurious winter adventure through the French countryside. NAME OF ARTIST/PERFORMER: San Francisco Film Festival NAME OF SHOW: Winter Nomads By George Heymont

Colby Caldwell conjures a remarkably varied oeuvre out of one trope: bird hunting. Caldwell lives in rural Maryland, where he has become preoccupied with the devices employed in shooting duck and other fowl, notably the devices that are left behind. He photographs duck blinds on his and neighboring properties and he collects spent ammunition, which he also photographs, in extreme close-up. Inevitably, a few dead birds also come before Caldwell's camera. Quite deliberately, Caldwell wields his camera as others wield their guns, aiming and shooting both at close range and from afar, counting on aim and accident alike to yield results. That clearly defines the work on view at Civilian Art Projects, but the show at Hemphill also features a sound/music installation, composed by Matt Sargent, and several abstract prints from Caldwell's series How To Survive Your Own Death. Sargent's electronic manipulation of Kelli Kathman's flute-playing establishes a logical enough link with birds; it's those prints, with their peculiar collective title, that trouble the context here. But the strangely familiar images, dense grids formed by luminous strands pooling where they intersect, turn out to be digital readings or distortions of the visual "information" Caldwell has recorded with his camera. By translating the spent shells, bird carcasses, and creaky duck blinds, in all their abject vulnerability, into such anonymous and fixed imagery, Caldwell proposes that - like Websites and Facebook pages surviving their owners' passing - translation into digital form can give eternal life to even the least creature or object. Caldwell's irony here is that, seemingly, so can a photograph of the thing itself. (Civilian Art Projects, 1019 7th St. NW, and Hemphill, 1515 14th St. NW, Washington DC; through May 5 and May 25, respectively. www.civilianartprojects.com and www.hemphillfinearts.com) - PeterFrank COLBY CALDWELL, How to Survive Your Own Death (111), 2012, Archival pigment print mounted on dibond and waxed, 43 x 108 inches

At first glance, it may seem as if Bill and Sadie are clowns from the Theatre of the Absurd. But it soon becomes apparent that they are two developmentally disabled adults who have been forced into an independent living situation in Glasgow's public housing. Bill may be capable of functioning at a higher level than Sadie (his delight at keeping her in good spirits is almost palpable), but their horizons are severely limited by their diminished intellect. Across town, Bill's niece, Jackie, is a morose soul: a recovering alcoholic who is estranged from her adult son. Linda McLean's writing is spare and, in Act I, borders on the nonsensical. Although Act II contains a conversation about vaginas that Eve Ensler would envy, when the mood turns serious, Jackie needs few words to communicate her internal anguish. Director Jon Tracy has drawn breathtaking performances from Amy Kossow (Sadie) and Stacy Ross (Jackie). Christopher McHale and James Carpenter lend sturdy support as the men in their lives. NAME OF ARTIST/PERFORMER: Magic Theatre NAME OF SHOW: Any Given Day By George Heymont PHOTO CAPTION: Amy Kossow as Sadie in Any Given Day (Photo by: Jennifer Reiley)

Artists have always been unusually sensitive to our relationship with the natural world, alternately embracing and rejecting it. In a sense, all art is in part about how we live in the world we didn't make as well as in the world we did. Pervading "Un-Natural" is an urgent and rather protective attitude toward natural phenomena and the overarching ecosystem. But in that very urgency the four artists in the show display a post-modernist anxiety that hovers around contemporary environmentalism: everything they depict seems fragile, transient, ephemeral, dreamlike, ready to disappear even while freighted with human memory and passion. Birds and trees recur in all four bodies of work, as if to represent nature at its most and least rooted. The presence of humanity insinuates everywhere, too, not quite obtrusive but always shaping our regard for nature as well as natural structures themselves. You feel this most in Lisa Adams' compressed, rationalized landscapes, with their acid prettiness; but the far more expansive and complex formulations of Merion Estes, brimming with stylized references and visual montages, also seem to be coding and recording how humanity interacts with nature. Relying on more, er, naturalistic approaches, Fatemeh Burnes and Constance Mallinson still find a nature mindfully recomposed, taking on a symbolic and almost architectural intricacy (not to mention a lyric and tragic profundity) in Burnes' painstakingly rendered, dynamically composed pictures-within-pictures and an ominous playfulness in Mallinson's even more exacting trompe-l'oeil specificity, which she often applies to the "building" of (art-historically referenced) human figures out of plant forms. (Los Angeles Municipal Art Gallery, 4800 Hollywood Blvd., LA; through May 6. www.lamag.org) - Peter Frank FATEMEH BURNES, Enlightenment, 2008-11, O0il on panel, 60 x 60 inches

Based on Ronald Wright's bestseller, A Short History of Progress, a new documentary entitled Surviving Progress asks viewers to take a good hard look at the price we pay for all of our technological advances. Whether focusing on crises created by deforestation and overpopulation -- or the role mercenary banks have played in saddling emerging countries with debt and concentrating wealth in the financial class -- this new film by Mathieu Roy and Harold Crooks is, at the very least, gorgeous to watch. Surviving Progress takes a cynical look at the damage man keeps inflicting on his environment and wonders how much longer we have before the law of diminishing returns starts to work against us. In many ways, this documentary is a logical successor to 1982's Koyanisqaatsi and 2003's The Corporation. Its perspective is provocative, its data disturbing and yet, because of how beautifully it has been filmed, viewers might find themselves tuning out the talking heads to concentrate on the film's lush visuals. NAME OF SHOW: Surviving Progress GALLERY/VENUE WEBSITE: http://survivingprogress.com/ By George Heymont

Pablo Picasso relied on drawing media as much as anyone did, turning to it not simply to make studies for paintings (or sculpture), but to notate various images and ideas and, often enough - indeed, more and more frequently - to experiment with forms and techniques. A survey of the first thirty years of Picasso's drawings, then, serves not just as a cross-section, but as an x-ray, through his evolution from classicist to revolutionary and back to classicism. Picasso's earliest extant drawing, done at the age of 11, heads up the show, betraying his natural manual abilities; slightly later works reveal a rapid, almost preternatural process of maturity. After that the show recites the various stages in his career, the all-too-familiar milestones marked here by none-too-familiar works. To be sure, the Blue and Rose Periods and the struggle to birth Démoiselles d'Avignon are illustrated with works on paper pendant to their painted counterparts, but these are interspersed with images that stand alone, either produced for their own sake or connected to paintings that never gestated. More such independent works on paper grace Picasso's high-cubist period, especially where he began experimenting with collage, and drawing continued to give him an alternative to painting even when he returned to (a semblance of) the classically rendered figure. On paper Picasso could play wildly with the human - yes, mostly female - form at one point and describe it with tender precision the next, heeding Ingres no less than El Greco, late Renoir no less than early Manet. A show like this, however thorough, is inevitably going to be too small, its precious contents inspiring a viewer's insatiable visual and biographical hunger. Still, you feel like pleading, Oliver-like, for a little more. (National Gallery of Art, 4th and Constitution Aves. NW, Washington DC; through May 6. www.nga.gov) - Peter Frank PABLO PICASSO, Pierrot and Harlequin (Juan-les-Pins), 1920, Pen and black ink with gouache on cream paper, 10 ¾ x 8 3/8 inches, National Gallery of Art, Washington, Gift of Mrs. Gilbert W. Chapman, ©2012 Estate of Pablo Picasso/Artist Rights Society (ARS), New York

Lovingly directed by Robert Kelley (in a handsome production designed Tom Langguth), the folks at TheatreWorks have done a bang-up job of bringing Of Mice and Men to life. Any production of John Steinbeck's classic rests, in large part, on the shoulders of the man portraying Lennie. At 6'2" and 210 pounds, AJ Meijer delivered a performance of such childlike beauty and naive strength that the audience completely embraced his enthusiasm for petting a puppy, his innocent fantasy about tending to a collection of rabbits, and the fearsome volatility of his emotions. Jos Veramontes was a patient and protective George while Chad Deverman's Slim tried to keep peace in the bunkhouse. NAME OF ARTIST/PERFORMER: TheatreWorks NAME OF SHOW: Of Mice and Men By George Heymont Lena Hart and AJ Meijer in a scene from Of Mice and Men (Photo by: Tracy Martin)

Renée A. Fox has festooned a vast curved wall in a community college gallery with one of the largest, most fecund-seeming blooms in the history of imaginary botany. Rendered mostly in soft, insinuating shades of pink and red, Fox's flower not only blossoms forth but seems to be in the act of pollinating itself - although in certain places the act of pollination appears more an animal than a vegetable act. Fox, bless her soul, has infused her botanical eruption with a lascivious energy that warrants its blush. At this scale, you would think the plant would take on sinister overtones, but rather than threatening to scoop you up like a bug, the immense petal unfurls as if to lick you like a huge dog or like a wave breaking harmlessly on the beach. At a certain point, Fox's mural seems less a depiction of a thing and more one of a place - a place where you can slip into something more comfortable. (West LA College Art Gallery, 9000 Overland Ave., Culver City; through May 7. www.wlac.edu/art/index.html) - Peter Frank RENÉE A. FOX, A Decadent Work, 2012, Installation view

Corey Antis and Anna Neighbor knew each other as graduate students in Philadelphia, and their aesthetic relationship continues even with Antis relocated to Kansas City - and even with the two artists working with very different means. Antis concentrates on elemental forms and coaxes non-elemental evocations out of them. He renders gritty versions of such forms on small panels, almost matching the intimate charm of the format with that of the subject. The only thing is, the subject never quite comes into focus as any particular thing, but remains suspended in a metamorphic state, waiting to become a house or an appliance or a toy or something else equally homely. You'd think that such fluid identity would fix when such objects actually become objects, but the tableful of shapes Antis has sculpted out of wood prove even harder to pin down. Neighbor follows a similarly elusive strategy, except her trail of perceptual evasion takes her through several media and disciplines, from sculpture to photography; several formal languages, from representation to abstraction to assemblage; and several narrative circumstances, from the cosmic to the playful to the slightly nasty. Yet throughout she maintains the same formal self-containment, taciturn and ruminative, that drives Antis' superficially more consistent work. In a two-person show, they're not as easy to tell apart as you might presume. (Greenlease Gallery, Rockhurst University, 1100 Rockhurst Rd., Kansas City; through May 12. www.rockhurst.edu/artsandletters) - Peter Frank COREY ANTIS, Death Mask, 2011, Acrylic and casein on jute and panel, 16 x 18 inches
Correction: An earlier version of the first slide listed the Pavel Haas Quartet concert as taking place at the Orange County Performing Arts Center. It was in fact the Segerstrom Center for the Arts. We apologize for the error.