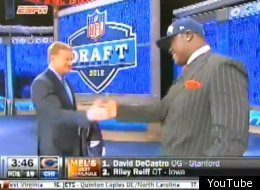 Among the many, many hugs NFL Commissioner Roger Goodell doled out to each player during the first round of the draft at Radio City Music Hall, there was one that stood out the most.
As South Carolina defensive end Melvin Ingram made his way across the podium after the Chargers picked him, he and Goodell engaged in a choreographed six-step handshake.
It had to be planned, right?
"In the meeting yesterday, I told him I wanted to do something different," Ingram said, via USA Today. "It was 99.9 percent mine and .1 percent his."
Click HERE for round one results.
WATCH VIDEO ABOVE