Derrick Rose Injury Rumors: Bulls' Star Out For 2012 NBA Playoffs [UPDATED]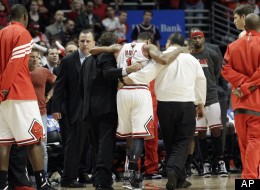 UPDATE: Although the initial tweet by @NBCMiami was "premature" it turns out the actual news for Rose is not much better. According to the The Associated Press, Rose is out for the remainder of the season. Another tweet by @NBAonESPN indicated that the injury was an ACL tear.
@NBAonESPN

The NBA on ESPN
BREAKING NEWS: Derrick Rose has torn his ACL and will miss the remainder of the season, Bulls announce.
With slightly more than one minute remaining during the Chicago Bulls' win over the Philadelphia 76ers in Game 1 of their first-round NBA playoff series on Saturday afternoon, reigning NBA MVP Derrick Rose went down with what appeared to be a serious knee injury.
With the city of Chicago holding its breath awaiting news of the severity of the injury, confusion reigned on Twitter.
TNT reported that Rose was being taken to a hospital for tests. Shortly thereafter, the news seemingly took a turn for the worst. The NBC television affiliate in Miami tweeted that Rose was done for the year with tears of both the ACL and MCL in his left knee.
This news was subsequently retweeted by @Breaking News to more than 3,950,000 followers.
@BreakingNews

Breaking News
Chicago Bulls PG Derrick Rose has torn ACL and MCL in left knee, will miss remainder of playoffs -
@NBCMiami
With no statement from the Chicago Bulls, however, there were soon doubts about the veracity of the injury pronouncement. Sure enough, @NBCMiami soon tweeted that their initial report was "premature." Certainly, Bulls fans hope the news is not just premature but also inaccurate.
@NBCMiami

NBC Miami
Report of Derrick Rose's injury was premature, his status is unknown.
@BreakingNews
Brian Floyd of SBNation, meanwhile, had also been attempting to calm everyone down, reporting that the definitive "Rose is out" tweets appeared to originate with a tweet made to look as if it had come from the account of @ESPNChicago.
Backtracking all of those RTs leads to someone having quite a laugh and taking credit for starting the chain reaction of misinformation.

@NO_TATS_B

SUCK MY DICK
LMAO NAH NO WAY MY FAKE RT ABOUT DROSE WAS RIGHT
@NO_TATS_B

SUCK MY DICK
@OfficialElSii
LMAO REAL JOURNALISTS ARE BELIEVING AND REPORTINGHE HURT FROM WHAT MY TWEET SAID LMAOOOOO
@NO_TATS_B

SUCK MY DICK
@ChicagoMadeSean
LMAOOOO I DIDN'T THINK SO MANY NIGGAS WOULD BE THIS DUMB AND BELIEVE IT
Although questions remain about the severity of Rose's injury -- which appears to have come without any contact from an opposing player -- there is little doubting the concern among Bulls fans and players. The team managed to secure the No. 1 seed in the Eastern Conference with Rose playing just 39 of the 66 games during the shortened campaign, but Chicago's title hopes are largely pinned to the health of Rose.
@TajGibson22

Taj Gibson
Great start to the playoffs, praying for my bro D.Rose speedy recovery!!!