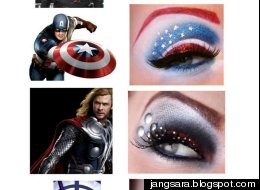 With our 'Avengers' excitement reaching critical mass -- and the movie already breaking records oversees -- it's finally time to start thinking about the most important question for the premiere on May 4th: What are you going to wear?
For makeup tips, we recommend checking out this website made by 26-year-old Finnish makeup artist Jangsara, featuring creative superhero-themed eye looks. Take a look at the below slideshow for eight of her amazing eyeshadow creations from the collection, each inspired by a different character in 'The Avengers,' from Black Widow, to Thor, to Nick Fury.
"I like to think outside the box and gather ideas for new makeup looks from anything and anywhere," she told The Huffington Post via email. "'Avengers' sounded like fun thing to do, with each of them having a easily recognizable patterns and colours that can be transformed into makeup looks." Head over to her blog to see other creative makeup designs and detailed instructions.
(via The Mary Sue)
"Heroes, fluttering flags, stars and stripes. That's what Captain America represents, and hopefully so does this makeup."

"Hulk is green, Hulk has purple shredded pants! Nothing extra, just green and purple. Hulk SMASH!"

"Black Widow's character was a bit hard, since she wears basic black costume (with gold details in the comics), so I added her flaming red hair as a part of the look."

"The main inspiration for this one came from Thor's movie costume, with the steel plates and scale mail."

"I have to admit that Hawkeye's movie costume is a bit dull, so most of the inspiration for this look came from the comic book version. Just the burgundy line in lower lashline is a reminder from the movie."

"This was the first look I made, so it may seem a bit dull compared to others, with no trinkets or anything. But it's Iron Man, he doesn't need anything to be awesome!"

"Loki is the cunning bad guy with cool horned helmet, and I wanted the makeup reflect these things."

"Black eyepatch was surprisingly easy to transform to makeup. It may not be the most original idea, but it's fitting!"