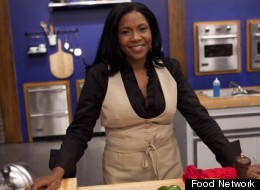 Calling Kelli Powers the worst cook in America isn't entirely accurate. The stay-at-home-mom and winner of Food Network's cooking competition, which sets out to find everyday people who are "the best at being the worst" when it comes to preparing food, is actually the most-improved cook in America.
Huffington Post Black Voices invited Kelli to the Sunday dinner table for a quick chat about what her win means, how it feels to no longer be the mom whose dish sits untouched at potlucks and what she's whipping up for her family this week.
How do you explain to people what being the "worst cook in America" is?:
The winner of "Worst Cooks In America" is actually the most improved cook in America, which I think is great [because] it really sends a message out to people that just because you're bad at something doesn't mean you will always be bad at it. If you have the courage to step outside the box a little bit, step outside your comfort zone, take a risk and try something new, you might become good at something you thought you might never be good at. If not, hopefully you'll just learn something along the way. I feel really proud that I took control of something that I was very fearful of.
Aside from not getting eliminated, what was your objective in the competition?
One of my objectives was to learn a better way to season food. I grew up in very tried-and-true, African-American Southern cooking traditions with both grandmothers from the South -- North Carolina and South Carolina -- and we cooked in lard, we fried everything, [we had] homemade biscuits and gravy for breakfast. I mean, it's a wonder we all didn't have a heart attack by the age of ten!
The food was delicious, but it just wasn't healthy. Having a son now, I feel adamant that I don't want him growing up fighting the same food demons that I fought. So that was really important for me -- learning different cooking techniques, different seasoning profiles and things like that to pass on to him.
What would you say are the biggest lessons you learned along the way?
Number one is flavoring and using spices other than salt and Season-All. Really understanding fresh herbs and nuts and grains and spices that I never would have thought about before. In my household we never had cumin or coriander. If they were there, they came in some sort of spice rack and we'd pour them out because we didn't know [what to do with them].
I also learned that I can make my own flavors better than the store can. Be it salad dressing, barbecue sauce, or marinades, I will likely never purchase those pre-packaged, processed things again when I can make them better and fresh myself. It's less expensive and it's tastier.
So how are you taking what you learned on the show and, at the same time, maintaining the culinary traditions you grew up with?
I'm still going to fry some chicken from time to time -- I'm not crazy! Macaroni and cheese, you just have to make. There are some things you just can't skimp on. But if I'm going to enjoy those, then I temper it so that my entire meal isn't bad for me.
Are the stakes higher for you now on the potluck scene?
Oh the stakes are so much higher! Everyone is looking at me like "Oh, this better be amazing." And I now get recognized in the market. Suddenly strangers think it's okay to go into my cart at the grocery store to look at what I'm eating, and it better be something tasty looking. I can't even have a frozen pizza or they're going to give me the eye.
So yes, the expectations are very high, but I say this: It's still just food. So I'm not worried; every meal is not going to be perfect. As long as I do the best that I can, it'll be fine.
(But I will practice privately before I serve anything at a party or a potluck!)
Do you have a speciality dish now or are you still just experimenting with lots of different things?
I'm experimenting, but I would say my speciality is steak now. Not just because I made it in the finale [of the show] but because I was a terrible steak cooker before. I didn't know how to season it. Now I really am pretty good, I have to say, at making different rubs, creating my own recipes for rubs and making steak that tastes really, really flavorful. The key is in the rub. I was always one to drown it in A1 sauce because my flavor profile was terrible. Salt is not a flavor profile. I'd never heard of things like Hungarian paprika or porcini mushroom powder, and now those are staples in my kitchen. I can't live without them!
Kelli Powers' Sunday Best
Total Time: 1 hr 30 min | Prep: 20 min | Inactive: 30 min | Cook: 40 min | Yield: 4 servings | Level: Intermediate Ingredients Steak: 1 tablespoon kosher salt 3 tablespoons brown sugar 3 tablespoons porcini mushroom powder 3 tablepoons pimenton (smoked Spanish paprika) 3 tablespoons garlic powder 1 tablespoon cayenne pepper Oil, for brushing grill Four 24 to 28-ounce bone-in porterhouse steaks Extra-virgin olive oil Bagna Cauda Sauce: 2 tablespoons extra-virgin olive oil Pinch red pepper flakes 5 anchovy fillets 3 cloves garlic, smashed 8 tablespoons unsalted butter, cut into pats How-To For the steak: Preheat the oven to 450 degrees F. Combine the salt, sugar, porcini powder, pimenton, garlic powder and cayenne pepper in a bowl, using your fingers to make sure all the ingredients are evenly distributed. Rub the outsides of each steak generously with the rub, and then let sit 20 minutes. Preheat a grill pan over medium-high heat. When the grill pan is very hot, cook the steaks until well charred on both sides. Transfer to a sheet tray in the oven, 5 minutes, and then remove and let rest in a warm spot, 10 minutes. Cut the steaks off the bones, and slice on the bias across the grain. For the bagna cauda sauce: Heat the olive oil, red pepper flakes, anchovies and garlic in a medium saucepan over medium heat and cook, 10 minutes. At the last minute before serving, whisk in the butter, 2 pats at a time, waiting for the butter to almost melt before incorporating more. Spoon the sauce into ramekins. Drizzle the steak immediately with the Bagna Cauda, garnished with parsley.

Total Time: 1 hour | Prep: 10 min | Inactive: 10 min | Cook: 40 min | Yield: 4 servings | Level: Easy Ingredients 1 pack Garlic chicken sausage 1 can of black beans 1/2 can of whole kernel corn 1/2 jar of sweet corn salsa (available at Trader Joe's and other specialty stores) 8 oz. of pico de gallo 8 oz. spicy salsa (fresh, not from a jar) 1 teaspoon diced jalapeno (add more if you like it extra spicy like me) 1/2 small onion diced 4 teaspoons sour cream 2 cloves garlic diced 2 teaspoons freshly chopped cilantro Olive oil 2 cups brown rice (optional) How-To Cut the sausage in slices and brown on stovetop in olive oil. Put into large stock pot. Sauté onion and garlic and add to sausage. Add black beans and corn and let simmer for 20 mins. Add corn salsa, pico de gallo & jalapeno and simmer for 10 more mins. Taste and add salt and pepper till your tastebuds are happy. Top with a dollop of sour cream and a sprinkle of freshly diced cilantro. Then serve. Note: For an even heartier version of this meal serve atop brown rice.